CNN reviewed Trump's frequent on-air conversations with shock-jock Howard Stern. Trump's comments were sexist, deplorable, despicable, and showed his contempt for women. He is the personification of deplorable.

Donald Trump engaged in crude and demeaning conversations about women over a 17-year-period with radio shock-jock Howard Stern, according to a review by CNN's KFile of hours of newly uncovered audio.
Among the topics Trump discussed: his daughter Ivanka's physique, having sex with women on their menstrual cycles, threesomes, and checking out of a relationship with women after they turn 35.
Trump's long track record of making misogynistic comments and engaging in lewd conversations about sex took on a new and much darker tone when the Washington Post published audio of Trump, caught on a hot mic in 2005, bragging about how women let him do whatever he wants to them because he's a celebrity.
While Trump's comments — in which he describes forcing himself upon women — stand apart from anything he has said in the past, Trump has long engaged in sexually explicit banter over the years, particularly on Stern.
Trump appeared on Stern's radio program for decades, and while many of his appearances have been reported on, KFile's review has turned up previously unreported examples of Trump engaging in crude conversations.
On Ivanka Trump's physique
In more than one interview with Stern, Trump took part in conversations about Ivanka Trump's appearance, including one about the size of her breasts.
In an October 2006 interview, Stern remarks that Ivanka "looks more voluptuous than ever," and asked if she had gotten breast implants. Trump is willing to engage in the discussion about his own daughter, telling Stern that she did not get implants.
"She's actually always been very voluptuous," Trump responds. "She's tall, she's almost 6 feet tall and she's been, she's an amazing beauty."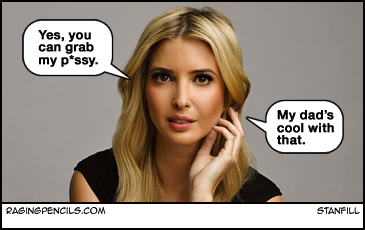 In another interview, from September 2004, Stern asks Trump if he can call Ivanka "a piece of ass," to which Trump responds in the affirmative.
"My daughter is beautiful, Ivanka," says Trump.
"By the way, your daughter," says Stern.
"She's beautiful," responds Trump.
"Can I say this? A piece of ass," Stern responds.