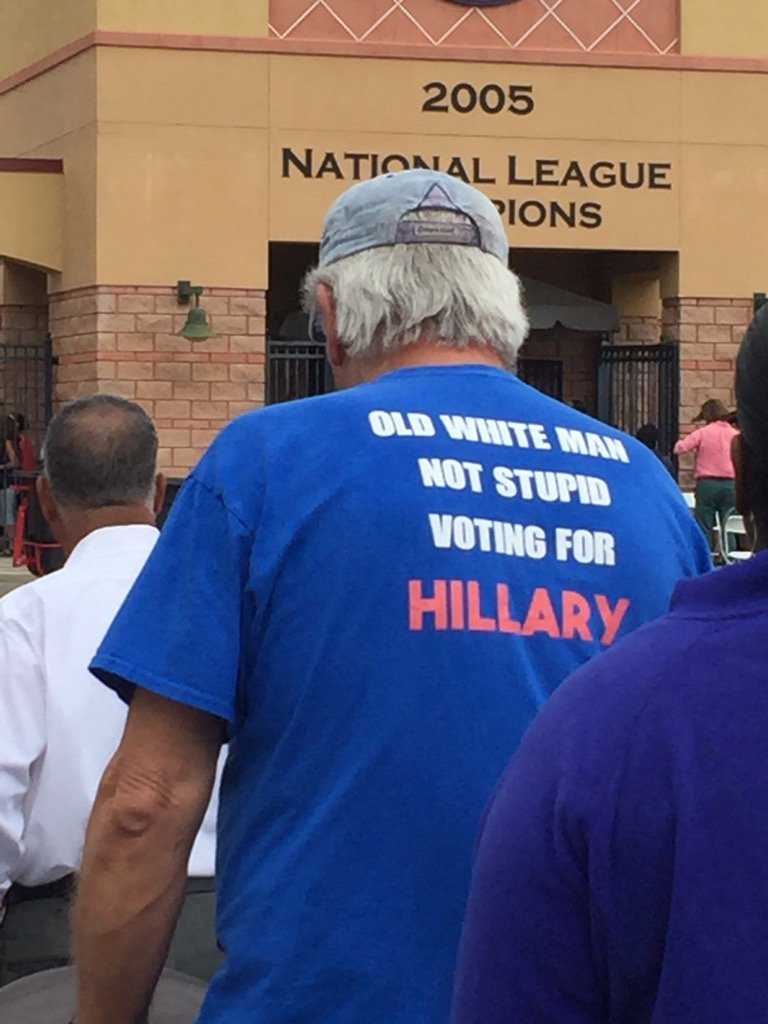 Having just turned 67, this could be me. Sure wish
I had this shirt!
The New York Times

has a front-page article

about Donald Trump's "legally dubious" means of avoiding paying taxes.
Donald J. Trump proudly acknowledges he did not pay a dime in federal income taxes for years on end. He insists he merely exploited tax loopholes legally available to any billionaire — loopholes he says Hillary Clinton failed to close during her years in the United States Senate. "Why didn't she ever try to change those laws so I couldn't use them?" Mr. Trump asked during a campaign rally last month.
But newly obtained documents show that in the early 1990s, as he scrambled to stave off financial ruin, Mr. Trump avoided reporting hundreds of millions of dollars in taxable income by using a tax avoidance maneuver so legally dubious his own lawyers advised him that the Internal Revenue Service would most likely declare it improper if he were audited.
Thanks to this one maneuver, which was later outlawed by Congress, Mr. Trump potentially escaped paying tens of millions of dollars in federal personal income taxes.
It is impossible to know for sure because Mr. Trump has declined to release his tax returns, or even a summary of his returns, breaking a practice followed by every Republican and Democratic presidential candidate for more than four decades.
Tax experts who reviewed the newly obtained documents for The New York Times said Mr. Trump's tax avoidance maneuver, conjured from ambiguous provisions of highly technical tax court rulings, clearly pushed the edge of the envelope of what tax laws permitted at the time.
"Whatever loophole existed was not 'exploited' here, but stretched beyond any recognition," said Steven M. Rosenthal, a senior fellow at the nonpartisan Tax Policy Center who helped draft tax legislation in the early 1990s.
It is clear now that Donald Trump thinks he is very smart to avoid paying taxes. But if everyone else followed his lead, how would our nation pay for anything?
How would we pay for our senior citizens, our troops, our veterans, our highways, our national parks, our healthcare programs, our education programs, etc.? Good citizens pay their taxes.
Greece suffered an economic collapse because so many rich people avoided paying taxes. Good citizens pay their taxes.