Just when you didn't think flying could get any worse, it very well may.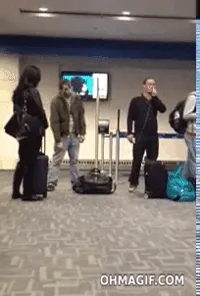 It is possible in the near future your electronic life is going to be more difficult when you fly the not so friendly skies.
The Department of Homeland Security announced that they are thinking about expanding the electronics ban to more than 371 airports.
The idea is to extend the ban

to Europe, Africa, and maybe some domestic airports. So far no other country has an electronic ban, however Britain is talking about one.
Homeland Security secretary John Kelly told a House of Representatives panel that they are looking at an additional 71 airports.
CNBC

reported that Kelly will be attending a conference next week in Malta "to present what we think are the minimum increased security standards … and present those to people to say if you meet these standards we will not ban large electronics." Homeland security refused to say which were the 71 airports under consideration.
So what will happen if the airports do not cooperate with the US? They will be put on an "affected airports" list.
The question came up about what happens if you are flying through or to an affected airport? That means you must check your laptop, your tablet, and any electronic device larger than a cell phone.
I don't know about you, but I do not like the idea of checking my laptop. If the baggage people steal perfume, clothing, and whatever else, the laptops will be like going to a fire sale for them.
Homeland Security recommends wrapping your bag in plastic so you know if someone went into it. Homeland Security also says they will not be taking data off of any of the checked units.
The bigger issue is the batteries in checked laptops. What happens if laptops are broken? Who pays? I can vision my poor Acer with a cracked screen.
Homeland Security says that it could implement a domestic electronic ban if there are threats.
Additionally, to enhance your flying pleasure, the TSA has begun to insist that people take stuff out of their checked baggage.