Trump shutdown of federal government caused hearing postponement
By Will Collette
If you were planning to go to the hearing in Providence on the
Trump Administration plan
to open huge areas of our off-shore waters to oil drilling, wait.
The hearing was supposed to be on Thursday, but the government shut-down monkey-wrenched the Interior Department's hearing schedule as you can see in the graphic to the left.
Virtually all of America's ocean would be open to Trump's plan to turn back the clock and return us to dependence on fossil fuels for energy.
Every state with access to the sea faces this threat, including Rhode Island's waters. Florida is the sole exception because, as
Interior Secretary Ryan Zinke said
, "Florida is different."
Can you say "Mar-a-Lago?"
Gov. Gina Raimondo wants a sit-down with Zinke
, a former small-time Montana politician who never met an oil rig or coal mine he didn't like.
Cronies from Zinke's hometown
were the guys who got the no-bid contract to restore Puerto Rico's electricity after Hurricane Maria until word got out they didn't know how to screw in a light bulb.
Maybe Gina plans to pitch a "Florida exemption" for Rhode Island based on the high number of
Rhode Islanders who claim Florida as their legal residence
.
The
Providence Daily Dose
noted that we are no strangers to the damage that oil spills can cause: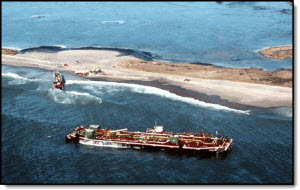 The Moonstone spill
In January of 1996 Rhode Island suffered a devastating oil spill when the tank barge North Cape ran aground off Moonstone Beach, leaking 828,000 gallons of home heating oil. (From the

NOAA damage assessment report

.). NOTE: Because of the government shut-down, you CAN'T access that NOAA report.
UPDATE, Tuesday morning. Even though the government shut-down ended, you still can't see the report. Maybe later.
The spill killed massive numbers of marine animals including 9 million lobster, 150 million surf clam, 4.2 million fish, and over one million pounds of other organisms such as worms, crabs, and mussels.
In the coastal salt ponds, one-half million fish, 6.5 million marine worms, amphipods, and more than one million crabs, shrimp, clams, and oyster were killed by the spill.Additionally, 2,100 marine birds, including 402 loons, died as a result of oiling.
The Bouchard spill clean-up
Then there was the massive 2003 Bouchard Oil Spill off the coast of Dartmouth, MA.
My brother-in-law Mike O'Reilly, Dartmouth's conservation officer, coordinated the spill clean-up
.
These disasters, inevitable given the amount of petroleum tanker traffic off our coast, pale in comparison to what can happen when oil rigs fail.
The
2010 Deepwater Horizon catastrophe
off the coast of Louisiana is perhaps the most spectacular example, but these rigs do leak and spill far more often than you might think.
This plan is so wrong-headed that it's almost hard to take it seriously. Yet, in the Age of Trump, it IS serious so we must be prepared to act.
The Daily Dose points to
THIS
Facebook page to follow planning for the hearing, whenever it should occur: