Jobless figures from the RI Department of Labor and Training show a one-month, one percent decline in Charlestown unemployment from 11.6% in February to 10.6% in March. That's almost two percentage points higher than the state average of 8.7%.
That one percent, one month decline in unemployment is actually bad news for Charlestown since all of that 1% decline was due to Charlestown workers dropping out of the workforce. Despite the drop in the town's unemployment rate, the number of Charlestown residents actually working dropped by five people.
Charlestown has the ability to address this problem, but the Charlestown Citizens Alliance, which has controlled Charlestown government for the past six years won't take them. Click here for seven practical steps Charlestown could take to put our people back to work.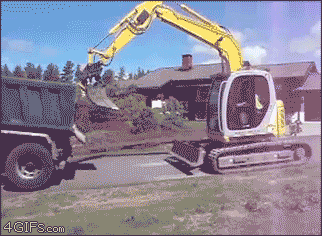 Is that Tim Quillen at the controls?
One of the main reasons why Rhode Island remains mired in recession is the collapse of the state's construction industry.
Construction also happens to be the largest occupational category for Charlestown workers. Even though construction work is seasonal and construction workers move between employers and construction projects frequently, the work usually pays a solid middle-class wage.
A new report by a coalition that includes both union and anti-union construction groups shows that Rhode Island's construction activity is $1 billion less per year than it was ten years ago. That alone puts a tremendous drag on the economy.
There is very little construction activity in Charlestown. Building Official Joe Warner files a monthly report with the Town Council that includes a run-down of construction occurring in Charlestown. In March, there was only $1.6 million in construction activity, of which only $642,055 was new construction – that's maybe one or two houses.
America used to pride itself on the strength of its middle-class, considering it the backbone of the country. But not anymore. With the decline of trade unions, a bad economy and relentless demands for givebacks by employers, America's middle-class has dropped from its vaunted #1 status and has been replaced…by Canada.
So what's up with that, eh? Even with higher taxes to fund Canada's universal health coverage and generous social safety net, middle-class income is higher than it is in the United States. Several western European countries are also poised to overtake the US as well. They too have higher taxes and far more extensive social services and universal health care.
Researchers note that while US growth is on par with Canada and Europe, the benefits of that growth are not being shared equally causing a bigger gap between the rich and everyone else while squeezing the middle-class. Contributing factors include outsourcing of jobs, deregulation, tax cuts that primarily aided those in upper brackets, shrinking trade unions and declining government investment in programs that benefit the middle-class,
Larry Valencia introduced House Bill 7767 which would repeal Rhode Island's odious voter ID law. Even though there have been no prosecutions and only unverified anecdoctal evidence of voter fraud in Rhode Island, we became the first Democratic state to enact voter ID, the centerpiece of the Republican Party's campaign to suppress voter turn-out.
Local progressives Donna Walsh (D-Charlestown) and Teresa Tanzi (D-Peace Dale) were among four members of the RI House to co-sponsor Larry's bill to repeal the Voter ID law. Good for them!