Progressive Charlestown
a fresh, sharp look at news, life and politics in Charlestown, Rhode Island
Sunday, October 1, 2023
Will these devices be in your self interest?
By Nancy Lavin, Rhode Island Current

Smart meters that allow people to monitor their energy usage in real time – and help the utility company track and fix outages faster – are coming to Rhode Island under a plan approved by utility regulators on Wednesday.
The Rhode Island Public Utilities Commission's 3–0 vote authorizes Rhode Island Energy to move ahead with an 11-year plan to overhaul the outdated power grid, replacing more than half a million electric meters in customers' homes and businesses. 
The caveat: The utility company can't spend quite as much as it originally proposed.
As part of its approval, the PUC capped Rhode Island Energy's spending on the plan at $153 million – an 18.6% cut over the $188 million cost initially put forth.
The spending cap comes in part from disputed estimates of the value the new technology will bring. 
Rhode Island Energy said the project will bring $729 million in value to customers over the next 20 years, touting the return-on-investment as more than three times what it planned to spend – and charge to customers. 
But the Rhode Island Division of Public Utilities and Carriers in separate analysis warned that the company may have overestimated the cost-savings from faster outage notification, energy usage reduction and other factors, suggesting a return-on-investment of $266 million.
The Rhode Island Office of the Attorney General in a separate filing also recommended capping company spending, including a shorter-term limit on implementation spending in addition to the long-term maximum.
The PUC's decision leaves it up to Rhode Island Energy to decide whether to move ahead with the plan.
Saturday, September 30, 2023
RI Black, Latino, Indigenous, Asian-American and Pacific Islander Caucus will explore potential legislation to better prevent redlining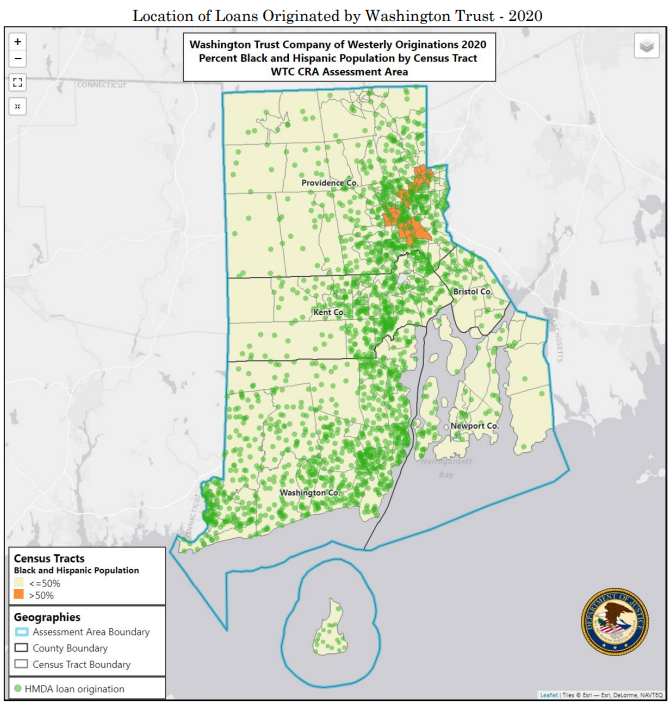 The
Rhode Island Black, Latino, Indigenous, Asian-American and Pacific Islander Caucus (RIBLIA) will explore whether state-level legislative fixes could prevent redlining.
Their announcement comes after learning about the recent Washington Trust bank settlement with the Department of Justice over accusations of "redlining" minority neighborhoods in Rhode Island.
The caucus is chaired by Sen. Jonathon Acosta (D-Dist. 16, Central Falls, Pawtucket) and Rep. Leonela Felix (D-Dist. 61, Pawtucket).
"The allegations that caused this settlement are deeply concerning to Rhode Island's minority populations and, whether intentional or not, the practice of restricting and hampering standard banking services in Rhode Island's Black and Brown communities needs to end.
"We are grateful for the hard work of the U.S. Attorney's Office for their investigation. Speaking generally, we fear allegations such as these may be an early warning sign of how the banking sector across our state treats communities of color.
"The RIBLIA Caucus will explore if potential legislative action on the state level could help prevent redlining and better ensure that the state's minority residents are not discriminated against. All of our state's residents deserve the same access to credit and banking services in order to achieve the American Dream," said the caucus.
The RIBLIA Caucus represents and advocates for the interests of disadvantaged people throughout the State of Rhode Island. It seeks to increase a diverse participation and representation in all levels of government.
The goal is to close, and ultimately to eliminate, disparities that still exist between white and non-white Americans in every aspect of life.
Take a break from your screen and look at plants
Jacob S. Suissa, University of Tennessee and Ben Goulet-Scott, Harvard University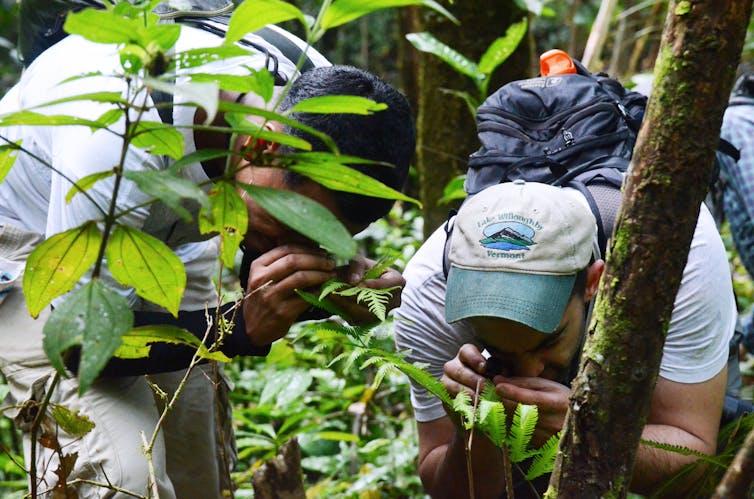 You may be surprised by what's growing on a familiar trail. 


Benjamin Goulet-Scott

, CC BY-ND
When you hear about the abundance of life on Earth, what do you picture? For many people, it's animals – but awareness of plant diversity is growing rapidly.
Our planet has nearly 300,000 species of flowering plants. Among animals, only beetles can compete with that number. There are more species of ferns than birds, more mints than mammals, and more beans than butterflies. Measured in total mass, plants make up 82% of all life on land across the globe.
We are plant scientists and co-founders of Let's Botanize, an educational nonprofit that uses plant life to teach about ecology, evolution and biodiversity. In the past several years we have witnessed a botanical boom, with participation in plant-based hobbies surging. From cultivating houseplants to foraging for wild foods and outdoor gardening, plant appreciation is on the rise.
Botanizing is spending time alongside plants in order to observe and appreciate them as living organisms – like birding, but with subjects that stay in place. 
When you botanize, a simple walk in the woods becomes an immersive experience shared with many species. Getting to know your nonhuman neighbors is a way to engage with a changing planet.
Nothing's sacred
OK, let's start with the bad news: a new report from 

Mamavation

 found evidence of PFAS chemicals in food packaging including a McDonald's filet-o-fish carton, a Starbucks' sandwich wrapper and a KFC bucket of fried chicken.
That's not good. But many of these fast-food and fast-casual restaurants have announced plans to ban the "forever chemicals" and for some — Taco Bell, Wendy's, Sweetgreen and others — it seems to be working. 
In total 35% of 81 pieces of fast-food packaging showed detectable levels of organic fluorine, an indicator of the group of chemicals known as PFAS, according to a new report from Mamavation.
Supreme Court supermajority will clarify its constitutional revolution this year, deciding cases on guns and regulations
Morgan Marietta, University of Texas at Arlington
The first Monday in October, the traditional date for the beginning of the U.S. Supreme Court's term, is almost here: On Oct. 2, 2023, the court will meet after the summer recess, with the biggest case of the term focused on the limits of individual gun rights.
The other core issue for the coming year is a broad reassessment of the power of the administrative state.
Both issues reflect a court that has announced revolutionary changes in doctrine and must now grapple with how far the new principles will reach.
Two years ago, the court began what many consider to be a constitutional revolution.
The new supermajority of six conservative justices rapidly introduced new doctrines across a range of controversies including abortion, guns, religion and race.
When the court announces a new principle – for example, a limit on the powers of a specific part of government – citizens and lawyers are not sure of the full ramifications of the new rule. How far will it go? What other areas of law will come under the same umbrella?
In a revolutionary period, aggressive litigants will push the boundaries of the new doctrine, attempting to stretch it to their advantage. After a period of uncertainty, a case that defines the limits on the new rule is likely to emerge.
Friday, September 29, 2023
Trump to UAW: Endorse me or you won't have a union
By Andrew Roth, Rhode Island Current

Former President Donald Trump told United Auto Workers (UAW) leaders Wednesday that they would not have a union if they fail to endorse him in the 2024 presidential election.
"They have to endorse Trump, because if they don't, all they're doing is committing suicide," Trump said.
UAW President Shawn Fain criticized Trump's Wednesday night visit to Drake Enterprises, a non-union automotive parts manufacturer in Clinton Township, which the former president scheduled to counterprogram the second 2024 Republican presidential debate.
Former NZ Prime Minister Jacinda Ardern to speak at Brown about global leadership
In an Odgen Memorial Lecture on Oct. 5, Ardern will share insights from her six years as prime minister, her commitment to women's empowerment and her passionate advocacy for climate action.
Jacinda Ardern, who served as prime minister of New Zealand from 2017 to 2023, will visit Brown University on Thursday, Oct. 5, to deliver the 102nd Stephen A. Ogden Jr. '60 Memorial Lecture on International Affairs.
In a presentation titled "Global Leadership in the 21st Century," Ardern will share insights from her career in public service.
In 2017, Ardern became prime minister of New Zealand at just 37 years of age. 
During her time in office, she faced the challenges of a live-streamed domestic terror attack against the nation's Muslim community, a volcanic eruption and the COVID-19 pandemic. 
Ardern's focus on people, kindness and what she has called "pragmatic idealism" saw New Zealand achieve some of the lowest losses of life experienced by any developed nation through the pandemic, the ban of military style semi-automatic weapons, and creation of the Christchurch Call to Action to eliminate violent extremism online, with which Ardern continues to hold the role of special envoy. 

Ardern is a champion of women's empowerment. While in office, New Zealand reached 50% representation of women in parliament and on government-appointed boards. 
She decriminalized abortion, improved pay equity laws and extended paid parental leave to six months — all while being only the second woman in the world to have a baby while leading her country. 

She is a passionate advocate on climate action and is a board member of The Earthshot Prize, which focuses on solutions to climate change and environmental issues. 
Decision on disputed Point Judith Pond oyster farm project postponed
By Nancy Lavin, Rhode Island Current

Coastal regulators postponed a decision Tuesday on a disputed Point Judith Pond oyster farm.
Instead, the Rhode Island Coastal Resources Management Council opted to push a public hearing and decision two its Oct. 24 after the applicant and opposing neighbors put forth an eleventh-hour compromise agreement.
The agreement, outlined in a two-page letter obtained by Rhode Island Current, would end the opposition by area residents to a proposed half-acre oyster and quahog farm in the pond by adding half a dozen conditions to the project. 
The project proposed by South Kingstown resident Andrew Van Hemelrijck initially drew outcry from nearly two dozen property owners along Narraganett's Mollusk Drive who claimed the farm would interfere with their ability to boat, fish and otherwise enjoy the pond.