Progressive Charlestown
a fresh, sharp look at news, life and politics in Charlestown, Rhode Island
Wednesday, April 14, 2021
Costs drop, production grows along with clean tech market
By Kenny Stancil, staff writer for Common Dreams
Despite the difficulties associated with the Covid-19 pandemic, the world added a record amount of new renewable energy capacity in 2020, according to data released Monday by the International Renewable Energy Agency.
IRENA's annual Renewable Capacity Statistics 2021 shows that global renewable energy capacity grew by more than 260 gigawatts (GW) last year, beating the previous record set in 2019 by nearly 50%.
Last year marked the second consecutive year in which clean energy's share of all new generating capacity increased substantially, with renewables accounting for over 80% of all new electricity capacity added in 2020.
Total fossil fuel additions, by contrast, fell by more than 6% last year—from 64 GW worth of new electricity capacity in 2019 to 60 GW in 2020.
Tuesday, April 13, 2021
By Robert Reich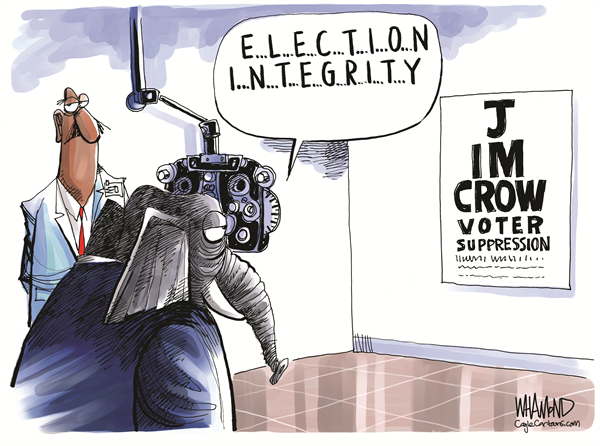 Republicans are outraged – outraged! – at the surge of migrants at the southern border. 
The House minority leader, Kevin McCarthy, declares it a "crisis … created by the presidential policies of this new administration." 
The Arizona congressman Andy Biggs claims "we go through some periods where we have these surges, but right now is probably the most dramatic that I've seen at the border in my lifetime."
Donald Trump demands the Biden administration "immediately complete the wall, which can be done in a matter of weeks — they should never have stopped it. They are causing death and human tragedy."
"Our country is being destroyed!" he adds.
In fact, there's no surge of migrants at the border.
U.S. Customs and Border Protection apprehended 28 percent more migrants from January to February this year than in previous months. But this was largely seasonal. 
Two years ago, apprehensions increased 31 percent during the same period. Three years ago, it was about 25 percent from February to March. Migrants start coming when winter ends and the weather gets a bit warmer, then stop coming in the hotter summer months when the desert is deadly.
To be sure, there is a humanitarian crisis of children detained in overcrowded border facilities. And an even worse humanitarian tragedy in the violence and political oppression in Central America, worsened by U.S. policies over the years, that's driving migration in the first place.
But the "surge" has been fabricated by Republicans in order to stoke fear – and, not incidentally, to justify changes in laws they say are necessary to prevent non-citizens from voting.
Republicans continue to allege – without proof – that the 2020 election was rife with fraudulent ballots, many from undocumented immigrants. 
Over the past six weeks they've introduced 250 bills in 43 states designed to make it harder for people to vote – especially the young, the poor, Black people, and Hispanic-Americans, all of whom are likely to vote for Democrats – by eliminating mail-in ballots, reducing times for voting, decreasing the number of drop-off boxes, demanding proof of citizenship, even making it a crime to give water to people waiting in line to vote.
EDITOR'S NOTE: In Rhode Island, state Trumplicans are trying to stop efforts to make easier voting measures adopted during the pandemic permanent parts of RI election law, using the same false narrative being used by the national GOP. CLICK HERE for details.
THE COUNTDOWN BEGINS!

We are thrilled to bring back one of our previous signature events with a twist! We are pleased to feature Rhode Island purveyors, artists and goods. As spring blooms with hope and renewal, JOIN US FOR. . .

ARTBEAT & MORE

Giving Tree Auction

Auction opens APRIL 22, 2021

through MAY 7, 2021

IN GRATITUDE TO OUR SPONSORS
AIDS Care Ocean State (ACOS) has continued its vital services to all in need
throughout this pandemic, keeping clients and Rhode Islanders safe and secure. As with most non-profits, it was necessary to end all in-person events and learn to be creative with our fundraising.
Interested in joining us to support this great cause?
DEM Offers Tips on Preventing Conflicts with Coyotes
The Department of Environmental Management (DEM) is advising Rhode Islanders that with the beginning of spring, they are likely to see an increase in coyote sightings as adult coyotes enter the pup-rearing season and begin to search for food for their litters. DEM reminds residents to remove any potential food sources from their properties and not to feed coyotes or any wildlife.
Coyotes are keenly intelligent, extraordinarily adaptable, and willing to eat almost any available food – whether natural, including small animals, birds, insects, and fruits; scavenged roadkill; or easily obtainable human-provided sources such as garbage, pet food, birdseed, and compost. The key to minimizing interactions and conflicts with coyotes is reducing food sources available to them around our homes and neighborhoods.
Coyotes that rely on natural food sources remain wild and wary of humans. Feeding coyotes – or any wild animal – however, makes them less fearful of people and they can become casual or even bold when encountering people.
No. Beetroot Juice Consumption May Help Improve Cardiovascular and Cognitive Health
Science News Staff / Source
Drinking 
beetroot juice
, which is rich in inorganic nitrate, promotes communities of oral bacteria associated with healthier blood vessels and brain function, according to new research led by the University of Exeter.
Aging is hallmarked by reduced nitric oxide production with associated detriments to cardiovascular and cognitive function.
"We are really excited about our findings, which have important implications for healthy aging," said Professor Anni Vanhatalo, a researcher at the College of Life and Environmental Sciences at the University of Exeter.
A virologist explains his concerns
A COVID-19 patient in an ICU unit in a hospital in Capetown, South
Africa, in December 2020. A variant emerged in South Africa that has
since spread to other parts of the world. Other new variants could
emerge elsewhere. Rodger Bosch/AFP via Getty Images
Spring has sprung, and there is a sense of relief in the air. After one year of lockdowns and social distancing, more than 171 million COVID-19 vaccine doses have been administered in the U.S. and
about 19.4% of the population is fully vaccinated
. But there is something else in the air: ominous SARS-CoV-2 variants.
I am a virologist and vaccinologist, which means that I spend my days studying viruses and designing and testing vaccine strategies against viral diseases. 
In the case of SARS-CoV-2, this work has taken on greater urgency. We humans are in a race to become immune against this cagey virus, whose ability to mutate and adapt seems to be a step ahead of our capacity to gain herd immunity. Because of the variants that are emerging, it could be a race to the wire.
Monday, April 12, 2021
Or if he does, he's offering up a twisted point of view
By Will Collette
Rep. Blake "Flip" Filippi represents Charlestown, Block Island and parts of Westerly and South Kingstown. It's been a matter of dispute since he first emerged on the political stage whether he actually lives in any of those four towns, but that's a subject for another day.
The Rhode Island General Assembly just passed and Governor McKee signed the landmark "Act on Climate" bill that actually requires the state to take its goals to fight the causes and impacts of climate change seriously. The four towns Flip represents are perhaps the four most vulnerable to climate-driven sea level rise, severe storms and changes to fish habitats in the state.
But for reasons he does not actually explain, Flip has been adamantly opposed to actually doing something real to prevent the threats to our economy, homes and lives from the changing climate.
When the bill passed and McKee signed it, Flip put out an extraordinary statement (above, left) conjuring up the specter of empowered "unaccountable bureaucrats" who will impose terrible costs on small businesses, municipalities and low income Rhode Islanders (as if he has ever expressed any concern about them in the past.
According to e-mails put out by the state Trumplican Party, this bill will force you to give up your home heating furnace, your car, maybe your whole house. It will make the tragic loss of incandescent light bulbs pale by comparison.
And it will be done to you by nameless, faceless, unaccountable bureaucrats. They will come in the middle of the night to seize your propane grill.
This is all total crap, of course, showing that Flip is either ignorant about how government and law works, or is just deliberately lying. You pick.
Filippi yelling about something (Steve Ahlquist)
Let's start with this bureaucrat thing. If Blake Filippi ever does come up with a worthy idea that gets legislated into law – something that hasn't happened in his six years in office – it would be those nameless, faceless bureaucrats that would actually carry it out.
Every public employee is accountable to a chain of command. They do not get to scheme up evil things to do to the citizens with impunity. Flip is insulting each of them by implying that they do.
Scarcely a week goes by without some public employee - civil service or political - getting excoriated in the media for doing something that causes complaint. Hardly a month goes by without someone who messed up getting fired or resigning under pressure.
I don't spend a lot of time worrying about what some anonymous public employee might do. That time is better spent worrying about what arrogant or corrupt elected officials might do.
As for the changes to our lives that might come from this legislation and more generally from collective efforts to fight climate change, let's reflect on the purpose of government.
The Preamble to the US Constitution demands that government "form a more perfect Union, establish Justice, insure domestic Tranquility, provide for the common defense, promote the general Welfare, and secure the Blessings of Liberty to ourselves and our Posterity."
That mandate led to many changes just in my own 71 years on this planet. When I was growing up in Pawtucket, we had a backyard incinerator to burn trash. The textile mills along the Blackstone River dumped anything they wanted into said river.
We were just figuring out how to run mass vaccination programs to stop smallpox and polio and debating over whether vaccination should be mandatory. We had cars putting out black exhaust from leaded gas while riders were free from seat belts and airbags.
I got my smallpox and polio vaccinations and didn't catch either disease but did suffer through all of the "routine" childhood diseases – measles, rubella, mumps, whooping cough, etc. – things that should no long plague any child except those with anti-vaxxer parents.
That backyard incinerator is gone, as are the textile mill toxics (along with the mills themselves, though that's another story). The Blackstone is now clean and a National Park.
Cars have changed. Appliances have changed. Just about everything mechanical or electronic has changed as science and technology advances. Homes have changed – most people think about energy savings and efficiency not because some pointy headed bureaucrat told them to, but because it's in their self-interest.
Filippi and the Trumplicans are trying to get you worked up about your oil furnace as if the bill signing means you must "CALL YOUR HEATING OIL COMPANY TO SAY GOODBYE," as the RI Trumplican Party March 29 e-mail heading screamed.
Frankly, I wish I could do that. Though I like our oil dealer, I have no love of oil. After Cathy and I returned to Rhode Island and set up our home in Charlestown, our oil furnace broke. Natural gas, which we had in DC, was not an option, though propane was.
I journeyed up to the Veissman heating showroom at their Warwick headquarters to try to learn more about high-efficiency heating and ultimately ended up buying their furnace. It's a good furnace, for oil, but it's still oil. According to the technicians during their annual check-ups, it runs at "top efficiency" for oil, which is around 88-89%.
Given the high price of oil, not to mention our interest of cutting our carbon footprint, we took advantage of the now defunct Solarize Charlestown program to get solar panels installed on our roof. It cut our electric bills by more than half and we generally get a monthly check from National Grid for the excess electricity our panels generate. On Friday, we got our monthly check for $52.87.
We used RISE to get a free energy audit that spotted further ways we could save energy and money from simple and inexpensive improvements, such as adding insulation in key areas or changing a vent.
We would add a residential-sized wind turbine if Charlestown allowed it – which it doesn't.
My point is that like so many other changes, we may chafe at the initial investment or early inconvenience, but the odds are we will like the results or at minimum get used to them.
In every aspect of life, bureaucrats work to implement decisions our elected officials make to "promote the general welfare." Whether we like them or not, we adjust.
I quit smoking in 1990 largely because smoking restrictions were getting on my nerves. It was the best personal health decision I ever made, not to mention a welcome change to family and friends who had endured my smoke.
We all have our opinions about the changes we have had to make to cope with the pandemic. If we had adhered to the restrictions earlier and more strictly, we might have saved half a million lives.
Finally, Flip's display of ignorance about the Act on Climate law completely neglects to note that we do not make such serious changes without support and community effort. From Congress to the State House to Town Hall, we should expect to see support for changes to our carbon footprint come in many forms, ranging from subsidies to tax credits.
On that subject, while Charlestown is still in the budget process, why not add a property tax INCENTIVE to encourage more Charlestown property owners to invest in energy efficiency? That's one way to help keep Quonnie from drowning.
Most of Charlestown's high priced property threatened by climate-driven sea level rise and storms
Substantially higher burden of COVID-19 compared to flu, new research shows
Beth Israel Deaconess Medical Center
In a paper published in the Journal of General Internal Medicine, physician-researchers at Beth Israel Deaconess Medical Center (BIDMC) assessed the relative impact of COVID-19 on patients hospitalized with the viral infection in March and April 2020, versus patients hospitalized with influenza during the last five flu seasons at the medical center. 
Overall, the team demonstrated that COVID-19 cases resulted in significantly more weekly hospitalizations, more use of mechanical ventilation and higher mortality rates than influenza.
COVID-19 and influenza are both contagious respiratory viral diseases that can lead to pneumonia and acute respiratory failure in severe cases. 
However, detailed comparison of the epidemiology and clinical characteristics of COVID-19 and those of influenza are lacking.
"COVID-19 has been compared to influenza both by health care professionals and the lay public, but there's really limited detailed objective data available for comparing and contrasting the impact of these two diseases on patients and hospitals," said corresponding author Michael Donnino, MD, Critical Care and Emergency Medicine physician at BIDMC. 
"We compared patients admitted to BIDMC with COVID-19 in spring 2020 to patients admitted to BIDMC with influenza during the last five flu seasons. We found that COVID-19 causes more severe disease and is more lethal than influenza."
Though the official advice from health authorities remains cautious, the evidence is piling up.
Liz Essley Whyte, Reporter for the Center for Public Integrity
I was hoping my doctor would be more helpful.
I'm a journalist who's spent the last year reporting on the U.S. government's response to the pandemic. But one thing my job teaches me every day is how little I know. 
So as a pregnant woman, I thought it would be prudent to follow the advice of the Centers for Disease Control and Prevention and ask my doctor whether I should get a COVID-19 vaccine.
His answer: "It's a personal choice."
That wasn't exactly useful advice, though I understood why he gave it. If you're like most Americans wondering whether to get a coronavirus vaccine, the medical and scientific experts have one thing to say: "Yes!" We have gold-standard scientific evidence proving the vaccines are safe and effective. But if you're pregnant, the official answer can be a lot more confusing. 
That's because the initial clinical trials for the coronavirus vaccines excluded anyone pregnant or lactating, following the decades-long norm for new medical treatments. There are many reasons for this: Pregnant women are more complicated physiologically, and scientists must evaluate the health of both mother and fetus. 
The practice also relates to the history of a drug called thalidomide: Regulators writing rules for clinical trials in the 1970s could look at the recent discovery that the drug many doctors had prescribed for morning sickness caused babies to be born with missing limbs or other birth defects.