Progressive Charlestown
a fresh, sharp look at news, life and politics in Charlestown, Rhode Island
Tuesday, June 25, 2019
Grad students awarded national fellowships to help coastal states cope with climate change
In 2018 alone, coastal hazards like Hurricanes Florence and Michael caused nearly 100 casualties and tens of billions of dollars in damages across several states. With scenarios like that in mind, coastal management programs around the country are looking for ways to make their communities more resilient. Thanks to a national fellowship program, this year three of them are turning to University of Rhode Island postgraduates for help.
Leah Feldman, from Port Washington, New York; Sabrina Pereira, from Coventry, Rhode Island; and Ben Sweeney, who is a native of Pembroke, New Hampshire — all recent URI Marine Affairs master's degree graduates — have been awarded prestigious two-year National Oceanic and Atmospheric Administration Coastal Management Fellowships. 
It is believed to be the first time three candidates from any state (and the entire contingent from Rhode Island) were selected for this highly competitive program. Only six individuals from across the nation were awarded these fellowships, which provide unique research opportunities and stipends for those chosen.
Monday, June 24, 2019
As Trump rolls back enforcement, RI and other states petition for more action.
Contamination found in Quonnie water supply; could be in private wells too
Rhode Island Department of Environmental Management (DEM) Director Janet Coit has joined environmental commissioners from the other New England states and New York in urging faster federal action on per- and polyfluoroalkyl substances (PFAS) contamination. 
Charlestown gets its drinking water from wells. An exception is
Quonnie where tests found PFAS-types of contamination in drinking
water. In addition to Teflon, PFAS is commonly associated with
military bases, especially old and abandoned ones like the Ninigret
Auxiliary Air Field ( site of Ninigret Park and the National Wildlife 
Refuge). PFAS from operations, especially firefighting,
could be in many private wells that are not generally tested for PFAS.
The states need guidance and help from the US Environmental Protection Agency (USEPA) on classifying PFAS in a standard way, warning the public about them, and mitigating the effects of this group of chemicals.
"Addressing the public health and environmental threats from per- and poly-fluorinated compounds is incredibly complex and important scientific work," said Director Coit. 
"This is an issue that affects every state, including Rhode Island, and federal action is urgently needed. We are asking Congress to direct EPA to step up the pace and provide us with the tools we need to effectively protect our citizens and our environment."
Proposal for separate URI board included in budget bill
The budget bill passed by the House of Representatives includes the creation of a Board of Trustees for the University of Rhode Island.
The provision, initially proposed in separate legislation (2019-H 6180, 2019-S 0942) sponsored by House Speaker Nicholas A. Mattiello and Sen. V. Susan Sosnowski, would move the state's sole university out from under the auspices of the Council on Post-Secondary Education, which also oversees Rhode Island College and the Community College of Rhode Island.
URI President David M. Dooley testified in support of that bill, saying URI needs its own board to ensure that decisions affecting it are made with an eye toward its mission and to provide greater agility in hiring and making other decisions.
The move was recommended by the New England Commission of Higher Education when it reaccredited the university last year, saying URI's needs as a research institution and economic driver for the state are unique among the state's public institutions of higher learning, and that the board has a potential conflict of interest with the university in its efforts to unify services at the state's three public higher education institutions.
By TODD McLEISH/ecoRI News contributor
A decision to add two species of river herring to the federal endangered species list is due from the National Marine Fisheries Service (NMFS) later this month, and it could have significant implications for southeastern New England.
Alewives and blueback herring, collectively called river herring, were once abundant in rivers and nearshore waters from Canada to South Carolina, but dams, climate change, and overfishing have contributed to their decline by as much as 98 percent.
"Historically, they used all the big and small rivers on the entire Atlantic Seaboard," said Erica Fuller, senior attorney for the Conservation Law Foundation, who has been advocating for increased management of the species for years. "They were the fish that fed the settlers; they were everywhere. There's even a story of General Washington feeding the troops with alewives."
But, she added, the species have been at historic lows for decades.
River herring play a vital ecological role, according to scientists. They spawn in freshwater rivers and spend most of their lives at sea, so they carry nutrients to and from both ecosystems. 
They also provide food for an abundance of wildlife, from whales and seals to bluefin tuna, striped bass, bluefish, and seabirds. But as more and more rivers were dammed, the fish lost access to their spawning grounds and populations declined.
After Serious 911 Mishaps, Rhode Island Will Now Pay for Better Training
Rhode Island lawmakers are moving forward on a spending plan that includes money to train all 911 call takers to respond to cardiac arrests and other medical emergencies.
The $220,000 earmarked in the budget for the 2020 fiscal year, which begins July 1, follows an investigation by The Public's Radio and ProPublica that raised questions about whether the lack of training for the state's 911 call takers is costing lives.
The funding would, among other things, pay to train all 911 call takers to provide guidance over the phone on how to perform CPR on a person whose heart has stopped. The House Finance Committee approved the full budget by a vote of 12 to 3 shortly before midnight Friday, and it will be taken up by the full House later this week. EDITOR'S NOTE: the full Budget passed.
"It's gonna save peoples' lives, without question,'' said Dr. Joseph R. Lauro, an emergency physician and member of the Rhode Island chapter of the American College of Emergency Physicians, which helped lead the push to improve training.
Sunday, June 23, 2019
Fossil fuel plant - and threat to Charlestown water - is likely dead
By Will Collette
Photo by Steve Ahlquist
The 4-year running battle against Invenergy's proposed billion dollar power plant in Burrillville seems to be finally over after the state Energy Facility Siting Board rejected their application, citing "no need" for the facility.
During these four years, Charlestown got swept up when a Narragansett tribal official signed a deal with Invenergy to supply the plant with cooling water pumped from the aquifer where we all draw our water. This action drew swift and powerful response both from townspeople and from an apparent majority of the Tribe itself.
It was a rare instance of close cooperation between tribal members and the town's non-indigenous population and led to the Tribe canceling its deal with Invenergy.
Two reporters, Steve Ahlquist for UpRiseRI and Tim Faulkner for EcoRI, have proposed us with the most consistent and detailed coverage of this issue, including how this fight involved Charlestown and, of course, the big picture.
That big picture is how building a billion dollar fossil fuel plant is exactly the wrong thing to do when we face a global crisis from climate change fueled by mankind's addiction to fossil fuels.
Here are two articles by Steve and Tim where they each give their take on the impact of the EFSB's decision.
Dexterous herring gulls learn new tricks to adapt their feeding habits
University of Southampton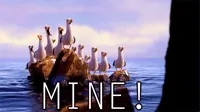 Observations of herring gulls have shown how the coastal birds have developed complicated behavior to 'skin' sea creatures to make them safe to eat. Researchers think this feeding habit may be a response to urbanization and changes in food availability.
The gulls (Larus argentatus) of Dún Laoghaire Marina at Dublin in Ireland have found a novel way of disposing of the tightly fixed outer layer of sea squirts -- an organism which they have learnt to pluck from the underside of pontoons by diving or floating on the water.


Sea squirts, or ascidians, are filter feeding creatures which have an outer layer, known as a 'tunic', designed to give protection from predators. This tunic is unpalatable to gulls, however, those living around Dún Laoghaire have overcome this using a particularly clever method.
The birds grasp the sea squirt's tunic in their beaks, shake it to loosen the soft edible inner body, then switch to hold the inner body (again with their beaks) and shake again until the inedible outer layer is removed.
It's getting worse under Trump
Many pesticides that have been banned or are being phased out in the EU, Brazil and China, are still widely used in the USA, according to a study published in the open access journal Environmental Health.
Study author Nathan Donley at the Center for Biological Diversity, USA said: "The USA is generally regarded as being highly regulated and having protective pesticide safeguards in place. This study contradicts that narrative and finds that in fact, in the last couple of decades, nearly all pesticide cancellations in the USA have been done voluntarily by the pesticide industry. Without a change in the US Environmental Protection Agency's current reliance on voluntary mechanisms for cancellations, the USA will likely continue to lag behind its peers in banning harmful pesticides."
Donley identified pesticides that are approved for outdoor agricultural use in the USA and compared them to pesticides approved in the EU, China and Brazil.