Progressive Charlestown
a fresh, sharp look at news, life and politics in Charlestown, Rhode Island
Friday, June 22, 2018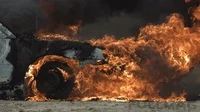 The U.S. Chemical Safety Board is in the business of making sure we learn from disasters. 
They found the regulatory and management failures that killed 15 firefighters in the 2013 fertilizer plant explosion in West, Texas.

The Trump Administration has let the CSB wither,

and has recommended that it disappear entirely.
The tiny agency's budget is $12 million -- barely more than the cost of three weekend jaunts from the White House to Mar-a-Lago, according to the Government Accountability Office.
Another oversight body, the Federal Energy Regulatory Commission (FERC), tried to weigh in on

another Trump initiative

-- the proposed intervention to aid failing coal and nuclear power plants by compelling coal and nuke power sales to the grid. 
Thursday, June 21, 2018
Gloria Steinem and former NARAL president back Matt Brown, say Raimondo not to be trusted on reproductive rights
The 
Matt Brown
 for Governor campaign has released a letter, signed by prominent women's rights advocate 
Gloria Steinem
, former 
NARAL Pro-Choice America
 (
NARAL
) President Emerita 
Kate Michelman
, 
Barbara Roberts
 of the 
Warren Alpert Medical School
of
Brown University
, 
Rhode Island State Senator 
Jeanine Calkin
 (Democrat, District 30, Warwick) and others, that puts a spotlight on Governor 
Gina Raimondo
's anti-choice governing record and the specific actions she took in her first year in office to restrict abortion coverage in Rhode Island.
Raimondo's restrictions were the first anti-choice legislation passed in Rhode Island in nearly two decades.
"I don't think voters in Rhode Island really know what Governor Raimondo's done that has really violated the reproductive rights of women and threatened their health," said Kate Michelman in a phone call. "It's very dangerous for women, especially low-income women, women of color and working class women.
"Governor Raimondo is not a governor women can depend on to protect and defend their rights and to advance their health and equality and economic security," continued Michelman. "Raimondo has not been totally honest with the voters of Rhode Island about what she's done that has harmed women and weakened their rights as to freedom of reproductive choice.
33 Senators sign on but not, big surprise, Elaine Morgan
Sen. James C. Sheehan (D-Dist. 36, North Kingstown, Narragansett) has penned a letter to President Donald Trump calling for the president to change a policy that has torn children away from their families at the U.S. border. The letter has been signed by 33 Rhode Island state senators.
"Since children cannot be prosecuted along with their parents, this has naturally resulted in a disturbingly sharp rise in family separations. According to the Department of Homeland Security, nearly 2,000 immigrant children were separated from parents during six weeks in April and May."
"The inevitable consequence of the administration's zero-tolerance policy is that we are mercilessly ripping children away from their families, and causing psychological scars that may never heal. 
These are actions more suited to the despotic regimes of the past than a republic known throughout history for its humanitarianism... 
As such, we strongly urge you to abandon this abhorrent, reprehensible practice of separation of families — immediately. We can uphold the law; while showing compassion and understanding to our fellow man."
Climate Change Means Fish Are Moving Faster Than Fishing Rules
Climate change is forcing fish species to shift their habitats faster than the world's system for allocating fish stocks, exacerbating international fisheries conflicts, according to a study led by a Rutgers University–New Brunswick researcher.
The study, published online in the journal Science today, showed for the first time that new fisheries are likely to appear in more than 70 countries all over the world as a result of climate change. History has shown that newly shared fisheries often spark conflict among nations.
Conflict leads to overfishing, which reduces the food, profit and employment fisheries can provide, and can also fracture international relations in other areas beyond fisheries. A future with lower greenhouse gas emissions, like the targets under the 2015 Paris climate agreement, would reduce the potential for conflict, the study says.
"Most people may not understand that the right to harvest particular species of fish is often decided by national and regional fisheries management bodies," said 

Malin Pinsky

, an assistant professor of ecology, evolution and natural resources in Rutgers–New Brunswick's 

School of Environmental and Biological Sciences

.
GOP strategist Steve Schmidt, a lifelong Republican voter, abandoned his "corrupt" party and vowed to vote for Democrats as he called for a blue wave in November.
Schmidt said the Republican Party has become "the party of Trump" and called the GOP "a danger to our democracy and values."
Schmidt said the GOP is "indecent and immoral" and "filled with feckless cowards who disgrace and dishonor the legacies of the party's greatest leaders" then he pointed to the Trump administration's "immoral" child separation policy in his tweetstorm.
He called out Senate Majority Leader Mitch McConnell and House Speaker Paul Ryan and he didn't hold back.
Here's Schmidt's disaffiliation notice via Tweeter
Wednesday, June 20, 2018
By TIM FAULKNER/ecoRI News staff
In case you were interested, Charlestown's Tina Jackson (left) thinks
wind turbines are bad
EDITOR'S NOTE: This article marks the apparent return of one of Charlestown's strangest political figures - Tina Jackson, whose 2012 failed attempt to defeat Charlestown's much respected former state Representative Donna Walsh is the stuff of legends. 
Despite multiple arrests and convictions for drugs, bad checks and assault, Jackson claims she was just the right person to represent Charlestown. Voters didn't agree.
The legacy of Jackson's campaign lives on in the form of $50,088 in unpaid fines for violations of Rhode Island's campaign finance law. Click here to read my wrap-up article on Jackson's 2012 escapades that included losing the corporate charter for the fishermen's group that she headed - presumably the base of expertise she draws on for her comments in this article. - Will Collette
The House of Representative is set to authorize a study to determine if offshore wind facilities are killing whales and other sea life.
The story received international attention after conservative media websites publicized speculation that the Block Island Wind Farm was to blame for the whale's death.
Former commercial fisherman and Republican political candidate Tina Jackson of Charlestown

is convinced the five turbines are to blame for killing the whale. She said she warned the community that Deepwater Wind's Block Island Wind Farm would hurt the environment. She has offered no proof.
"And look what happened. Sure enough within five months of Deepwater (Wind) going on-line there were seven whale deaths and two turtle fatalities. There hasn't been seven dead whales in a decade, let alone in five months' time. So it's clear that the turbines are a problem. It's the only logical reason for the tragedy."
The facility Cicilline visited is a former Wal-Mart
"It's horrific," said Congressman David Cicilline. "It's barbaric."
The Rhode Island Democrat was describing what he saw after visiting immigration detention centers on the Texas/Mexico border this weekend where President Donald Trump's family separation policy is playing out as a moral and political crisis before America's and the world's eyes.
"It is horrifying to see young children behind a chain link enclosure," he said. 
"There's no furniture. They are sitting on the floor, a few of them have mats, looking afraid, not sure of what is happening to them. It's disgraceful. No child should be in that kind of facility ever and certainly children who are fleeing violence."
Cicilline joined a congressional delegation that included senators Jeff Merkeley, Oregon, and Chris Van Hollen, Maryland, and representatives Peter Welch, Vermont, Mark Pocan, Wisconsin, Shelia Jackson-Lee, Texas, and Vincente Gonzalez, who represents the Texas district where the facilities are located.
"Every legislator in Washington should have seen those children and talked to those mothers," Cicilline said, and I think they would understand what we are doing – what's being done in our name – is un-American and needs to stop and doesn't reflect the basic values of this country."