Progressive Charlestown
a fresh, sharp look at news, life and politics in Charlestown, Rhode Island
Monday, January 20, 2020
By ROGER WARBURTON/ecoRI News contributor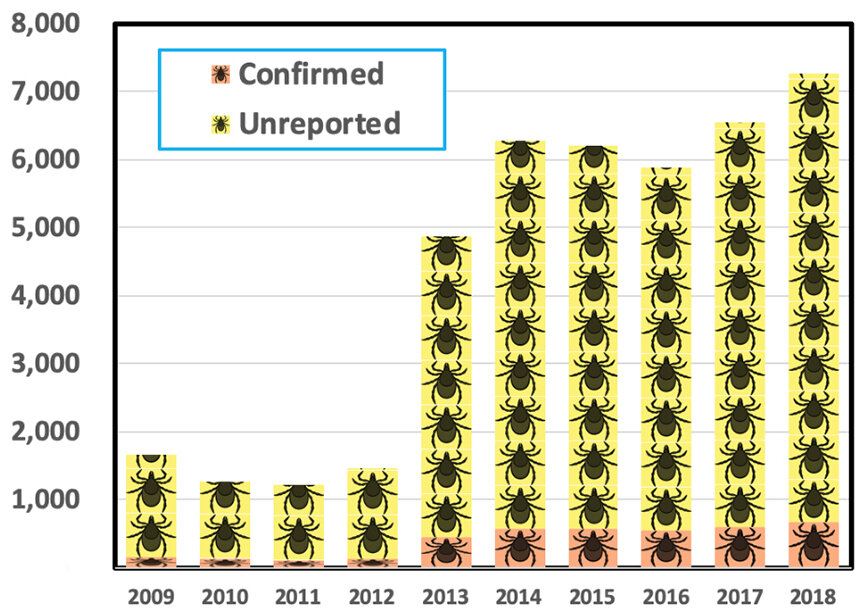 Rhode Island, according to data from the Centers for Disease Control and Prevention, has witnessed an increase in Lyme disease cases. (Roger Warburton/ecoRI News)
New, emerging research suggests that the climate crisis is bad for human health.
To date, much of the reporting on the climate crisis has focused on the physical impacts of temperature increases, such as sea-level rise, melting ice caps, heat waves, and hurricanes.
Lately, scientists in a diverse range of disciplines have begun studying the wider impacts. 
For example, the respected medical journal Lancet has reported the results of an

international, multidisciplinary collaboration

that found widespread adverse health impacts from the climate crisis, such as a downward trend in crop yields worldwide, which threaten food production and food security, and rising temperatures and increased rainfall are increasing vulnerability to mosquito- and tick-borne diseases.
There are important consequences for Rhode Island, where the climate crisis is exacerbating a surge in Lyme disease. In fact, since 2001, Lyme disease has increased by more than 300 percent in the Northeast.
Sunday, January 19, 2020
Before he died, Martin Luther King, Jr. joined a campaign to unify working people of all races. Today, nothing could be more powerful.
As we celebrate the legacy of Martin Luther King Jr., it's natural to remember his courageous advocacy for racial equity. But before he was assassinated, King had also begun to broaden his efforts to unify the around economic justice.
That's worth remembering today.
In December 1967, King, the Southern Christian Leadership Conference, and other conveners laid out their vision for the first Poor People's Campaign. Seeing how poverty cut across race and geography, these leaders built the campaign into a multiracial effort including African Americans, white Americans, Asian Americans, Hispanic Americans, and Native Americans aimed at alleviating poverty for all.
The goal was to lead a massive protest in Washington D.C. demanding that Congress prioritize a massive anti-poverty package that included, among other things, a commitment to full employment, a guaranteed annual income, and more low-income housing. And they wanted to pay for it by ending the Vietnam War.
"We believe the highest patriotism demands the ending of the war," 

King said

, "and the opening of a bloodless war to final victory over racism and poverty." Assassinated in Memphis on April 4, 1968 while organizing Black sanitation workers, King never made it to the Poor People's March, but thousands did protest in Washington to honor King's memory and to pursue his vision.
That vision remains to be realized. Today, 

140 million Americans

 — over 40 percent of us — remain poor or low-income. As in King's day, Black and brown Americans are especially impacted, but so are millions of poor whites.
Our country may be polarized by party. But the truth is, we have more in common to fight for than what divides us.
Theatre By The Sea announces auditions for equity and non-equity adults for 2020 summer season
Theatre By The Sea announces Equity and Non-Equity Adult Auditions for its 2020 Summer Season. Seeking strong actors, dancers and singers. They are especially seeking mature character actors for featured roles throughout the season. 
Performers must be available for all rehearsal and performance dates. 
Local talent is strongly encouraged to audition for the following productions:
Mamma Mia! to be presented at Theatre By The Sea from May 27 – June 6, then at the Barnstable Performing Arts Center from July 7-12 Million Dollar Quartet to be presented from June 10-28
Kinky Boots to be presented from August 19 – September 13


Auditions will be held on

Saturday, January 25 and Sunday, January 26

at URI Fine Arts Building, 105 Upper College Road, Kingston (parking and entrance behind building). 
Men think they're better liars
Amazon
Men are twice as likely as women to consider themselves to be good at lying and at getting away with it, new research has found.
People who excel at lying are good talkers and tell more lies than others, usually to family, friends, romantic partners and colleagues, according to the research led by Dr Brianna Verigin, at the University of Portsmouth.
Expert liars also prefer to lie face-to-face, rather than via text messages, and social media was the least likely place where they'd tell a lie.
Dr Verigin, who splits her time between the Universities of Portsmouth and Maastricht, in the Netherlands, said: "We found a significant link between expertise at lying and gender. Men were more than twice as likely to consider themselves expert liars who got away with it.
"Previous research has shown that most people tell one-two lies per day, but that's not accurate, most people don't lie everyday but a small number of prolific liars are responsible for the majority of lies reported.
"What stood out in our study was that nearly half (40 per cent) of all lies are told by a very small number of deceivers. And these people will lie with impunity to those closest to them.
"Prolific liars rely on a great deal on being good with words, weaving their lies into truths, so it becomes hard for others to distinguish the difference, and they're also better than most at hiding lies within apparently simple, clear stories which are harder for others to doubt."
EDITOR'S NOTE: By the end of 2019, Donald Trump had told 15,413 recorded lies since becoming president. In those 1,055 days, that comes to a rate of 15 per day. These stats do not, of course, include lies that were told in private or off the record.
Let's learn the history of Iran and the US - understanding may prevent war
Jeffrey Fields, University of Southern California – Dornsife College of Letters, Arts and Sciences
Relations between the United States and Iran have been fraught for decades – at least since the U.S. helped overthrow a democracy-minded prime minister, Mohammed Mossadegh, in August 1953. 
The U.S. then supported the long, repressive reign of the shah of Iran, whose security services brutalized Iranian citizens for decades.
The two countries have been particularly hostile to each other since Iranian students took over the U.S. Embassy in Tehran in November 1979, resulting in, among other consequences, economic sanctions and the severing of formal diplomatic relations between the nations. 
Since 1984, the U.S. State Department has listed Iran as a "state sponsor of terrorism," alleging the Iranian government provides terrorists with training, money and weapons.
Some of the major events in U.S.-Iran relations highlight the differences between the nations' views, but others arguably presented real opportunities for reconciliation.
Saturday, January 18, 2020
Whose interests will they serve?
Nicholas Ucci
Last week Governor Gina Raimondo named three people to leadership positions on her state energy team: 

Nicholas Ucci

 as 

State Energy Commissioner

; 

Linda George

 as Administrator of the 

Division of Public Utilities and Carriers

 (

DPUC

); and 

Ronald Gerwatowski

 as Chair of the 

Public Utilities Commission

 (

PUC

). The Governor will submit their names to the Rhode Island Senate on Tuesday, January 14 for advice and consent.
After the names are officially submitted, the Senate will schedule hearings to approve or deny the nominations as part of their mandate to provide "advice and consent." 
Unfortunately, more often than not this advice and consent is merely a hasty rubber stamp, as was the case when the 

Senate Environment and Agriculture Committee

 

approved

 the Governor's nominations to the 

Coastal Resources Management Council

 (

CRMC

) despite a clear history of racism and classism.
Governor Raimondo has a history of using her power to nominate pro-fossil fuel people to leadership positions in key councils and boards ahead of big decisions. She 

made several key appointments

 to the CRMC just months before the Council took up the approval of 

National Grid

's liquefaction facility in the 

Port of Providence

.
"As we strive to make Rhode Island's energy system cleaner, more affordable and more reliable, I am thrilled to announce a new energy leadership team that will help carry out our vision for the new decade," wrote Governor Raimondo in a statement. 
"Nick, Linda, and Ron have all proven themselves capable leaders with decades of experience designing and implementing clean energy policy. I look forward to having them on board as we work to build Rhode Island's clean energy future."
While at the 

Office of Energy Resources

 (

OER

) Nicholas Ucci lead the state effort to approve 

Invenergy

's proposed $1B fracked gas and diesel oil burning power plant in northwest Rhode Island, a four-year battle that was ultimately unsuccessful. In his public statement, Ucci fails to mention his support for building more fossil fuel infrastructure in Rhode Island.