At 19.1%, it's worse than the state average
State reporting on municipal unemployment rates usually lags by several weeks behind that statewide numbers. When the state announced an official statewide count of 17.8%, I predicted Charlestown's number would be close to that.
But
I did not expect it to be
19.1%
. I do expect that when the May numbers are released, they will be higher still, simply because that would track with the state and national trends.
The size of Charlestown's labor force shrunk, the number of people with jobs dropped and the number of unemployed almost tripled.
These numbers are the worst ever for Charlestown.
The Department of Labor and Training's database goes back to 1990. Never has the unemployment rate been this high in Charlestown. The next highest number was 16.1% unemployment during January 2012 due to the Great Recession.
Plus, these numbers only reflect those workers who successfully signed on to get unemployment compensation insurance. It doesn't include the many who have tried or are still waiting for a determination.
Whatever town budget we have after the votes are counted in the June 1 budget referendum - whether the CCA-proposed new budget or the 2018 budget - many of the budget assumptions about revenue and expenses no longer make sense.
Examples: Charlestown is not going to see the assumed amount of revenue from the beaches, now-cancelled major events at Ninigret Park or its share of the state restaurant and hotel tax.
There may be some offset due to reduced labor and overhead costs incurred by the town from what is sure to be very diminished summer activity, but I doubt it will be much given a lot of the costs are fixed.
And how are all those unemployed Charlestown residents supposed to pay their taxes?
We probably won't hire many or any summer temps. I sure hope we don't lay-off police officers or full-time town workers.
I'd really like to know what the Charlestown Citizens Alliance (CCA Party) that runs Charlestown have for a plan to deal with Charlestown's unemployment crisis, aside from pre-paying bills or buying more open space. Maybe they'll give RHOTAP another try now that Deputy Dan Slattery has reinserted himself into CCA Party politics.

A factoid you probably don't want to hear

As of this writing, the US death toll from COVID-19 stands at 105,926. The entire population of South County, from Exeter to Block Island, Westerly to Narragansett is just over 103,000.


Rhode Island goes into Phase 2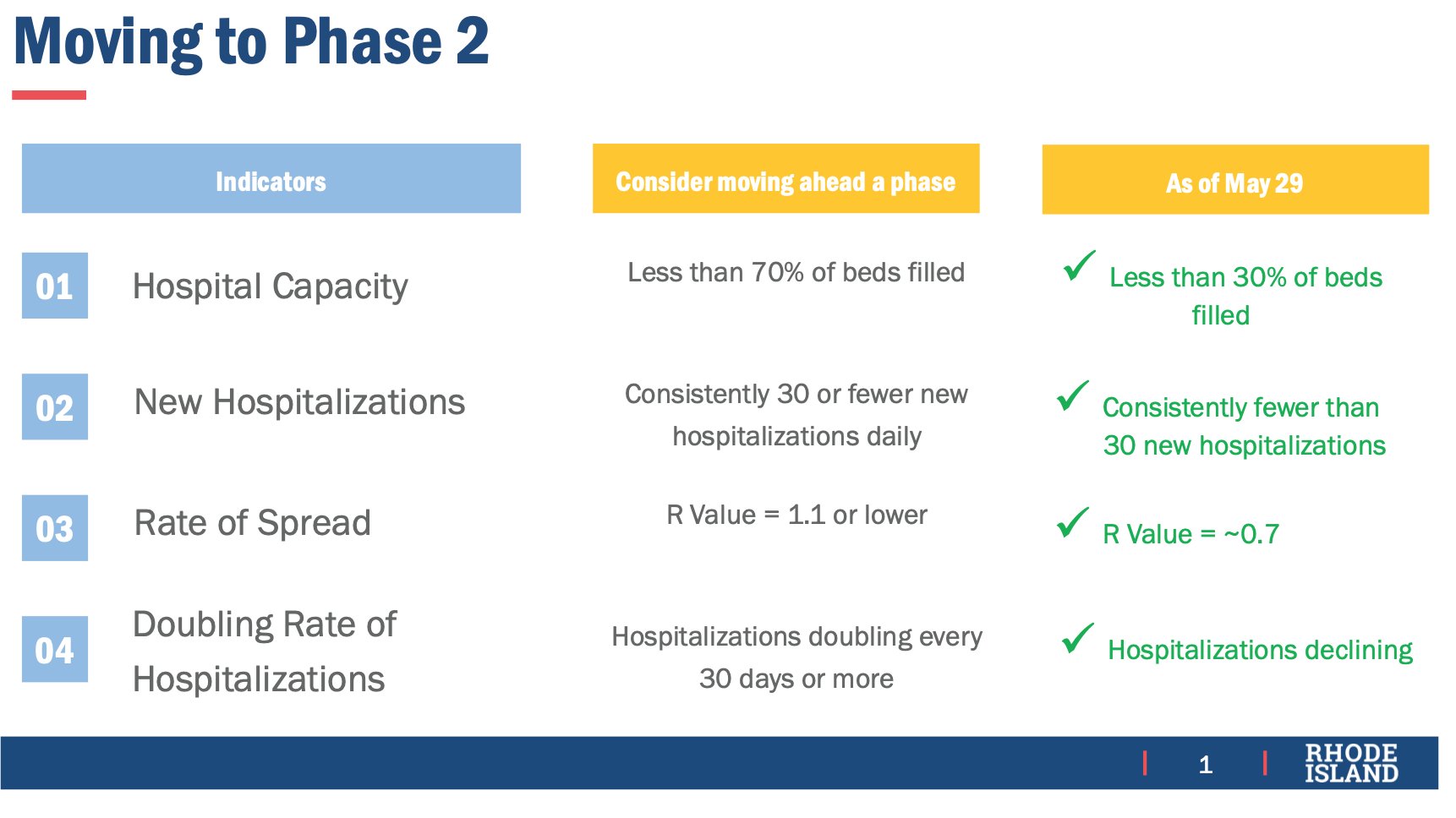 Governor Gina Raimondo is satisfied that Rhode Island is meeting the criteria she set out to allow more businesses to reopen, though under the strict rules of the "new normal."
The daily death toll, hospitalizations, new cases and ICU use are all down enough to take the next step.
As she is quick to point out, we can see how well each step goes reflected in the pandemic statistics after two weeks.
In my own less frequent forays out to stores and markets, I've noticed people are doing their bit. I have not personally seen one person mask-less. Generally, I've seen excellent social distancing.
Despite efforts by idiot state Senator Elaine Morgan (R-Hopkinton), who represents the northern half of Charlestown, to try to agitate her far-right supporters to resist masks and social distancing, what I have seen is the opposite: people behaving like thoughtful good citizens.
AAA and Division of Motor Vehicles Business
If you need to renew your license, registration or conduct other routine DMV business and are a member of AAA, you're in luck.
The AAA office in the Salt Pond shopping center in Narragansett re-opened for DMV business – by appointment only.
Last October, I needed to renew my license. Because of the new RealID regulations, it was a nightmare that took more than two hours.
Cathy's license expired in April so we decided to take advantage of AAA's re-opening to take care of that, even though the state had granted a 90-day grace period.
We were met and processed outside the office and taken inside just a few minutes off our scheduled time to complete the process.
It took about 15 minutes inside to complete the paperwork and photo taking for Cathy's new RealID license.
It was a big improvement over my pre-pandemic experience last October.
With no advance notice, IRS sent us our "Economic Impact Payment" in the form of a nondescript envelope from a "Money Network Cardholder Services."
I almost threw it out since it looked like junk mail of the worst kind – an unsolicited credit card.
Apparently four million people also received the same mail and had the same reaction I did to the point where there have been a number of warning articles in the business media. CLICK HERE for one I found very helpful.
If you resist the temptation to throw out the envelope, you'll find an inert debit card inside. You must call to activate it – a simple process – and then can use it like any other debit card.
If you tossed the envelope or lost the card, you can get in touch with

EIPcard.com

for more information about replacing it. Good luck with that.
CVS Pharmacy, 151 Franklin Street, Westerly, RI 02891

CVS Pharmacy, 1123 Boston Neck Road, Narragansett, RI 02882
At your appointment time, go to the pharmacy drive-thru window where you will be given a test kit and instructions to take the swab and stick way up your nose under the supervision of a CVS staff. Hand the test in when you're done and you'll get the results in three days or so.
They are NOT using the Abbott rapid-test kit being used elsewhere (including the White House). Those tests are coming under fire for way too many "false negatives" meaning the test can MISS the virus almost half the time. False positives have not been widely reported.
The next phase in the Dolt Rebellion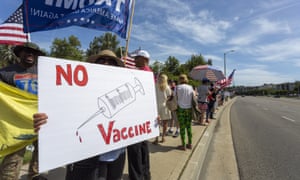 A significant segment of the right-wing revolt against public health measures to stem the pandemic are anti-vaxxers from the small, but organized movement opposing vaccination to prevent infectious diseases.
The one sure way to deal with COVID-19 as well as all other contagious diseases is to invent vaccines that give your body the antibodies to prevent the disease. If enough people get vaccinated, we see the "herd immunity" effect where disease spread stops because it runs out of people to infect.
This was how we eliminated smallpox and polio, and almost eliminated measles, mumps and rubella until the anti-vaxxers money-wrenched that.
Over a dozen vaccines for COVID-19 are in the works, many showing promise, so it's possible we may have a vaccine or two to either provide complete protection or perhaps annual protection, similar to a flu shot.
Public health officials worry that not enough Americans will be willing to actually get vaccinated due to the general rise of anti-science as well as increase in anti-vaxxer sentiment.
A May 14-18 poll shows that only 49% of Americans plan to get vaccinated if and when a vaccine is developed. 31% are unsure and 20% won't get vaccinated.
I just don't understand anti-vaxxing – vaccines DO work and save countless lives.
Personal freedom is irrelevant when it comes to public health and safety, which is why you don't have the right to fire off an automatic rifle in a crowd of people.
If you want to exercise your "freedom" to go unvaccinated, we should exercise our right to exclude you from human contact to prevent you from infecting others.
From France, the world's center for fine dining, comes the ultimate solution to allow restaurants to reopen at or near full capacity.
Introducing dining

à la dome
where each patron has his or her own protective dome.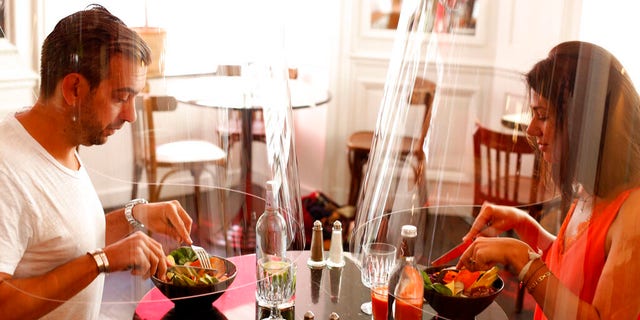 AP Photo/Thibault Camus
Chic and secure, the dome allows diners to see each other. I'm not sure about conversation since the dome does seem to resemble the classic "Cone of Silence" from the old series Get Smart.


Perfect for Rhode Island's Phase 2 re-openings.
For outdoor dining, there's the

wonderful solution

devised by a bar in Ocean City, Maryland where each diner has their own private table to ensure proper social distancing.
I did not make either of these two new approaches to dining.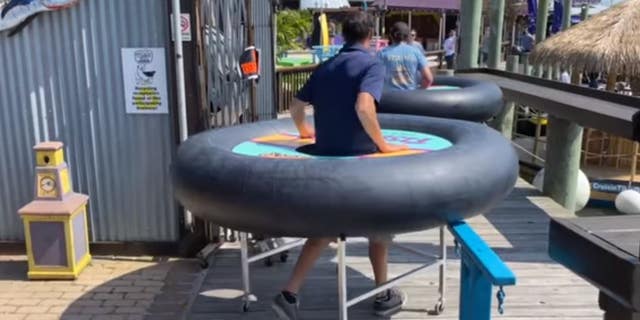 John Middlebrook via Storyful