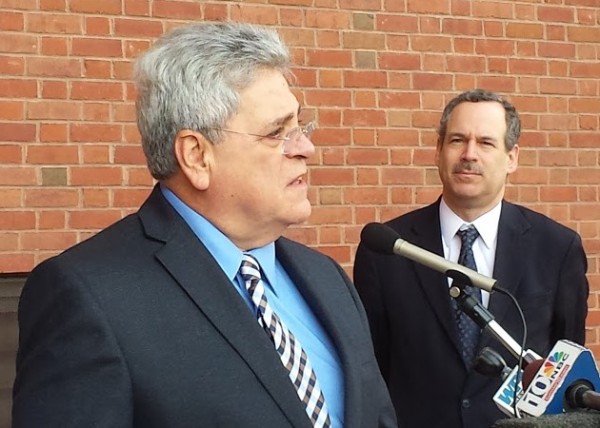 By in Rhode Island's Future
"Shall there be a convention to amend or revise the Constitution," will ask Question 3 on Tuesday's ballot.
Citizens for Responsible Government (CFRG), a diverse coalition of organizations united to oppose Question 3, has been working diligently to spread the word why the answer should be no.
A Constitutional Convention,

or a Con Con

, would be dangerous for the citizens of Rhode Island, especially for minorities and women. Question 3 must be rejected!
On October 21, CFRG held a press conference featuring 3 former delegates from the 1986 Con Con. Former Senate Minority Leader, Lila Sapinsley, former Senator Thomas Izzo, and lawyer and former Housing Court judge, Roberto Gonzalez, Esq. warned against convening another Con Con. Mr. Gonzalez stated, "All the good government stuff went out the window. Just about all."
Most people do not realize that this wasn't the first time Mr. Gonzalez had spoken out against a Con Con.
This past August, the Constitutional Convention Bi-Partisan Preparatory Commission held public hearings where testimony could be given for or against a Con Con. As campaign manager for CFRG, it was my duty to submit testimony for our coalition partners whenever they were unable to attend in person. A delegate to the 1986 Con Con and former Housing Judge, Roberto Gonzalez, Esq., provided me with a written statement which I read to the commission. His powerful experience as a delegate warns strongly against the convening of another Con Con. As we approach

Tuesday's

election, I felt that it was necessary for me to share this testimony with the public.
Written Testimony of Roberto Gonzalez, Esq. to the Constitutional Convention Bi-Partisan Commission




Greetings Honorable Members of the Constitutional Convention Bi-Partisan Commission. My name is Roberto Gonzalez. I am a resident of the City of East Providence.
I served as a delegate to the 1986 Constitutional Convention. I was just finishing law school at the time, and was full of idealism and had a burning desire to serve. I cannot begin to tell you how disillusioned I became with the 1986 Con-Con process and especially with the end result.
We elected a President to the Convention, Attorney Kevin McKenna, that had been hand-picked and strung out on puppet strings by the then Speaker of the House, Matt Smith.
Nothing moved during the convention without Matt Smith's authorization. He essentially controlled the entire process from beginning to end, including establishing the rules under which we operated.
At the risk of sounding sacrilegious, and with no disrespect intended to the Constitutional Convention Bi-Partisan Commission members who are now part of the GA leadership teams, and who I am sure are working hard on this issue, I have to tell you that the 1986 convention was hijacked from the citizens of Rhode Island.
While some delegates deliberated in good faith the outcome of the convention had been predetermined by the then powerful Speaker Smith, who were in turn controlled by the same special interests that control the House Leaders today. Many, if not most of the delegates, were family or friends of those in power.
It was never a convention of the People to improve government, but rather a convention of special interests. I am sure that if the good citizens of this State choose to have another convention the exact thing will happen.
Instead of debating good government amendments, the convention will become bogged down with a plethora of polarizing social issues, such as: gun control, abortion, voter ID and immigration.
There is nothing to stop the delegates from putting measures on the ballot that will reverse the recent gains by progressives, and good government groups.
After all is said and done the voters will ultimately defeat most of the proposed amendments, but only after several million tax-payer dollars are misappropriated from programs for education, housing, and infrastructure development. Are we not better off putting these funds to work for the People of our State?
Jenny Norris

is a macro social worker doing my best to make positive changes in this beautiful world of ours!