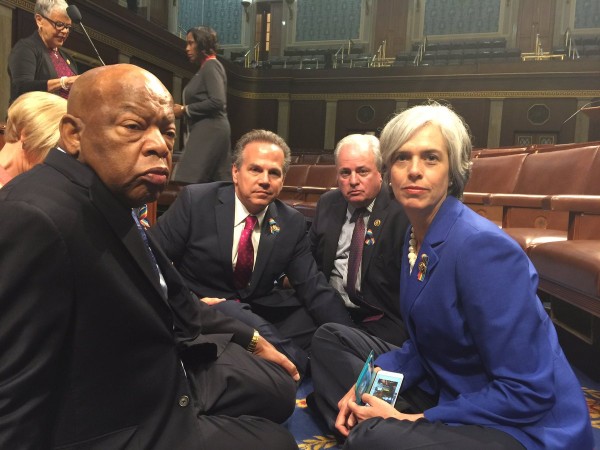 EDITOR'S NOTE: Cathy and I watched several hours of the sit-in last night as C-SPAN re-broadcast streaming video coming over social media after House Speaker Paul Ryan cut off the official cameras. A piece of history! – W Collette
Rhode Island's congressmen David Cicilline and Jim Langevin joined John Lewis and other Democrats in a sit-in on the floor of the House of Representatives to force Republicans to hold a vote on preventing gun sales to suspected terrorists and expanded background checks for potential gun owners.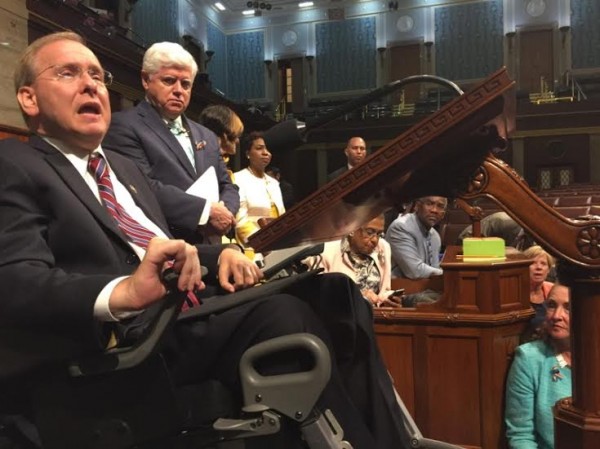 "We are resolved and committed to speaking out for victims, survivors, and families at home who deserve a vote," said a letter signed by Cicilline and 16 other Democrats to House Speaker Paul Ryan.
"We are prepared to continue standing on the House floor whenever the House is in session to assist you in bringing these bills to a vote."
According to Politico

, "more than 40 Democrats walked into the chamber just before noon and pledged to 'occupy' the House floor until GOP leadership allowed a vote."
Cicilline, in a speech on the House floor just prior to the sit-in, said the incident at the Pulse nightclub in Orland should compel a legislative response to the increased mass shootings and gun violence America is facing.
"This monstrous attack on the LGBT community in a place of refuge and empowerment requires us to act," he said. "The shooter in Orland used an assault rifle that is virtually identical to the ones used by mass killers in San Bernandino, Umpqua Community College, Aurora and Sandy Hook Elementary. That's no coincidence. Out of the eight high profile mass shootings that have taken place in the past year, seven involved the use of an assault weapon."
Congressman Jim Langevin also participated in the action. In a statement, he said:
"These are not radical ideas. These are commonsense proposals, and the time to take action is long overdue. As the victim of an accidental shooting, I know firsthand the devastating effects that guns can have on a life, even when being handled by experts. I was lucky. I lived. The 49 innocent people killed in Orlando – and the thousands killed by guns in our country each year – did not have that chance, and their families and friends deserve better. The vast majority of Americans support responsible gun reforms, like universal background checks, and those constituents deserve a vote."
Here's the full text of the letter from the 17 representatives to Speaker Ryan:
As the worst mass shooting in our nation's history has underscored, our country cannot afford to stand by while this Congress continues to be paralyzed by politics. We urge you to lead the House into action and work with both sides of the aisle to pass commonsense solutions to keep American children and families safe.
There is broad agreement among Americans – greater than 90 percent by some measures – that expanding background checks for firearms purchases is a reasonable measure for this Congress to pass. An overwhelming majority also agree that we should enact safety measures that keep guns out of the hands of suspected terrorists.
The question before us is, what is this Congress waiting for?
Over the last 12 years, gun-related crimes claimed more American lives than AIDS, war, and illegal drug overdoses combined. Since Newtown, tens of thousands of lives have been lost to this deadly crisis. The number of bills that have been debated and passed by this Congress to prevent such deaths is zero.
Together we represent families who are worried and frustrated – millions of Americans who are fed up with the inaction in Congress. There is no doubt that our path to solutions will be arduous, but we have to agree that inaction can no longer be a choice that this Congress makes. We cannot enact solutions for families at home if the Speaker will not even allow a debate.
Therefore, we stand with thousands of brokenhearted families who have not been served by this Congress, and millions more who are counting on us to find the moral courage to do the right thing.
We stand together in our refusal to sit by while this Congress abdicates its fundamental responsibility to protect American families from harm. We urge you to keep the House in session until we have robust debate and votes on expanding background checks and banning the sale of firearms to suspected terrorists.
Until then, we are resolved and committed to speaking out for victims, survivors, and families at home who deserve a vote. We are prepared to continue standing on the House floor whenever the House is in session to assist you in bringing these bills to a vote.

Rep. Katherine Clark
Rep. John Lewis
Rep. Gregory Meeks
Rep. John Larson
Rep. Robin Kelly
Rep. John Yarmuth
Rep. Chellie Pingree
Rep. Stacey Plaskett
Rep. Michael Capuano
Rep. Rosa DeLauro


Rep. David Cicilline


Rep. Kathy Castor
Rep. Bonnie Watson-Coleman
Rep. Steve Cohen
Rep. Peter Welch
Rep. Bill Pascrell
Rep. Joyce Beatty
Rep. Joseph Kennedy
Bob Plain
is the editor/publisher of Rhode Island's Future. Previously, he's worked as a reporter for several different news organizations both in Rhode Island and across the country.