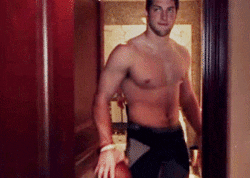 "I bought Tim Tebow's jersey and helmet at auction for a good cause- fighting breast cancer,"

Donald Trump tweeted

in January 2012.
Donald Trump the individual did not buy the Tebow gear.
The Donald J. Trump Foundation did, and while Trump founded the foundation and is its president, "at the time of the auction, Trump had given none of his own money to the foundation for three years running."
Afterward, three experts on tax law questioned whether Trump had violated IRS rules against "self-dealing" — which are designed to keep nonprofit officials from using their charities to help themselves.
Those rules ban the "furnishing of goods" by private foundations — like Trump's — to their own

officers

.
If the rule is broken, the person who breaks it must notify the IRS and may have to pay a tax penalty. There could also be penalties for signing a tax return that failed to mention the violation.
In 2012, the

tax return

for Trump's foundation checked the boxes for "no," it did not break the self-dealing rule.
Trump's supporters may not care—may even be excited—if he isn't paying his own personal taxes.
Avoiding taxes would be very on-brand for Trump.
But using a charity to buy himself football memorabilia he could theoretically afford without even noticing?
That seems like it would cross the line from "crafty man who doesn't let the government get its hands on his money to provide valuable services" to plain old tacky and tawdry.
Not to mention, Tim Tebow did not turn out to be the sort of winner Trump likes to link himself with.