Here is a Big List of those Foods from TSA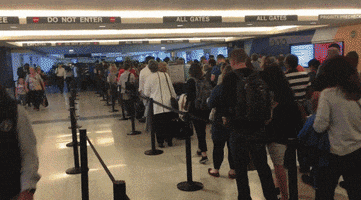 One of my favorite websites for up to date information on consumer issues is the Consumerist. In a recent posting, they offer very useful tips for weary summer travelers already coping with long lines and airline torture tactics.
In a recent post by Ashlee Kieler, there's a great list compiled from various directives put out by the Transportation Safety Administration on what you can legally bring with you through security and onto the plane.



Solid food items can be transported in either your carry-on or checked baggage, while liquid or gel food items larger than 3.4 oz. are not permitted in carry-on baggage and should be placed in checked baggage if possible,

according to the Transportation Security Administration.

The agency stipulates that food items brought through security must be either be whole, natural foods (like fruit or vegetables), or be in placed in a container or otherwise wrapped up (so no loose sandwiches or cheeseburgers in your bag, please; and you'll have to get ketchup, mayo, or mustard packs after you get through the checkpoint). All foods will be X-rayed the same way as your bags, electronics, and other possessions.
Also, the
TSA offers an app
in which passengers can search specific foods and food types.
So, specifically, what foods can you and can't you bring through airport security?
* These items must be wrapped or in a container
Ms. Kieler notes that "Gift baskets that contain prohibited items are also not allowed to pass through security. As for beverages and other liquid products purchased at Duty-Free stores, they are allowed on the first leg of you flight. However, these stores are typically located after security screening."
Even though you may be carrying an item that is listed as OK to carry, that doesn't mean it's all clear.

The TSA website states

t

he TSA screeners may decide to give it extra scrutiny and, based on their own judgment, decide to reject it.
Still, the more information you have about the basic TSA rules, the more likely you might make it through security with only the usual amount of hassle and delay.