By

in Rhode Island's Future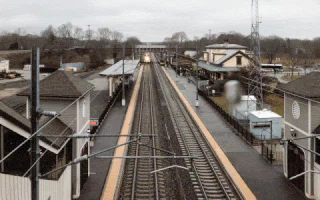 Most folks know that rail travel is a relatively efficient way to travel. Indeed, Federal energy statistics indicate per passenger mile, airplanes use about 21 percent more energy and cars about 27 percent more.
Rail's advantage is even higher for our Amtrak service on the Northeast Corridor which is already fully electrified.
Less well known is how much rail service we already have. How many trains a day do you think we have between Providence and New York? Between Providence and Boston? Answers below.
Yet we are facing many rail passenger issues, e.g. the proposed Pawtucket-Central Falls commuter station, Kingston station projects, the issue of low passenger use of Wickford Junction, the proposed Providence train station bus hub, MBTA-RIPTA coordination, and more.
Another issue is that Trump has in effect proposed eliminating Amtrak (though note it is now safe for the rest of this fiscal year.)
Though he did not target the northeast corridor, his proposed elimination of the national network would hurt the corridor through loss of passengers making connections, reduced economy of scale, and most importantly, loss of federal help from the politics of the bulk of states not getting any service.
Some Rhode Islanders are focused on a Federal Railroad Administration suggestion, as part of a plan to speed up trains and enhance capacity in the Northeast Corridor, to build bypasses in southern RI and CT.
While some of these do seem unnecessary, expensive, and possibly destructive, I cannot see the remotest chance the bypasses can be financed anytime in the foreseeable future.
There is already an enormous backlog of unfunded deferred maintenance on essential corridor infrastructure, not the least of which is at Penn Station, bridges in NJ, and tunnels under the Hudson River and in Baltimore.
Those concerned with the environment and climate change should be fighting a different battle, the battle to preserve intercity rail service, especially here where Amtrak service is electrified and our position on the corridor is an economic advantage.
By the way, each weekday we have about 39 trains each way to Boston, 19 to New York.