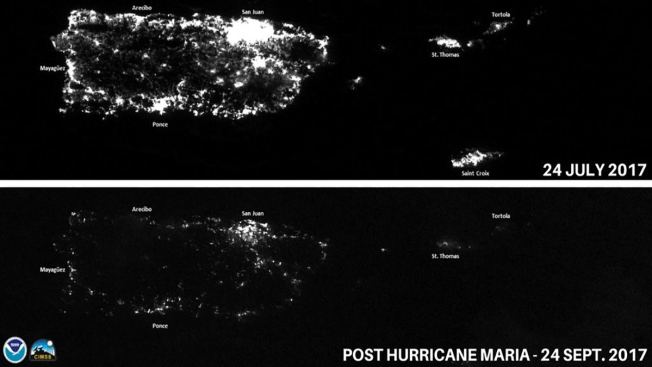 Critics on Monday called Puerto Rican Governor Ricardo Rossello's plan to privatize the island's electricity authority a development that exemplifies the prevalence of "disaster capitalism"—the liberalization and corporatization of economies following destructive events like last September's

Hurricane Maria,

which devastated the island.
Wenonah Hauter of Food & Water Watch

called

the decision "catastrophic" and indicative of the same pattern of the Trump administration prioritizing wealthy companies that aim to take over public services.
"The decision to privatize Puerto Rico's state-owned power company follows the same dangerous path mapped out in the Trump administration's draft infrastructure plan," said Hauter.
"Whether it's water or energy, privatization helps Wall Street at the expense of the wellbeing and health of communities, particularly low-income families and people of color."
Naomi Klein, who has written extensively about the phenomenon of disaster capitalism, said on Twitter that the decision is troubling but unsurprising.
Intercept reporter Kate Aronoff agreed that the destruction caused by last year's hurricane has provided Rossello with an opportunity to sell the Puerto Rico Electric Power Authority's (PREPA) assets to various private companies, allowing them to operate without the regulatory oversight used for public entities.


Four months after the hurricane, about 30 percent of the island is still

without power.

In addition to gross mismanagement by the Trump administration, PREPA has also been blamed for the slow recovery.
In November, the agency's director was

forced to resign

due to failures that included a short-lived rebuilding

contract

that was given to a tiny Montana-based energy company with connections to Interior Secretary Ryan Zinke.
Utility workers also accused the government of

hoarding supplies

needed for the recovery, and union officials have argued that PREPA has

intentionally sabotaged

efforts to repair the electric grid in order to pave the way to privatization.
Rossello argued on Monday that PREPA has become "a heavy burden for our people, who today are held hostage by its poor service and high cost," referring to Puerto Rico's frequent blackouts even before Hurricane Maria and Puerto Ricans' power bills, which on average are twice as high as those on the mainland.
"The deficient and obsolete system of generation and distribution of energy is one of the great impediments to our economic development," Rossello added.
But critics including Sen. Juan Dalmau of the Puerto Rican Independence Party argued that privatization would likely hold few benefits for customers and argued that the territory's leaders were taking advantage of residents' desperation for any improvement after the devastating storm.
"The message is a manipulation of the justified hopelessness of an island facing a lack of power after the hurricane," Dalmau said.
Instead of privatizing and deregulating the island's energy system, Hauter argues the Puerto Rico government has much better options.
"A just and equitable infrastructure plan would dedicate funding for water systems, have a progressive revenue stream, and prioritize vulnerable communities with the greatest affordability and public health needs like Puerto Rico," she said. "This plan does none of this."