Climate Action RI enjoys dinner at Amigos Taqueria Y Tequila, restaurant condemned by state Senator Elaine Morgan
Over twenty people, mostly members of

Climate Action Rhode Island

(

CARI

) but also members of many other activist groups in Rhode Island, enjoyed dinner in Westerly Friday evening at

Amigos Taqueria Y Tequila

, the restaurant targeted by Rhode Island State Senator

Elaine Morgan

(Republican, District 34, Charlestown, Exeter Hopkinton, Richmond, West Greenwich).
Morgan took exception to the staff wearing tee shirts that said, "

86 45

" on the eve of the midterm elections this year and encouraged a boycott of the restaurant. As a result, the restaurant has become the target of racist bullying, harassment and threats.
Morgan claims to believe that the term "86" is synonymous with assassinate, as if the employees of this restaurant were calling for the assassination of President Trump, but obviously the term is common restaurant slang for "no longer available," "cancel" or "get rid of." (See

item #3 at this link

.)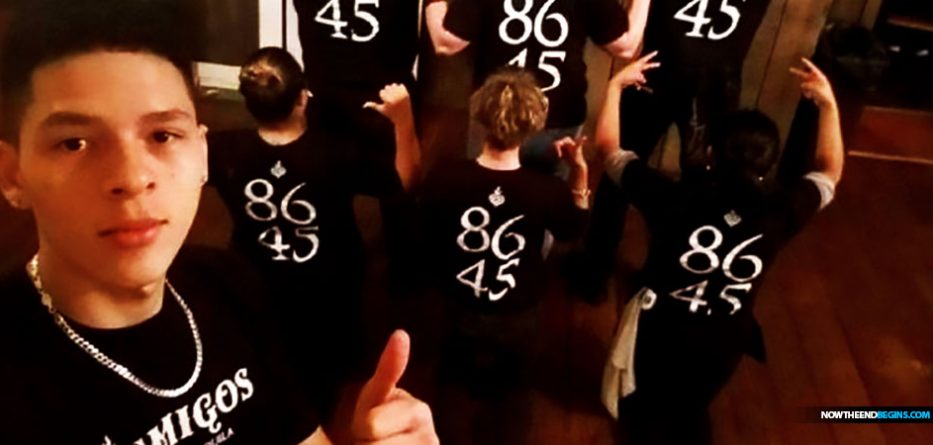 As a result of Morgan's call for a boycott, the restaurant had to suspend their social media, and even turn of their phones. Financially, the restaurant and the employees have taken quite a hit.
On my visit to the restaurant to cover the CARI event, I had a chicken burrito, which was fantastic. I highly encourage everyone who is able to visit this restaurant. The food is great, the restaurant is clean and the service was top notch.
Since it might not be immediately obvious why a group dedicated to climate action would be interested in defending a small restaurant in Westerly. Here's CARI's statement explaining:
"The climate crisis poses an existential threat to humanity and Rhode Island in particular, and our survival depends on taking bold action. Climate Action Rhode Island is committed to this action, by regularly advocating for legislation in the State House, performing peaceful demonstrations, facilitating public education, and endorsing political candidates.
"We were deeply disturbed to hear that State Senator Elaine Morgan had called for the boycott of Amigos Taqueria & Tequila Restaurant, for exercising their right to free speech in openly opposing the President, whose lackluster environmental policies and outright denial of the scientific truth of climate change are contributing to the destruction of life on our planet.
2 Canal Street in Westerly
"We organized with several other activist organizations and community members, and traveled to Westerly to have dinner together at Amigos in support of their right to free speech and informed opposition to bad policy.
"We were shocked to learn about the harassment that the owner and staff have endured over the last few weeks, and the cost in emotional stress and thousands of dollars spent to ensure everyone's safety, as a result of the harassment by an elected official.
"In a world so deeply divided, Senator Morgan should be ashamed of herself for causing so much harm to a small business and her constituents. We support Amigo's right to political expression, and their opposition to Trump. In this time of political turmoil and looming environmental disaster, we must stand together in solidarity with those willing to speak up for what is right."