Three minute overflight starts at 9:52 PM
By Will Collette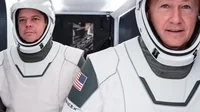 The International Space Station has flown over Charlestown the last three nights.
Tonight, they fly over with the new American crew members brought to the station by Elon Musk's SpaceX vehicle, the first ever corporate space flight.
I have deeply mixed feelings about the privatization of space, at least by the US. Corporate space ventures have been the grist of lots of great science fiction thrillers, such as Alien, Aliens and sequels, Avatar or Sean Connery's 1981 classic Outland. The recurring them is that corporate space travel is not a good thing.
Well, for better or worse, Elon Musk is now the 21 century's Werner Von Braun and his creation flies over us tonight as an appendage to the ISS.
The forecast is for partly cloudy skies. Here are the overflight details from NASA:
Time: Mon Jun 01 9:52 PM,
Visible: 3 min,
Max Height: 40°,
Appears: 17° above WNW,
Disappears: 29° above S