CRMC Subcommittee Rejects Potter Pond Aquaculture Expansion
By ROB SMITH/ecoRI News staff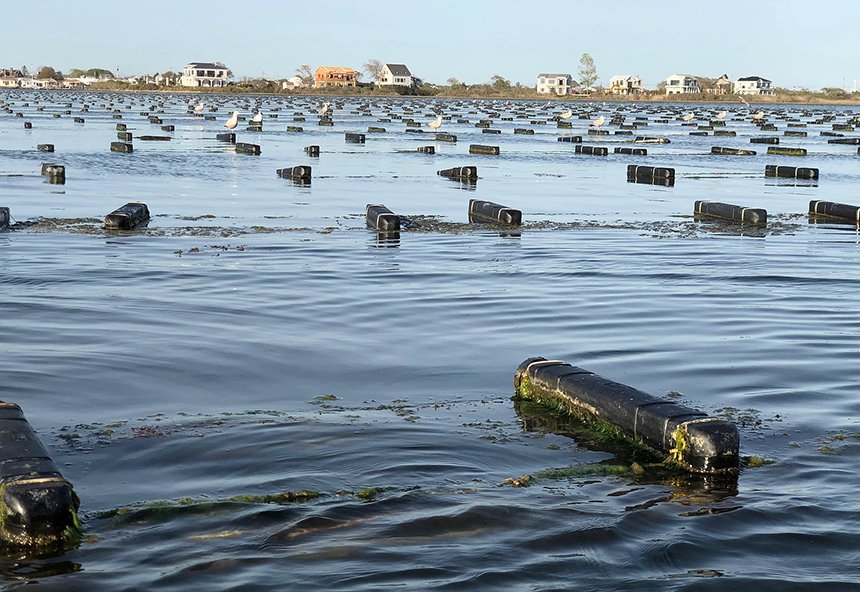 About 3 percent of Potter Pond in South Kingstown, R.I., is currently used for aquaculture. (Save Potter Pond)


A four-year tug-of-war between commercial aquaculture and some South Kingstown residents is nearly over. Members of a Coastal Resources Management Council (CRMC) subcommittee have recommended the council deny an application from Perry Raso, owner of the Matunuck Oyster Bar, to expand his Potter Pond oyster farm.Raso originally applied in 2017 for 3 acres of additional oyster and bay scallop farming in the popular salt pond, claiming an increased demand for local shellfish. The application incited a flurry of complaints and action from neighbors.

The subcommittee's Nov. 9 recommendation came down to the proposal's impact on water-based activities. The five-member subcommittee said the expansion would cut water-based activities by 23 percent, displacing them toward the center of the pond, an area where boats typically cluster, and increasing the risk of injury.




Members also noted the proposed site would eliminate traditional shellfishing and fin fishing on the eastern edge of Segar Cove.

Raso owns nearly 10 acres south of Meadow Point, but, even with his request for additional acreage, only about 3 percent of the pond is used for aquaculture, which is below the maximum of 5 percent of a pond's water surface area that CRMC allows for commercial aquaculture.

The subcommittee actually passed its recommendation in March under then-chair Jennifer Cervenka, who resigned this summer. It held public comment hearings last winter.

"I am pleased that the recommendation was accepted as written, and will be forwarded to the full CRMC for their consideration," said David Latham of Save Potter Pond.

The organization formed in response to Raso's 2017 application, and over the years has organized letter-writing campaigns, solicited public comments, and held a "float-in."

Save Potter Pond wasn't the only entity to come out against the proposed aquaculture expansion. The South Kingstown Conservation Commission, the South Kingstown Waterfront Advisory Commission, and the South Kingstown Town Council also opposed the project. The Rhode Island Marine Fisheries Council did not vote to endorse, which Save Potter Pond organizers took as a victory.

While the recommendation from the subcommittee is non-binding, it puts the entire eight-member council — it is two members short — in an awkward place if it chooses to allow the project to go forward.

Salt ponds like Potter Pond, and others along Rhode Island's southern coast, have shallower waters and are typically protected from the ocean by a natural barrier. These coastal lagoons are attractive to wildlife and recreational activities, such as swimming, kayaking, and fishing.

These waterbodies are also attractive to aquaculture operations. They provide easier access and longer growing seasons. The Ocean State's aquaculture industry has seen a steep rise during the past two decades. From 1996 to 2019, the number of farms has increased from six to 81. These operations have gone from occupying less than 6 acres to almost 340.

While the general sentiment across the state, including by many who use the same waters to play, is that aquaculture is good for the local economy and environment — oysters like other bivalves filter water and remove excess nutrients such as nitrogen; a small oyster farm can clean as much as 100 million gallons of water daily — resistance has become strong.



Wetlands protection tabled


During the Nov. 9 meeting, the full CRMC board voted to table its vote to approve the final freshwater wetlands protection rules until its first December meeting. Council member Jerry Sahagian said he "would like a couple weeks to explore how it impacts affordable housing."

The action makes a five-year-long process a little longer. CRMC and the Rhode Island Department of Environmental Management face a legislative mandate to pass statewide regulations regarding wetlands and adjacent zones. The proposed rules would supersede any local regulations.

DEM held a public comment period last winter and filed their rules with the secretary of state's office in July, The new rules are scheduled to go into effect in January. CRMC recently held its public comment process, having only written comments from the Rhode Island Builders Association and Save the Bay.

"We have found the balance [in the rules] because neither party is pleased with the regulations," CRMC deputy director James Boyd told the council.

Boyd also indicated CRMC staff would be seeking to push back the effective date of the new rules to July, a move that would require DEM maneuvering. The extra time is to give agency staff time to facilitate more documentation, outreach, and training.