UPDATED: Party primaries matter, especially in Congress Second District, RI Senate District 38
By Will Collette
UPDATED: Well-known Westerly politico Caswell Cooke DID finally squeek his way onto the November ballot as an independent candidate for Senate District 38 (Dennis Algiere's former sear). The final tally shows Cooke with 108 validated signatures to meet the 100 minimum.
Stephanie Beute was a virtual unknown until she qualified to run against Greg Amore in the Democratic Primary for Secretary of State. She remedied that with
a flurry of news articles describing her candidacy. Links below.
The Board of Elections has finished its count of signatures submitted by candidates; Friday was the last day for signature challenges. This article summarizes the offices and candidates who will be on Charlestown's Primary ballot on September 13.
None of the candidates for Charlestown's municipal offices face primary challenges so their first and only test with the voters will be at the November 8 General Election. I'll run down the list of who is running locally in another article coming soon.
There also is no primary for House District 36 to replace scared rabbit Flip Filippi who ran for cover when Tina Spears announced her bid to unseat him. She does have a Republican opponent in November but we'll get to that later.
But first, let's look at the primary races where party voters will make critical choices about who will face off in November. NOTE: I make no apology for the fairly obvious bias in my remarks.
Congressional District 2
Rep, Jim Langevin's surprise announcement that he is retiring set off a frenzy of activity to replace him. In Rhode Island, it is rare for any one of its four seats in Congress to fall open so this is a rare opportunity for a Democrat to move up or for the Republicans to flip a long-time Democratic House seat.
Term-limited General Treasurer Seth Magaziner 👉 leads the pack, followed by former aide to Rep. Langevin Joy Fox, gazillionaire Sarah Morgenthau (who may or may not actually live in Rhode Island) and progressive David Segal.
Two long-shots remain in the race: Omar Bah who squeaked into the primary with only 5 signatures to spare and comeback kid and long-time South Kingstown state legislator Spencer Dickenson hoping for a political comeback. Two contenders dropped out: Donald Keith and Cameron Moquin.
Six Democrats in the primary makes it pretty likely that the primary will be messy. Hopefully, that will not harm the winner from beating Allan Fung in November.
Fung gets a pass from a primary challenge now that we know his fellow Republican Donald Frederick Robbio fell short of the required 500 signatures on his nomination papers by 82.
Fung who lost his last two statewide races (and lost in Charlestown) will face the winner of the Democratic primary. For reasons unknown, ethical or otherwise, Charlestown hired Fung to advise it on how to spend American Rescue Plan Act (ARPA) money even though every Republican in Congress voted against it. Fung has not said whether he actually supports ARPA, but Charlestown is paying him anyway.
There were also four independents who declared for the House Second District but three of the four failed to qualify for lack of signatures. Only William Gilbert, representing what's left of the Moderate Party, had enough signature to make it onto the November ballot.
Senate District 38
(Westerly, southern half of Charlestown, part of South Kingstown)
Sharon Ahern, Victoria Gu and Michael Niemeyer

We now know that one local race, the contest to replace retiring state Senator Dennis Algiere, District 38, will go to a primary on September 13 to determine the Democratic candidate. Three Democrats are competing:

Sharon Ahern

of Westerly who chaired the Westerly Town Council, political newcomer

Victoria Gu

of Charlestown and

Michael Niemeyer

of Westerly who is running under the auspices Matt Brown's RI Political Collective.
Victoria picked up two major endorsements in the past few days, one from the Rhode Island Coalition Against Gun Violence and the other from the RI Working Families Party.
The winner will face Republican Westin Place who has no primary challenger.
There won't be any independents for Senate 38 on the November 8 General Election ballot since neither of two contenders got enough signatures to make the cut. One was conservative Robert deVilliers and the other was well-known Westerly politician Caswell Cooke. Cooke's failure to qualify is quite a surprise given his long prominence in Westerly politics. Cooke finally did manage to get 8 more signatures than the required 100 after the BOE finished its tally. De Villiers did not with a final count of 81.
Senate District 35
(East Greenwich to Wakefield)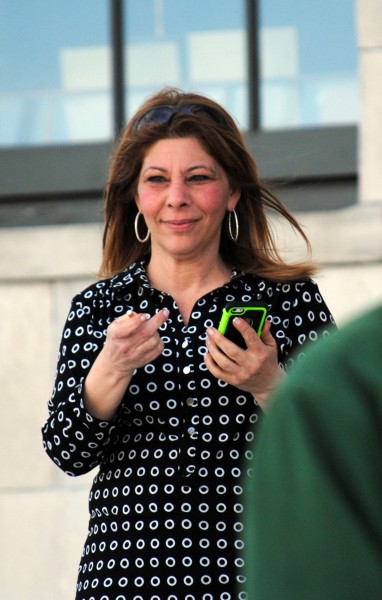 Here's Costa taking photos of people
attending an anti-gun rally and
flipping the finger at journalist Steve Ahlquist
who took this photo

Two potential Republican primaries fizzled. In Senate District
35, Republican Nadine Swanson dropped out allowing radical nutcase Doreen Costa 👈who seeks to make a political comeback now that crazy is the norm in the Republican Party to skip the primary and go straight to the General Election. Costa will face incumbent progressive Democrat Bridget Valverde.
Though I loved writing Doreen Costa stories, I was glad to see her go in 2016 and am sorry to see her trying to come back.
Wikipedia described the incident that best describes what a terrible legislator she was:
In 2013, Costa, a North Kingston resident, advocated for the recall of the Exeter town council over a firearm background check rule that would allow electronic background checks to be facilitated by the state. Exeter did not have the resources to conduct the checks and relied on the state. The recall failed, ultimately, costing the town of Exeter close to $10,000.
Senate District 35 👉 is shaped like a descending colon that stretches from East Greenwich to Wakefield. Before it's re-districting colectomy, it stretched to Point Judith.
House District 39 (Richmond, Hopkinton, Exeter)
Right-wing radical nut Rep. Justin Price escaped a primary when fellow Republican and controversial former Hopkinton Town Council President Frank Landolfi failed to turn in any signatures to get on the ballot.
Price took over Doreen Costa's ecological niche as dumbest, most radical Republican in the General Assembly and has been embarrassing his district since 2014.
Now Price will face a rematch with progressive Democrat Megan Cotter in the November 8 General Election unless Price is arrested by the feds for his role in Trump's attempted coup on January 6.
Governor
McKee, the accidental incumbent
Six Democrats and five Republicans filed Declarations of Candidacy for Governor. Now that the count of signatures on nominations are almost complete (some signatures are under challenge), four of the eleven failed to make the cut, though none were deemed to be serious contenders.
That makes the Democratic primary for Governor a five-person race pitting woeful incumbent Dan McKee against term-limited Secretary of State Nellie Gorbea, RI Political Coop guru Matt Smith, former CVS exec Helena Foulkes and immigration advocate Dr. Luis Munoz.
Nellie Gorbea whose been a great Secretary of State
On the Republican side, Republican endorsee and carpetbagger Ashley Kalus (whose most admired politician is fascist Florida Governor Ron DeSantis) faces Jonathan Riccitelli. I'd love to see Riccitelli upset Kalus in the September 13 primary because I can't imagine Rhode Island turning into another Florida. Senior political analyst Scott McKay remarked that Kalus "

can't find Pawtucket without a GPS. Or maybe she thinks it is Pawtuxet."
Six no-hopers filed Declarations as independents or third party. Only one of the six has qualified for the ballot: Zachary Hurwitz, a Narragansett
18-year old who got a nice puff piece in the ProJo.
Hurwitz told the ProJo:
"During my sophomore year [at North Kingstown High], during COVID, while people were sitting around and watching 'Tiger King,' I was researching the topic, and I realized I could do it. Politics has always been a big part of my life."
He'll be on the ballot in November.
Lieutenant Governor
Former state Representative Larry Valencia from Richmond failed to make the ballot in his campaign for Lieutenant Governor. Larry was a fine member of the General Assembly until he lost his seat to aforementioned jerk Justin Price in 2014.
Unfortunately, Larry ran kind of a joke campaign that picked up from the late Bob Healey's Cool Moose Party raison d'etre that the office of the Lieutenant Governor should be abolished. It's hard to get signatures for an "I don't give a shit" campaign…unless you're Bob Healey.
Lack of interest in the office allowed Dan McKee to squeak out a win over progressive Aaron Regunberg in 2018 election. And by winning, McKee became our inept accidental Governor when Gina Raimondo got her gig with the Biden Administration.
Thinking about how close we came to having a Governor Regunberg makes me appreciate the job of Lieutenant Governor all the more. And besides, Liz Roberts and Charlie Fogarty used the office well during their terms, with Liz championing health care and Charlie stumping the state to promote jobs and the economy.
Larry, I'd love to see you back in office, but your L-G campaign this year was a big mistake.
So on September 13, Democrats will choose from incumbent Sabina Matos (Dan McKee's running mate), Cynthia Mendes (Matt Smith's running mate) and Rep. Deb Ruggiero who is running on her distinguished record.
In November, one of two independents who filed Declarations will also be on the ballot: Ross McCurdy, a chemistry teacher at Ponagansett High School.
General Treasurer
The Treasurer's seat is open due to term limits that pushed Seth Magaziner out and into the race for Congress District 2. The pundits are unanimous in calling the Democratic primary pitting former Central Falls Mayor James Diossa against former state Commerce Grand High Poo-bah Stefan Pryor the hottest primary of the year.
Pryor is getting lots of endorsements and raising tons of money. Diossa is also getting endorsements and donations but not enough to keep up with Pryor.
I've met them both. James Diossa is a modest, good soul who has the distinction of having lifted the city of Central Falls out of the depths of municipal Hell. Central Falls was so bad that the state offered money to Pawtucket to absorb them, but Pawtucket refused because they thought Central Falls was beyond hope.
Then came James Diossa who was Central Falls' first Latino mayor and at age 24, the youngest in Rhode Island history. He bootstrapped the city out of despair. Not only that, but he built a great municipal team that is continuing to help Central Falls become a livable city again under his successor Mayor Maria Rivera. She was among the first to endorse James for General Treasurer.
Now James could have claimed he's the guy who saved Central Falls. He won't do that – he's too modest – so I will.
His challenger Stefan Pryor has no problem with modesty. If you're willing to sit through one of his lecture-speeches, you'll hear how he single-handedly saved lower Manhattan after 9/11, single-handedly saved the Connecticut public school system as CT Education Commissioner and, under both Gina Raimondo and Dan McKee, has been the single most important driving force behind Rhode Island's economy recovery such that it is.
During Pryor's meeting with the Charlestown Democratic Town Committee, Pryor made what I considered to be some cheap shots at his predecessors. I wanted to make sure I heard it right so I asked him in a July 1 e-mail:
When you spoke before the Charlestown Democratic Town Committee recently, you made some remarks that I want to follow-up for clarification.

One was that if you become Treasurer, RI pension investments will be made strictly "on the data" and "on the merits" to get the highest returns. The second was related to the first that you guaranteed there would be "no cronyism," no "I know a guy" influence on investment decisions.

First, I'd like to confirm you made those statements.

Second, I'd like to know more about what you meant. For example, did you mean that RI will not apply any social responsibility criteria to its investments? Will you continue Treasurer Magaziner's practice of shareholder activism on social justice issues? If you go for the highest returns, does that leave open investments in hedge funds, venture capital and vulture funds that Gina Raimondo was fond of? Maybe Bitcoin or the next Ponzi scheme?

The cronyism remark made me wonder who you were referring to. Seth? Gina? Seth has been in office for 8 years and if he engaged in any cronyism, I'd like to hear about it. Or Gina, although she was criticized for her investment choices? I'd also be interested in hearing about what practices Seth Magaziner put into place that you intend to continue, or those you intend to reverse or change.
No response. I doubt if it's hard for you to guess who I support.
There is no primary for Attorney General. AG Peter Neronha does face a token Republican challenge in the November 8 General election. Greg Amore, an overwhelming favorite to become term-limited Nellie Gorbea's successor as Secretary of State faces one primary challenger. Stephanie Beute. I tried to find out whatever I could about Ms. Beaute but only found a photo with no context. Update: Ms Boute finally emerged with a flurry of news articles describing her candidacy. CLICK HERE for ProJo coverage. CLICK HERE for the Boston Globe. CLICK HERE for WPRI.
Vote by mail: application deadline is August 23 for the Primary
Under the newly enacted Rhode Island Votes Act, you no longer have to give an excuse for voting by mail. Nor do you have to have your ballot notarized.
But you probably will not have your ballot automatically mailed to you so you should ask for one.
You can download the application form. You can either fill it in on-line and then print it out ready for signing, or print out the blank and fill it in my hand. Either way, you then sign it using either the name on your driver's license or your new voter registration cards that were mailed last week. It is important that you use the name that appears on your voter registration. You can check that HERE.
Then mail or deliver the completed application to:
Charlestown Board of Canvassers
Charlestown Town Hall
4540 South County Trail.
Charlestown, RI 02813
Deadline for the application is August 23. Once you receive your primary ballot, you must either mail it or deliver it to the Board of Canvassers so they have it in their hands by the September 13 primary day. Of course, you can go to Town Hall to vote either on the day or earlier.
Here's the link to download the application form for the November 8 General Election. The deadline to apply for a mail-in General Election ballot is October 18,