Narragansett Tribe Medicine Woman Dies on October 30
From her obituary: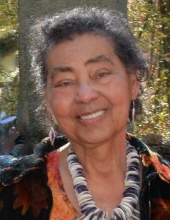 Wenonah was the definition of a beloved matriarch. From consummate knowledge and cellular embodiment of ancestral wisdom, to fierce protector of all who needed her strength. From mentor offering the purest love and the highest of standards to all who sought her advice, to healer with hands which were miraculous instruments of intuition- and as always, adoring mother and grandmother, especially to her own family; who were always present in her words and thoughts, and who now as a clan embody the different aspects of this uniquely extraordinary woman.
She was born in Putnam, CT September 7, 1947 to John B Brown Sr. of Westerly RI, and Ella Wilcox ( Sekatau ) of CT. The oldest of nine of John & Ella's children.
Wenonah would marry Harry Nelson Mars Jr. of RI and the two had three daughters between 1975 and 1980, Anemone, Quahna, and Nishke Mars. A second marriage in life to Douglas Harris of NY would bring her stepson Touré Harris into the familial fold. In 1996 she began her journey into incomparable grandmotherhood. Her grandchildren (5 grandsons and 1 granddaughter) Atsa Zah, Eiyazh Foster, Mishkwatuk (Jayden) Mars, Liliana Ava Mae Mars, Skylar Rain Etsitty and Nodin River Etsitty, were her reigning pride and joy and she is survived by four siblings; Roslyn Brown, Hiawatha J, Brown, John B Brown III and Muriel Stanton Brown- all of her children and grandchildren.
Wenonah devoted her life to the service of protecting Indigenous children and traditional family structures, through not only her implementation and upholding of "organic law and lore", but also her expert knowledge and application of the Indian Child Welfare Act. She was a formidable advocate of the various protections and preservations of traditional core family values not only within tribal infrastructures, but extensively inclusive within inter-state departments of children and families along with state family court systems for over 35 years. Her service to her tribal people expanded throughout her life in multiple facets and in the wake of her mother's passing, Wenonah assumed the role of hereditary traditional Medicine Woman of the Narragansett Tribe, as was her mother before.
Her burial took place today at the Narragansett Indian Tribal Cemetery on tribal lands