Drugs on the Streets of Providence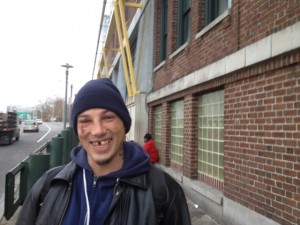 Greg Boisselle talks about trying to quit alcohol and crack
in front of Crossroads in Providence. (Photo by Bob Plain)
By
Bob Plain
on November 22, 2012
RI Future.org
Episode 1
;
episode 2
;
episode 3
One of the most common reasons people are homeless is because of substance abuse. This isn't to say we should shun them because of their addiction. Alcoholism and drug dependency are diseases, and diseases aren't typically easy to overcome all by yourself – especially when every single aspect of life is a struggle, as is the case for the homeless. And besides, from a purely selfish point of view, as a community we have a very vested interest in not having addicts roaming our public spaces and streets.
To that end, I thought it was important to ask some of the people I meet about their relationship with drugs. This isn't an easy topic to bring up with strangers – the wealthy are probably just as prone to lie about it as are the homeless – but I expect some of my sources for this project to try to spin me about it. One fellow told me social service agencies in both South Carolina and Rhode Island erroneously took his children away from he and his wife. Either he was lying, mistaken or extremely unlucky. If I had to guess, I'd put my money on the first one.
Zachary Borhem, a young man with dreadlocks and rotten teeth who grew up in Providence and now sleeps at the mission on Cranston Street and scores drugs outside of Corssroads, was not willing to go on video, but he did let me record him and his friend A.J., or Apple Jacks, talk about the drug culture among the homeless.
Greg Boisselle was willing to talk to me on video about his struggles with alcohol and crack addiction.
Like so many homeless people, Boisselle doesn't work and collects social security disability. In this clip, he explains what how he injured his head and how he plans to rehabilitate himself.