Project Doesn't Portray Problem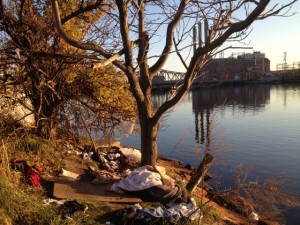 A camp on the banks of the Providence River (Bob Plain)
By
Bob Plain
on November 26, 2012
(We were cross-posting Bob Plain's articles during this project. Links to all of the articles in the series, on RI Future.org, are included at the end of this article.)
Homelessness in Rhode Island, by and large, does not look like it does in the dispatches I filed during my 48 hours of living on the streets and in a shelter. In fact, the slice of homelessness that I portrayed plays to the worst stereotypes about those without homes: that they are drunks, drug addicts, mentally ill and/or criminals.
There are more than 500 employed Rhode Islanders who don't have a place to live.
It's a small enough number that it wouldn't be all that expensive to end chronic homelessness in Rhode Island, and the Coalition has a plan to do so in five years. Advocates also say more affordable housing will keep more people out of homelessness in the first place, and provide a better way to get some people out of it.
Like everywhere there are people living on the streets, Rhode Island has a severe issue with homelessness. But because of our size, we also have the opportunity to be the first state in the nation to eradicate the problem.