Eighth Annual, always an enjoyable way to spend more money than you'd expect
On Saturday and Sunday, rain or shine, the eighth annual HopArts studio trail will be happening. If
you've
never done the HopArts trail before, you're in for a treat.
This is an annual collaboration by artists in Richmond and Hopkinton (though a couple are just across the line in Charlestown in Carolina village) where they open their home studios to visitors who, hopefully, are also customers.
I've done the HopArts tour several times. It's always fun and we always end up spending more money than we intended. That's because our area is fortunate to be home to a wonderful area of artists who work in a wide range of media.
They paint in oil, watercolors and acrylics. They sculpt in wood and stone. There's art glass, ceramics, fine textiles, jewelry, toys, prints, etc. Along the way, you'll see things for sale across a wide price range.
The tour changes slightly each year. This year's tour has twenty steps and around thirty artists. Click here for profiles on the artists. Click here for the HopArts map. It's a good map, but it also helps to have a GPS.
Daniel Read at work
If you use both days, you can probably visit each of the twenty stops. Cathy and I usually study the list to see which artists we want to see each year. We generally look for premo glass artist David Read and for the site where he sets up shop. David
isn't
from here, though he comes down often.
He tends to set up in a different studio with several other artists. Since we know we like his work (and own several of his pieces), we know it would be worthwhile just to see him, but his friends almost always have interesting work, too.
This year, he's at Stop #9, the Grear Studio, right on Main Street in Hope Valley where you can also see paintings, ceramics and cut-glass jewelry.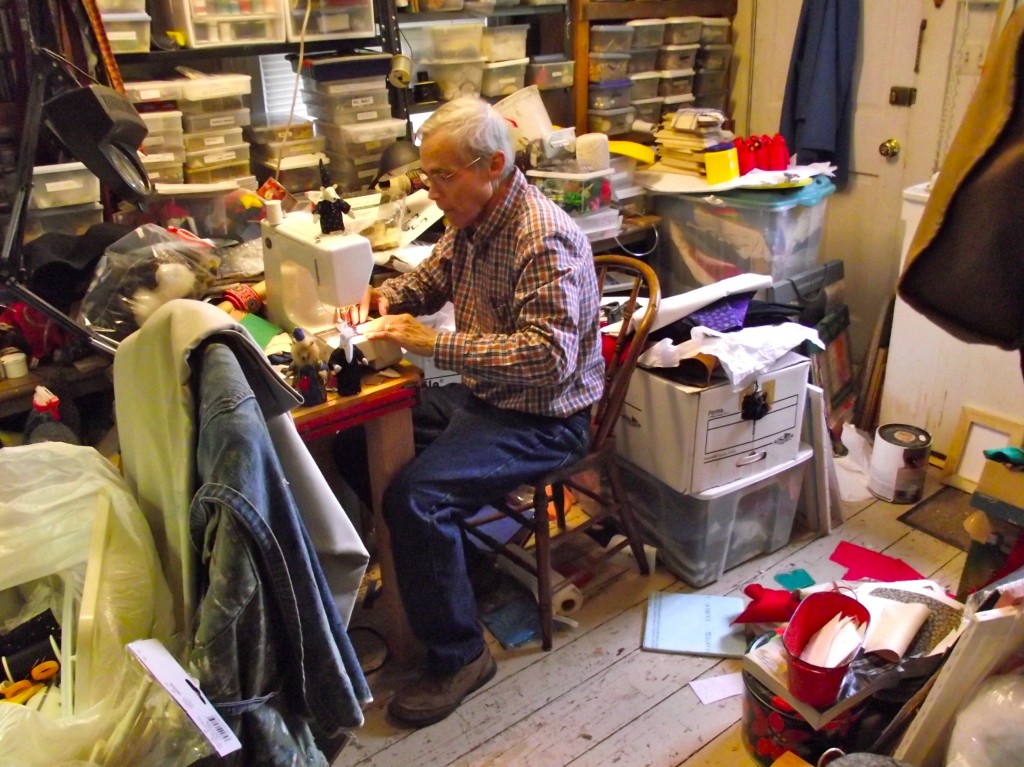 Rick Devlin in his workshop, creating weird and wonderful creatures
Half a dozen other stops are arrayed along a short stretch of Main Street. I always like to stop at Rick Devlin's shop (Stop #8) which features his quirky style of figures and creatures in a variety of media. He's also a lot of fun to talk to. He puts a lot of humor into his art and into his conversation.
Another favorite stop is at the Octagon House in Carolina (#14), home of Carolina Fiber and Fiction. There you'll find beautiful weaving and textile art, plus you get to look inside one of the most interesting houses in our area. You can also park there and take the easy walk to three close-by studio featuring eight other artists.
One of the best – not to mention efficient – stops is #11, Susan Shaw's studio in Wyoming. There are five artists featured at her studio this year. They offer pottery, paintings, woven and quilted textile art, jewelry and stone sculpture.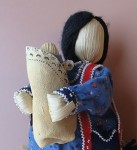 Work by Dawn Spears
At Stop #1, which is a little out of the way, you can see Dawn Spears Native American designs and artwork.
When HopArts happens on a weekend with nice weather, it's one of the nicest New England fall experiences you can imagine.
Maybe some year, Charlestown will do its own version of HopArts. It's not like we're lacking in local talent. Or perhaps, in the Chariho spirit, our artists can be included in with those from Hopkinton and Richmond.
Until then, it's worth the trip, however daunting it may seem to some Charlietowners, to do the HopArts tour and support our growing local arts community.