Rabid skunks, infected mosquitoes and pollen. At least today's ozone levels are down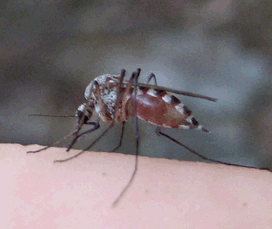 The Rhode Island Health Department and DEM report the first positive findings of the season of mosquitoes infected with West Nile virus. The sample was taken in central North Kingstown.
The forecasted pollen count for Charlestown for today through Monday will be in the medium-high range, according to Pollen.com, peaking on Sunday.
One bit of good news is that DEM is forecasting "good" air through the weekend, without the problems we had last week with high ground-level ozone.
Here is the DEM advisory on the finding of infected mosquitoes in North Kingstown:
The Rhode Island Department of Environmental Management (DEM) and the Department of Health (DOH) today reported that an August 12 sample of mosquitoes collected in the central area of North Kingstown has tested positive for West Nile Virus (WNV). The mosquito is a species that can bite both birds and humans. These findings are expected for this time of year and there have been no reported human cases in Rhode Island this season.



"As we continue to encourage people to enjoy our world-class parks and beaches, it is important to remember to take precautions against mosquito bites," said DEM Director Janet Coit. "Mosquito-borne diseases are more prevalent in late summer and early fall, and risk typically lasts until the first frost."





"Although these findings are expected for this time of year and there have been no reported human cases of WNV or EEE in Rhode Island this season, it is important that all Rhode Islanders protect themselves from mosquito bites," said Director of Health, Nicole Alexander-Scott, MD, MPH. "Personal protection is the first line of defense against mosquitoes that can carry diseases such as West Nile Virus and EEE, and is by far the most effective way to prevent infection."





Samples are tested weekly at the Rhode Island State Health Laboratories. West Nile Virus is increasingly being detected in mosquito samples trapped in neighboring states. There are still no reports of Eastern Equine Encephalitis (EEE) in Rhode Island, Massachusetts or Connecticut this season.





Throughout the mosquito season, residents are encouraged to protect themselves and their families by eliminating mosquito breeding grounds and avoiding mosquito bites. Rhode Islanders should:
Dress for protection.

Wear long pants, long-sleeve shirts and socks during outdoor evening activities.
Use bug spray.

Use mosquito and tick repellent with no more than 30 percent DEET during outdoor activities, particularly at dusk and during evening hours, when mosquitoes are most active. Do not use repellent on infants.
Time activities for maximum protection.

If possible, minimize outdoor activities between dusk and dawn.
Evaluate the environment.

Be sure all open windows are screened, repair any holes in screens, and fix loose screens. Remove any standing water around yards and houses by emptying planters, wading pools, trash and recycling bins, and other places where water might accumulate to reduce mosquito breeding. Mosquitoes breed in standing water. Just one cup of standing water can produce hundreds of mosquitoes.
Mosquitoes are trapped every week statewide by DEM staff and tested at the Rhode Island State Health Laboratories, and DEM will continue to release those results.
Visit
HEALTH's website
for additional prevention tips and for Rhode Island-specific data.