Care New England and Southcoast Health consider alliance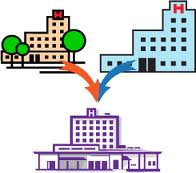 PROVIDENCE, RI – Providence based

Care New England Health System

announced on Monday the signing of a letter of intent to team up with

Southcoast Health System, Inc.

as a potential strategic partner.
In a press release, the Rhode Island healthcare organization said the two organizations are working toward a goal of forming a new not-for-profit parent organization to oversee operations of Care New England (CNE) and the Massachusetts-based Southcoast Health System (SCH).
"In most every respect, Southcoast represents the best possible choice in enabling us to move forward strengthening quality, transitioning to population health, improving the value proposition, finding the right structural and cultural fit for both organizations, and maintaining our valued relationships with key academic, provider and organizational partners, said George W. Shuster, CNE Board Chair. "We believe this partnership will truly be a win for our community."
The potential partnership if forged would create one of New England's largest not-for-profit health care systems, including eight hospitals, ambulatory sites, Accountable Care Organizations (ACO) and more than 1,700 physicians and providers.
Signing of the letter of intent with SCH came after an arduous search process, paving the way for what is hoped to be a successful partnership agreement and ensuing regulatory approval processes.
"We believe the complementary services of Southcoast and the geographic span of their service area will enable us to advance the high quality, high value continuum of care we have been building," said Dennis Keefe, President and CEO of Care New England.
"We already see the common ties to community and an unwavering commitment to mission and values both our organizations share, and we look forward to further study of the partnership potentials that could come to fruition in a new vision for health care delivery for our region."
Care New England operates Women and Infant's, Kent, Memorial and Butler hospitals in Rhode Island, with Southcoast Health operating Charlton Memorial, St. Luke's and Tobey hospitals in the Commonwealth.
The two also bring a host of community-based healthcare services to the bargaining table that includes VNA, The Providence Center and Southcoast Behavioral Health.
"Southcoast has long been focused on providing the very best care within our region of Southeastern Massachusetts and Rhode Island, finding ways to remain highly competitive, cost effective, and at the forefront of technological and strategic change," said SCH President and CEO Keith A. Hovan.
"We believe that Southcoast can be a strong and complementary partner for Care New England, and that together our respective organizations could form the foundation of a highly competitive, community-based and value-driven integrated health care system throughout southern New England."