By TIM FAULKNER/ecoRI News staff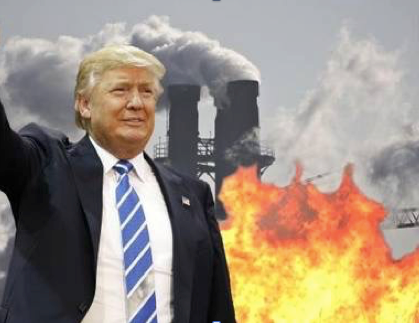 While this guy's in the White House, it will be up to state and local
governments to do the job of protecting the environment
Buoyed by the passage of the Green Economy Bond referendum in November, the state's leading environmental advocacy group has set some ambitious goals for the 2017 session of the General Assembly, which runs through June.
At its annual Legislative Coffee Hour on Jan. 18, the

Environment Council of Rhode Island

(ECRI), an organization representing dozens of local environmental groups and environmental advocates, laid out its top legislative priorities in four categories: energy, transportation, waste, and land and water.
Here are the top initiatives and the organizations leading the efforts:
Carbon tax:

Introduced for a second year, the carbon-pricing legislation places a fee of $15 a ton on carbon emissions from the burning of fossil fuels. Residents and small businesses would receive 70 percent of the revenue raised. A fund dedicated to energy-efficiency programs would receive 25 percent. The remaining 5 percent would pay administrative costs.
A

2015 study

by Regional Economic Modeling Inc. estimates that carbon pricing will raise more than $140 million, create more than 400 jobs in the first two years, and increase renewable-energy development.
Rep. Aaron Regunberg, D-Providence, and Sen. Jeanine Calkin, D-Warwick, will sponsor the legislation. A press event is scheduled for Feb. 2 at the Statehouse at 3 p.m. The advocacy group

Energize Rhode Island

has support from a large coalition, including more than 100 businesses.
Renewable energy: The

Conservation Law Foundation

and

People's Power & Light

seek a 10-year extension of one of the nation's leading renewable-energy incentives. The

Renewable Energy Growth Program

offers fixed pricing for the sale of electricity generated from solar, wind, hydroelectric and anaerobic digester projects for up to 20 years. The legislation also aims to require National Grid to set aside 40 megawatts of electricity for the program annually.
Bicycling:

The

Rhode Island Bicycle Coalition

will push for greater enforcement of the

2012 Complete Streets law

that requires the state and municipalities to consider bike lanes and sidewalks when planning road projects. The coalition also wants to prohibit distracted driving.
Mass transit: Led by

Grow Smart Rhode Island

, ECRI seeks a transit master plan for bus, ferry, bicycle, pedestrians, car-share, bike-share and shuttle services. A primary goal is to reduce vehicle miles traveled, which helps the environment, improves public health and saves money. ECRI also calls for a transit-pass program for the 14,500 state employees. The pass would be modeled on the Rhode Island Public Transit Authority's popular EcoPass used by the private sector.
Greenhouse Gas Mitigation Bank:

The

Rhode Island Committee on Occupational Safety and Health

seeks the creation of a greenhouse-gas mitigation bank to offer financial incentives for public and private entities to reduce carbon emissions. Grants would support community action groups and health centers.
Green Building Act:

The

U.S. Green Building Council of Rhode Island

wants to amend the

2009 Green Buildings Act

to include rain gardens and other outdoor landscapes and infrastructure that reduce stormwater runoff, provide habitat, and improve air quality and public health. Such projects would therefore be eligible for the LEED Certified green building standards.
Open space protection:

Currently, there is no punishment for cutting trees, stealing rocks or building on protected open space. A

bill

would impose fines of up to $5,000 for encroaching on protected green space.
Local farming and seafood: Grow Smart is the lead organization advocating to keep $100,000 in the state budget to fund the

Local Agriculture and Seafood Act of 2012

, known as LASA grants. The program receives some $130,000 in matching grants from foundations. Last year, more than $200,000 in LASA grants were awarded to 16 local farmers and food businesses.
Outdoor recreation:

Lead by

The Nature Conservancy

, ECRI will advocate for the implementation of

recommendations

from the Outdoor Recreation Council. Those recommendations include a permanent funding source for recreations programs, staffing and facilities; adopting a Children's Bill of Rights; creating new programs for underserved groups; and improving transportation and bikeway networks.
Historic tax credit and green infrastructure:

Grow Smart and ECRI will push for multiyear funding for the historic tax credit, which reduces sprawl by developing vacant and underutilized historic buildings in transit-focused areas. These projects also support brownfield remediation. Grow Smart also seeks a grant program for municipalities that promote smart growth planning, green infrastructure, and city and town village centers.
Toxic flame retardants:

For a third year, Rep. Arthur Handy, D-Cranston, and Clean Water Action will advocate for a bill to ban the manufacturing, sale and distribution of children's products, furniture and bedding that contain hazardous flame retardants.
Other ECRI priorities
Oppose the proposed Burrillville power plant.
Support efforts to expand enforcement at the Department of Environmental Management and the Coastal Resources Management Council.
Clarify the role of water resource boards.

Save The Bay

seeks more funding for stormwater infrastructure programs.