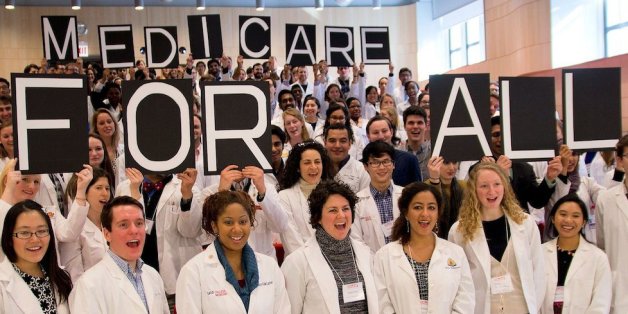 When it comes to Medicare for All, Rhode Island's congressional delegation is split down the middle. Senator Sheldon Whitehouse and Congressman David Cicilline both cosponsor such bills in their respective chambers, while Senator Jack Reed and Congressman Jim Langevin are both still undecided.
Whitehouse

made news

recently as an early cosponsor of Vermont Senator Bernie Sanders' Medicare For All bill set to be introduced on Wednesday. "It's time we had a real conversation about creating a national health plan," Whitehouse said in

announcing his support for the legislation

.
Reed, on the other hand, "is reviewing the details of Senator Sanders' bill to see how Rhode Island would be helped. He is also seeking assurances the bill would not disrupt care for our military and their families," said his spokesman Chip Unruh in an email to RI Future.
"Senator Reed believes that a non-profit, nationwide, universal insurance system would reduce costs, spur efficiency, and, most of all, provide full coverage," Unruh said. "If you look at his voting record, he has supported such a plan in the past."
Unruh added, "Reed is also interested in the approach Senator Chris Murphy (D-CT) and others have proposed in terms of building a bridge between the current health care system and single-payer. He is also a cosponsor of Senator Debbie Stabenow's (D-MI) legislation to allow those age 55 and older to buy into Medicare."
"Single payer may be one of those ways down the road. I'd like to start with the public option."
Cicilline was the first member of the Rhode Island delegation to support a Medicare for All bill, signing onto Congressman John Conyer's bill in January.
"I'm proud to be a co-sponsor of the Medicare for All Act," Cicilline told RI Future.
Medicare is an efficient and tested health care delivery model, and expanding it for every American will further improve access to health care and reduce costs."
Medicare for All is a euphemism for a single-payer healthcare system run by the government.
All four members of the delegation support a public option, a government-run alternative to private sector healthcare administration.
Bob Plain
is the editor/publisher of Rhode Island's Future. Previously, he's worked as a reporter for several different news organizations both in Rhode Island and across the country.