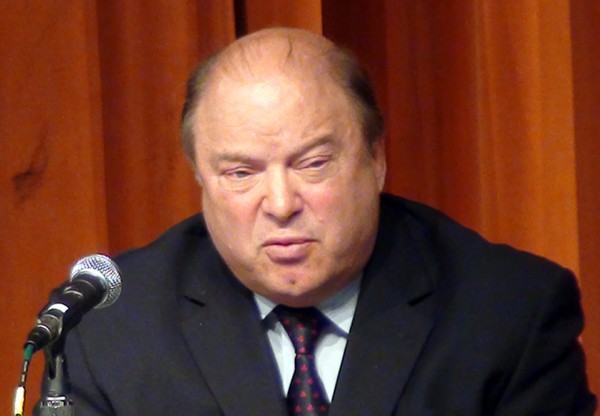 Bob Flanders announced his campaign for a US Senate seat in Central Falls, where he was once the court-appointed receiver as the city went through bankruptcy.
The Rhode Island Democratic Party responded by pointing out how much money Flanders made in that role.
"There's no question that the million dollars Robert Flanders and his deputies collected from city coffers placed an extraordinary burden on taxpayers and retirees during the most difficult time in Central Falls' history," Kevin Olasanoye, the executive director of the state Democratic Party, said in a press release sent out as Flanders made his announcement.
The Democrats were calling attention to a

recent RI Future report

that revealed Flanders and Gayle Corrigan's consulting company together took more than a million dollars from Central Falls' struggling coffers. RI Future obtained the information through an Access to Public Records request to Central Falls while looking into Corrigan.
The Democrats' press release says, "Flanders and his frequent business associate Gayle Corrigan extracted more than $1 million in fees from Central Falls' bankruptcy." It shows how the specter of Gayle Corrigan, the embattled and controversial rookie town manager in East Greenwich could hang over his campaign.
In June, Flanders, an East Greenwich resident,

told RI Future

he was an early advocate of Corrigan's to EG Town Council President Sue Cienki, prior to Corrigan being formerly considered for a consultant role.
"Gayle was someone we did talk about, yes," Flanders said. "We talked about her skill set and what she can bring to the table. We talked about doing some sort of analysis."
Corrigan was chief of staff to Flanders in Central Falls. Since Corrigan became town manager of East Greenwich,

Tim Cavazza

, a partner in Flanders' law firm, has taken over

talks with the local fire fighters

, whom Corrigan and Cienki began targeting when Corrigan was first hired as a consultant.
The Democrats also accused Flanders of being a "rubber stamp" for the Trump agenda, "providing tax cuts for the ultra-wealthy at the expense of working people, stripping health insurance from families, decimating the Social Security and Medicare benefits Rhode Islanders have earned over a lifetime of hard work," said Olasanoye.
Flanders said he voted for Donald Trump, saw merit in the so-called Muslim travel ban, and would have supported a Trumpcare bill before the Senate,

he told RI Future in June

.
But at his announcement, Flanders said he is running for office to

combat hyperpartisanship

. He said he supports a ban on bump stocks, which can turn a semi-automatic gun into an automatic gun.
In June, Flanders said he falls somewhere between Jack Reed and Mitch McConnell on the ideological spectrum, and thinks he can help engender compromise between Republicans and Democrats. "We have to have someone who can get something done and compromise," he said, "not just lob bombs at the other side."
He's been a Barrington Town Council president, a Rhode Island Supreme Court justice, the chairman of the state

Board of Regents for Elementary and Secondary Education, and a board member of Common Cause Rhode Island.
But before he earns the right to face Senator Sheldon Whitehouse, the Democratic incumbent looking for his third term, Flanders will have to best Coventry state Rep. Bobby Nardolillo in a Republican primary.
Both Flanders and Nardolillo are fiscal conservatives, with Flanders more socially moderate than Nardolillo. Nardolillo will likely appeal to the Trump wing of the GOP with Flanders appealing more to the old guard.
Bob Plain
is the editor/publisher of Rhode Island's Future. Previously, he's worked as a reporter for several different news organizations both in Rhode Island and across the country.