Another Attack On Planned Parenthood
BY
JOELLE GRANDE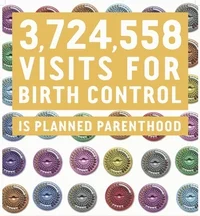 In a surprising twist, the US Department of Justice will engage in a glaring waste of taxpayer dollars by opening an investigation into Planned Parenthood that was "case closed" a year ago.
In 2015, an organization calling itself the Center for Medical Progress released a series of videos purporting to prove that the women's health organization was illegally selling fetal body parts.
None of them – Florida, Georgia, Indiana, Kansas, Massachusetts, Michigan, Missouri, Nevada, Ohio, Pennsylvania, South Dakota, and Washington – found any evidence supporting the claim.
Instead, a grand jury in Harris County, Texas voted to indict the Center for Medical Progress instead of Planned Parenthood– that's how egregious the claims were.
Planned Parenthood responded then to the report, saying that it found no wrongdoing on the part of the organization.
Dana Singiser, the organization's vice president of government relations responded to the report at the time, saying:
"Planned Parenthood's standards have always gone above and beyond what the law required. As investigation after investigation has shown, Planned Parenthood has done nothing wrong. Senator Grassley's report attempts to paint a nefarious picture of the simple re-formatting of a document—showing once again that there is no actual wrongdoing to point to."
The fact that the Justice Department is reopening this clearly closed case is being heralded as a big win for the pro-life masses on the Religious Right. Major red flag.
With Jeff Sessions heading up the Justice Department, the religious extremists seem to have an ally willing to stomp all over everyone else's First Amendment rights in favor of their own Christian agenda.
JOELLE GRANDE
IS A WRITER WITH A BACKGROUND IN POLITICAL SCIENCE AND JOURNALISM FROM RUTGERS. SHE HAS WRITTEN FOR THE WEB, PRINT, AND SCREEN. GRANDE COMPETED IN PRO-AM ARCHERY THROUGH COLLEGE. SHE CURRENTLY LIVES IN LOS ANGELES.