By TIM FAULKNER/ecoRI News staff
For those of you who think wind turbines are ugly, how about this?
Secretary of the Interior Ryan Zinke

may not meet with his advisors and staff

but he is speaking with governors of states who oppose his proposal to expand offshore drilling.
On Jan. 12, Zinke spoke with Gov. Gina Raimondo and four other governors about their opposition to the sweeping proposal to open federal waters off the East and West coasts, as well as parts of the Arctic, to gas and oil extraction.
In a phone call with Zinke, Raimondo explained that offshore fossil-fuel drilling threatens New England's marine life and economy.
"Secretary [Zinke] committed to coming to Rhode Island and working with us. He made no commitment on giving us an exemption," governor's office spokesman David Ortiz said.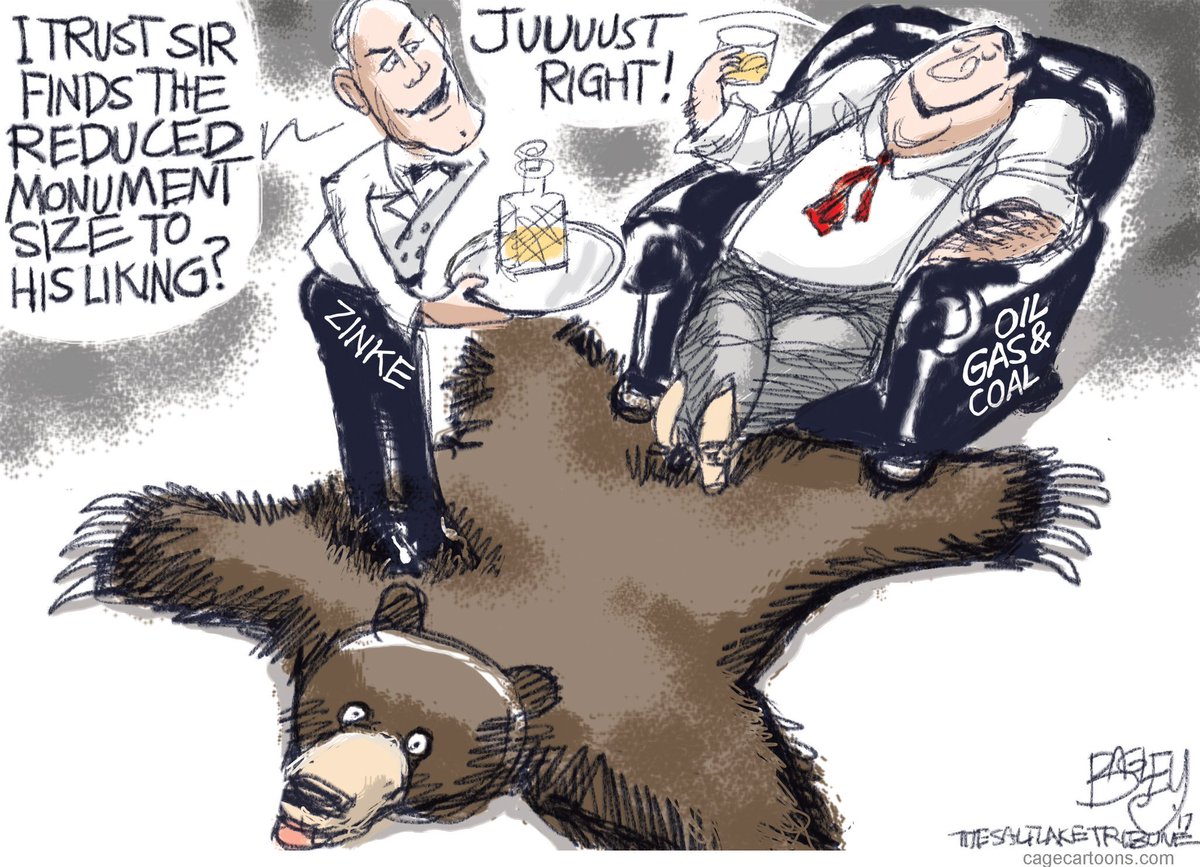 Raimondo referenced the issue in her Jan. 16 State of the State address. "And last week, when President Trump announced a plan to open our coast line to drill for oil, we, the people of Rhode Island said, 'Not on our watch.'"
The same day he spoke with Raimondo, Zinke also spoke with governors from California, Washington, Delaware, and North Carolina, who also oppose opening 94 percent of the outer continental shelf to drilling.
He previously spoke with the governor of South Carolina and Gov. Rick Scott of Florida. Scott convinced Zinke to exempt his state from the plan to open drilling off nearly the entire U.S. coast.
Maryland and New Jersey threatened to sue the Department of Interior over the decision to omit Florida from the plan.
Meanwhile, General Assembly members are taking action against the fossil-fuel initiative. Newport Democrats Rep. Lauren Carson and Sen. Dawn Euer filed a bill that prohibits the construction of oil terminals, platforms and other equipment related to oil production in Rhode Island. The bill also bans oil drilling within state waters, which extends 3 miles offshore.
"Offshore drilling for oil in Rhode Island would inhibit and endanger some of the industries that are part of the bedrock of our economy in Rhode Island, and particularly in Newport. It would also erode the progress we've made cleaning up Narragansett Bay and developing sustainable, clean energy sources, such as Deepwater Wind," Carson said. "This is nothing but a gift to big oil corporations, and we simply cannot let it happen off Rhode Island."
"As the Ocean State, Rhode Island has a robust blue sector economy including ship building, fishing, sailing, tourism and more. The state and our institutions have invested incredible resources on forward-thinking coastal policy initiatives. Opening up coastal waters to offshore drilling is short-sighted and puts our economy at great risk," Euer said.
Rep. Aaron Regunberg, D-Providence, introduced a House resolution opposing the coastal drilling plan.
"The president's proposal is a disaster that would scar our state. As we have seen in the numerous offshore drilling catastrophes of the past decades, this extraction would ruin our beaches, disrupt our industries, and endanger our marine life," Regunberg said.
In the U.S. Senate, 10 senators representing New England

introduced legislation

banning fossil-fuel drilling off New England's coast.
The Bureau of Ocean Energy Management is taking

public comment

on the proposal, and will be hosting

public workshops

that begin this month and run through Feb. 28.

Providence hosts a meeting Jan. 25 at the Marriott hotel, 1 Orms St., from 3-7 p.m

. Boston hosts a meeting Jan. 24 and Hartford hosts a meeting Feb. 13.