Is Trump's Silence "Being Dictated by His Business Interests" With Saudis
New evidence

emerges that Washington Post correspondent Jamal Khashoggi was tortured and killed inside the Saudi consulate in Istanbul last week
Lawmakers and ethics watchdogs said Thursday that President Donald Trump's reluctance to hold the Saudis responsible for Khashoggi's possible murder is exactly what they've warned about when calling attention to Trump's refusal to divest from his businesses.
According to the president himself, Saudis have invested millions of dollars in those businesses over the years.
Saudi officials, along with other international political figures, have stayed in Trump's hotels since he took office in 2017, with lobbyists from Saudi Arabia spending

$270,000

in the Trump International Hotel in Washington, D.C. last year alone.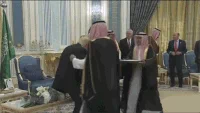 "Saudi Arabia, I get along with all of them," Trump

said

in 2015. "They buy apartments from me. They spend $40 million, $50 million. Am I supposed to dislike them? I like them very much."
The Saudis also have a long history of business dealings with Trump, including a Saudi prince's purchase of a yacht and a hotel from him in the 1990s when the real estate developer was in need of money.
"It depends on what the sanction is… I'll tell you what I don't want to do. Boeing, Lockheed, Raytheon, all these companies — I don't want to hurt jobs. I don't want to lose an order like that. There are other ways of punishing.

"

Trump's answer on whether whether proof that the Saudis murdered the journalist would impact potential billions of dollars of arms sales to Saudi Arabia
But Democrats in Congress and the group Citizens for Responsibility and Ethics in Washington (CREW) have especially expressed concern with his financial entanglements with the kingdom after he took office, saying they blatantly violate the U.S. Constitution's

emoluments clause

.
On Twitter, CREW suggested that Saudi Arabia's status as a loyal customer to the Trump Organization—from which the president refused to divest after taking office—has likely been on Trump's mind this week as he's told the press that he won't consider sanctioning or condemning the Saudis over Khashoggi's disappearance.
Trump's ongoing business relationship with the Saudis—including Crown Prince Mohammed bin Salman, also known as MbS, whose visit to the president's hotel in New York helped

raise its revenues

by 13 percent earlier this year—violates the Constitutional clause that forbids the president from receiving gifts or payments from foreign officials.
Sen. Richard Blumenthal (D-Conn.), the lead plaintiff in a

lawsuit

filed along with 200 other Democratic lawmakers, demanding information on foreign patrons of Trump's businesses, also suggested that the president is too entangled with the Saudis to condemn them for the journalists disappearance—or any other violations.