Events scheduled throughout the month celebrate poetry, art, film, culture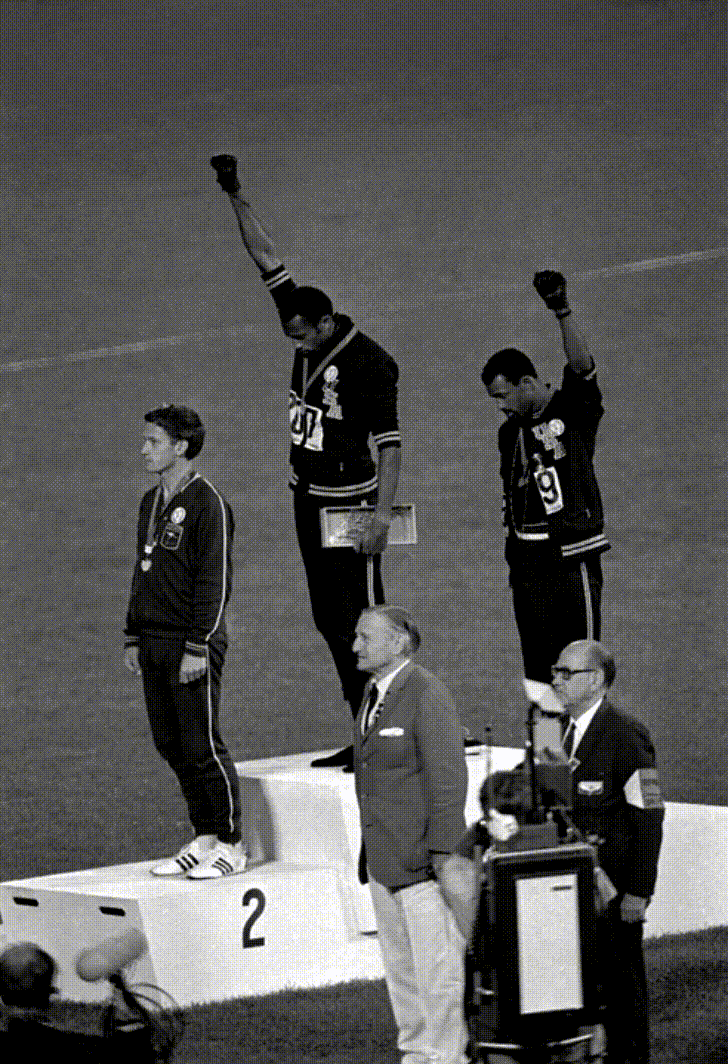 Olympic athlete, scholar, activist and author, John Carlos, who with fist raised, made history during the 1968 Olympics in Mexico City will be the keynote speaker during the University of Rhode Island's celebration of Black History Month.
Carlos' lecture "Cultural and Symbolic Protests in the Context of International Human Rights," is presented by the Department of Africana Studies in collaboration with URI's Race, Violence and Democracy Colloquium
The event, which is free and open to the public, will begin at 6 p.m. on Feb. 13 at the Center for Biological Sciences Building, 120 Flagg Road, Thomas M. Ryan Family Auditorium, on the Kingston campus. In concert with the main lecture, Carlos will host a talk with URI student-athletes. He will also convene a workshop with the broader URI student body.
In the 50 years since Carlos received the Olympic bronze in the track and field 200-meter event, he has become a nationally recognized scholar and activist. He is the author, with sportswriter Dave Zirin, of, "The John Carlos Story: The Sports Moment that Changed the World," an autobiography that recalls the events around his Black Power salute, with track athlete Tommie Smith, on the Olympic games podium.
Following the Olympics, he went on to tie the world record in the 100-yard dash, and eventually, to beat the 200-meter world record. In the early 1980s, Carlos became involved with the United States Olympic Committee and helped to organize the 1984 Summer Olympics. Since 1985, he has been a counselor, in-school suspension supervisor and the track and field coach at Palm Springs High School in California. In 2003, Carlos was inducted into the USA Track and Field Hall of Fame.
For more information, please contact Robert Dilworth, director of the

Africana Studies Program

at URI, at 401-874-2536 or bobman2@uri.edu.
Numerous University departments and groups are planning events and contributing to the 2019 URI celebration of Black History Month. Check the University

calendar

for new events and speakers. Unless otherwise noted, all events are free and open to the public.
Sunday, Feb. 3
5 p.m.-12 a.m., Super Bowl LIII Watch Party
Join fellow students, faculty and staff to watch the 53rd Super Bowl live from Mercedes-Benz Stadium in Atlanta. Meet new and old friends, spark conversation and watch the game while enjoying wings, twice-baked potatoes, chips, cookies and other snacks and refreshments. Stay after the game for music and more conversation.


Friday, Feb. 8
7-9 p.m., MLK Movie of the Week: "Selma"
As part of Martin Luther King Jr. Week, the center will screen the 2014 film "Selma" directed by Ava DuVernay. The film tells the true story of King's campaign to secure passage of the 1965 Voting Rights Act, including the historic march from Selma to Montgomery, Alabama, during which marchers attempting to cross the Edmund Pettus Bridge were attacked by Alabama state troopers. The film will be followed by a discussion. Pizza and refreshments will be served.


Friday, Feb. 15
7-9 p.m., Black Poetry Open Mic Night
Calling all amateur and professional poets and performers. All are welcome to gather at the Hardge Forum for this Open Mic Night. Read from the poetry of Langston Hughes, Gwendolyn Brooks, Maya Angelou and others. Or, share a favorite poem, your own original poetry or recite spoken word that touches on and celebrates black history and the African-American experience.


Friday, Feb. 22
4:30-7:30 p.m., Soul Food Dinner
Commemorate the final Friday of Black History Month with a traditional soul food dinner. Join friends for dinner and conversation while enjoying a meal that recognizes and pays tribute to black history and African-American culture.


Feb. 1 – Feb. 28
Exhibit: "CIVIL RIGHTS ARE HUMAN RIGHTS: Icons of the Civil Rights Movement by Pamela Chatterton Purdy & A Blacker Landscape by Jordan Seaberry"
URI Providence Campus, 80 Washington Street, Providence
Gallery Hours: Monday -Thursday 9 a.m.-9 p.m., Friday 9 a.m.-4 p.m. Closed weekends and holidays.
The exhibit, which opens Jan. 22 with a gallery reception on Jan. 31, presents a powerful exploration of contemporary civil disobedience in light of violence on the streets of cities across America.
The exhibit features a series of large mixed media collage paintings created by Rhode Island School of Design alum Jordan Seaberry in dynamic counterpoint with Pamela Chatterton-Purdy's stunning traditional Icon-styled paintings, celebrating and remembering the individuals who dedicated and often gave their lives in the fight for civil rights from the 1960s to the present. See additional

details

.
Sponsored by Urban Arts and Culture.