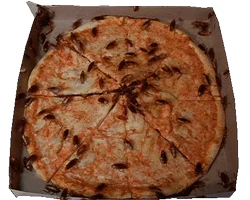 Donald Trump says that his Doral golf resort is "positioned perfectly" for the next G-7 meeting.
Considering that the only requirement is that it be in the United States, and it is in the United States, that's true.
And obviously having world leaders stay at a place that wouldn't put tens of millions straight into Trump's pocket is out of the question. So … just what can those leaders expect when they pitch their tents on the 11th fairway?
Well, the settlement in which the staff confirmed that at least one suite tested positive for bedbugs is two years old. So perhaps the world leaders could be spared waking up to dozens of welts on their face, neck, and torso as the unfortunate guest did at that time.
But a genuine bedbug infestation isn't the Doral's only issue. Or its only insect adventure. According to

The Washington Post

, visitors to the Florida club should be well entertained even if they can't play connect the itchy dots.
Let's start with the kitchen, where health inspectors have logged flies, roaches, various unidentified flying insects, and just plain bugs. It was also cited for serving cold foods that had been warm for too long, and supposedly hot foods that never got hot enough.
Plus … no sneeze guard at the salad bar. That should certainly help the "sharing" among the G-7 leaders.
Moving to the lodging, what can guests expect in what Trump called "a series of magnificent buildings." That's where inspectors found food debris, mold, and more mishandled food. No comments on whether the beds are soft. Or clean. Apparently this isn't expected.
Honestly, there's nothing in the inspections at the Doral that shouldn't be expected at any motel.
Assuming the motel included the number "6" in its name. The reports don't look unusually horrible, it's just difficult to say they're particularly good.
One more thing about the Doral. Trump purchased the resort in 2012 with a $125 million loan from Deutsche Bank. That's a loan paper it would be interesting to see. Maybe it's not just Trump who has an interest in seeing these leaders come to the Doral.