BrunO2 is an open-source ventilator design.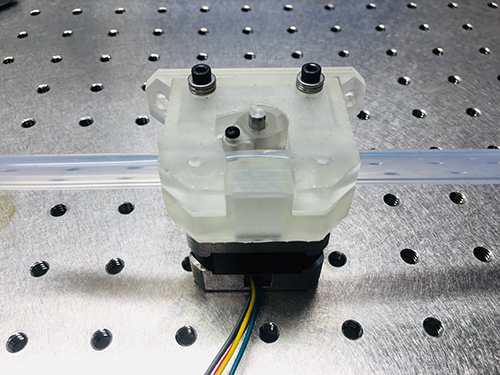 As medical experts warn that the COVID-19 pandemic could create a shortage of live-saving ventilators, a team of faculty and students from Brown University's School of Engineering has been hard at work on a solution that may help in a crisis.
The team has designed a do-it-yourself ventilator, dubbed BrunO2, that can be quickly assembled using 3D-printed and readily available parts. The design targets specifications developed in consultation with medical experts yet can be easily deployed in resource-strapped situations. The idea is to make the design of the system and its custom components freely available online, so anyone can download the plans and make their own.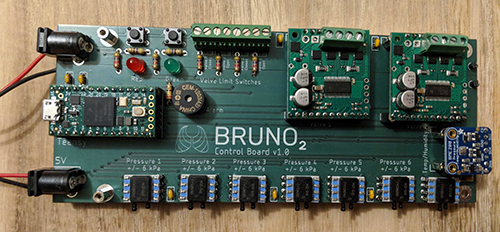 "The important thing is that one should be able to produce it locally," said Roberto Zenit, a professor of engineering at Brown who co-led the effort with fellow faculty member Daniel Harris.
"There is a package of information that can be downloaded — in Texas, or in South America, or in West Africa — where users should be able to purchase the materials, print the components and put it together."
The project began as a submission to the

Code Life Ventilator Challenge

, an international design initiative based out of McGill University in Montreal and aimed at helping to alleviate potential ventilator shortages.
Neither Zenit nor Harris had previous experience in making ventilators. But as experts in fluid dynamics, they did have some experience moving air around. And Harris's lab specializes in rapid prototyping of custom-made tools and devices used in fluid dynamics experiments. He routinely makes those designs available to other researchers.
"This was naturally within that spirit," Harris said. "I believe that to make things progress in science, whether it's health or our own fluids research, that we should be collaborating globally."
Video courtesy of the Harris Lab
The key to making BrunO2 simple to build and easy to operate was working with medical experts to strip down its function to the most critical parameters for COVID-19 patients.


"Traditional ventilators are used for all kinds of conditions and all kinds of patients, so they have lots of settings and modes," Harris said. "By having the medical advisors on our team, we were able to streamline the requirements that we would need for our device."
To build it, Harris and Zenit enlisted a group of engineering students, some of whom already work in Harris's lab and others who are part of the Brown Formula Racing team, which designs and builds a competitive race car each year for a national competition. Undergraduate student team members include Will Haddock, Jacob Morse, John Antolik, Ian Ho and Eli Silver.
"I knew I wanted the best student designers, and the best mechanical designers, so I went to the car team," Harris said. "I know from my own experience when I was on a similar team as an undergrad, that they know what they're doing in terms of design, doing it quickly and doing very interdisciplinary work."
The design that the team came up with is inspired by a peristaltic pump, a type of pump that drives a flow without that flow coming into contact with the pump's internal machinery. That function is particularly useful in medical settings, Harris says, because the device can go from one patient to the next without health care workers having to sterilize every part of the machine. Airflow is controlled simply by pinching a tube to varying degrees, allowing more or less air to flow.
"We iterated on a design and figured out the right force parameters and tubing so we could fully close it," Harris said.
"Most recently, we did some careful testing looking at how the flow rate changes as we open this up. So we have very accurate control from this peristaltic idea, which is something that the students came up with."
The team enlisted Jacob Rosenstein, an assistant professor of engineering, for help with the electronics. On the medical side, the team worked with Dr. Gerardo Carino, intensive care director at the Miriam Hospital and an associate professor of medicine at Brown's Warren Alpert Medical School, as well as Brown alumnus Dan Dworkis, now an assistant clinical professor of emergency medicine at the University of Southern California.
"Dr. Dworkis is actively treating COVID patients right now and using whatever limited free time he has to give us advice," Harris said. "That's beyond incredible."
The BrunO2 design made it to the top 65 from more than 1,000 designs submitted to the Code Life Ventilator Challenge. Though it was ultimately not chosen as a top-10 finalist, the team plans to continue refining their device.
They've been awarded $20,000 in seed funding from the Brown COVID-19 Research Seed Fund, established under the Office of the Vice President for Research to fast-track innovative research proposals that directly address the urgent needs of the pandemic.
Contributions have also come from the medical school, the Miriam Hospital Educational Fund and the Brown Medicine Division of Pulmonary, Critical Care and Sleep Medicine.
And over the last week, the team has begun to explore with health care officials in Rhode Island how the device might be of use locally.
"All we want to do is be able to share our design with someone who can save lives," Harris said.