By TIM FAULKNER/ecoRI News staff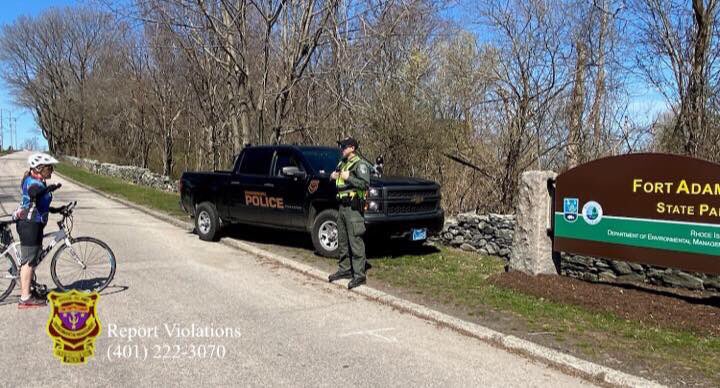 "Necessity is the mother of invention" will be recited often in the wake of the COVID-19 pandemic.
At the Rhode Island Department of Environmental Management (DEM), the saying applies to changing a long-running policy that prohibited the agency's 400 employees from working at home.
But in an effort to prevent staff from contracting the novel coronavirus and keep operations running, the policy and technology had to be changed so that 80 percent of staff can work remotely.
"It's unbelievable, but we're doing it," said Terrence Gray, DEM's deputy director for environmental protection.
To reduce the spread of the coronavirus across the state, DEM closed its 22 state parks, eight beaches, and six campgrounds. Private campgrounds are also closed. Parking lots at parks and beaches are off limits.
The state agency's environmental police are still on patrol and will issue tickets to anyone "blatantly ignoring" the closure rules, according to a

March 19 DEM press release

.
State management areas and bike paths are open, but the public must maintain physical distancing and avoid crowding.
DEM closed its walk-in permit and license center at its Providence headquarters but paperwork can be dropped off at a table outside the office.
All other DEM operations are working, including the Bureau of Environmental Protection and the Office of Compliance and Inspection.
Since

last month's announcement

by the Environmental Protection Agency to allow polluters to commit violations without penalty — which the federal agency claimed was needed to address the global pandemic — DEM has received fewer than six requests for relief from state rules.
Property owners are asking for extensions to replace underground storage tanks. A handful of businesses want permission to store hazardous waste beyond the 90-day limit. Gray said he has yet to review the requests and therefore couldn't name the businesses.
"It's not like there is this wave of companies trying to get relief from regulatory requirements," Gray said.
Pollution from the city's industrial waterfront, which is blamed for high rates of asthma in nearby neighborhoods, will likely decline as truck traffic, petroleum imports, and chemical processing slow.
The giant scrap companies Schnitzer Steel and Sims Metal Management recently suspended shipping and other operations at the Port of Providence because of the coronavirus.
Schnitzer also closed operations in Worcester, Mass., Manchester, N.H., and Portland, Maine, while its Everett, Mass., operation continues with limited hours.
DEM's emission-reduction efforts, such as its involvement in the Transportation and Climate Initiative (TCI) and the Regional Greenhouse Gas Initiative (RGGI), are ongoing.
Gray is Rhode Island's representative to the TCI, the 12-state coalition that seeks to lower carbon emissions in the transportation sector by tacking a fee on carbon-based fuels. TCI wrapped up its public comment period in February, receiving 8,300 submissions.
Conservative media groups helped launch a flood of initial negative comments, but in the end 91 percent of responses were in favor of the proposal.
The coronavirus prompted DEM to suspend public comment on a

proposal

to spend $3.8 million from the state's latest allocation of RGGI proceeds.
Of that sum, $2.7 million is earmarked to subsidize sales incentives for air-source heat pumps. The rebates will be paid to consumers through National Grid.