"Mostly Cloudy" forecast for ISS at 9:39 PM
By Will Collette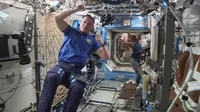 The National Weather Service says that today's sunny weather will give way to clouds later.
Hopefully, not until after
the International Space Station (ISS) floats over Charlestown for six minutes at 9:39 PM
.
A six-minute overflight is the maximum for these overflights, arcing over almost the entire sky. I'm hoping we catch a break on the clouds.
I love these overflights and the soothing feeling they produce. That is, I did until Trump announced his "plan" to end US funding of the station and sell it to some commercial interest. I'm not making this up.
Fortunately, Trump has the attention span of one of my cats, so this stupid idea hasn't re-surfaced since 2018.
Besides being busy with other things, Trump now has a flag for his new Space Force (again, I am not making this up) so he may have other ideas for the ISS, like having his Space Cadets take it over.
Make a guy with the intellectual capacity of a five-year old President and this is what you get. (White House photo)
At precisely 9:39 PM, the ISS will suddenly appear in the west southwest 10 degrees above the horizon, arc overhead to a peak of 70 degrees and then disappear in the northeast six minutes later as it losses the reflected glow of the sun.
National Weather Service prediction
is here.
Here's the message I received from NASA this morning, courtesy of their "Spot The Station" e-mail listserve:
Time: Sat May 16 9:39 PM, Visible: 6 min, Max Height: 70°, Appears: 10° above WSW, Disappears: 12° above NE
Celestial mechanics makes the ISS strictly follow these specifications.