The pandemic has had a widespread effect on our community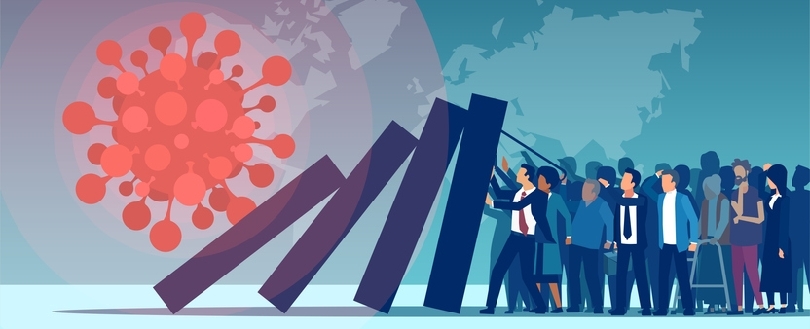 Academic Health Collaborative and Interprofessional Education and Practice Initiative host health, education experts for important discussion
The University of Rhode Island Academic Health Collaborative and Interprofessional Education and Practice Initiative will again host a series of virtual panel discussions examining the COVID-19 effect.
The discussions will focus on the mental and behavioral health issues that have become more visible and acute during the past year and a half; the impact of COVID on children; and the long-term effects of the disease for many who have been ill during the pandemic.
The health collaborative and the education and practice initiative have developed the series for students and the public, with the goal of highlighting the importance of interprofessional collaboration in health care, the promotion of inter-agency knowledge and engagement across health and social service organizations, and the importance of public health in improving community health. The panels will include faculty and alumni from URI, and leaders from community-based organizations.
The first discussion, scheduled for Oct. 6, will examine "The Pandemic's Epidemic: The Crisis in Mental and Behavioral Health." Overdoses and overdose deaths have increased as many people have turned to substance use to manage the challenges of an abruptly limited lifestyle. Rates of depression and anxiety have risen dramatically, while resources to meet their needs have been limited.
Why did this happen, and how do health professionals bring clinical and community-based services to the growing number of people coping with these challenges. Health and education professionals serving as panel members are:
Anita Jacobson
, PharmD. '98, clinical professor, URI College of Pharmacy, Moderator.
Trudy-Ann Gayle, Ph.D. '12, licensed clinical psychologist, Life Matters Psychological Services.
Hector Lopez-Vergara, Ph.D., assistant professor, psychology, URI College of Health Sciences
Jeffrey Bratberg, PharmD, Fellow of the American Pharmacists Association, Clinical Professor of Pharmacy Practice, URI College of Pharmacy
Munirat Adebimpe, nurse practitioner, Butler Hospital
Jonathan Goyer, director, RI Recovery Friendly Workplaces Initiative
The second installment, "The COVID Kids," on Oct. 20, will explore how this generation of children will be defined by its COVID experience — online school (for those with adequate wifi), masks, limited social and recreational activities, COVID illness, and death in the immediate family. What has this experience meant to the health and well-being of our children? What will be the long-term impact on health of fewer childhood vaccines, growing rates of obesity, and social isolation?
The final discussion, "It Takes a Village: Managing COVID as a Team," on Nov. 3, will examine the complexity of long-haul COVID and the role of the interprofessional team in meeting those complex needs. How were preexisting chronic conditions exacerbated by COVID, and how will people manage new chronic illnesses in addition to the ones they already had? Effective interprofessional community-based primary care in the management of complex chronic diseases will be presented as a blueprint for supporting patients.
For more information and to register for the panel discussions, visit uri.edu/ahc/stories.