Phase I involved strict cleaning protocols, mask use and social distancing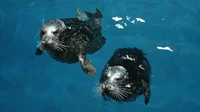 Mystic Aquarium is excited to announce the opening of indoor habitats on Saturday, June 20, in accordance with Phase II of Governor Ned Lamont's Reopen Connecticut Plan.
Access to the entire Aquarium campus will be permitted at 50% occupancy. The protocols in place outdoors during the first phase of reopening will be expanded to indoor exhibits as well to ensure the health and safety of guests, employees and the animals.
"We are excited to take another step forward as we continue our efforts to benefit the region's economy, to send a positive message to all that Connecticut is strong and recovering and that Mystic Aquarium is a safe and inspirational respite for people during this time of rebound and rediscovery," said Dr. Stephen M. Coan, President and CEO of Mystic Aquarium.
Safety protocols in place include:
mandatory temperature screenings for staff and guests alike,

advance purchase online timed-tickets for admission and

one-way pathways with clear social distance markers.

Guests are required to wear face protection.

Staff and volunteers are outfitted with Personal Protection Equipment.

Additional disinfectant wipes, hand sanitizer and hand-washing stations are located throughout the indoor and outdoor habitats.

Barriers and other safety related infrastructure changes have been implemented as well.
"This phased opening has been well-received by our guests," said Nate Fague, the Aquarium's Director of Safety & Security. "The safety protocols that are in place are working well and have been overwhelmingly embraced by our guests. We are thrilled that it has been such a positive experience for all. We anticipate the same during Phase II."
The Aquarium already has rigorous cleaning standards, and increased vigilance will continue to be a priority during this time of concern regarding COVID-19. This includes a dedicated custodial staff carrying out a continuous cleaning regime using EPA-registered disinfectants in accordance with CDC guidelines and full-time overnight deep cleaning crew. All measures will continue to be taken to ensure the safety of the animals.
With the safety and security of both guests and animals in mind, during the first week of Phase II reopen, touch habitats will be available for passive viewing only. This will include Ray Touch and Discover Long Island Sound. A new shark touch habitat will debut in early July. Most touch experiences will reopen at that time as well.
Encounter programs are not currently available.
Mystic Aquarium is in constant communication with state and federal officials and will work diligently within all guidelines to support all activities to protect public health and restore Connecticut's quality of life.
"On behalf of our entire staff, thank you for your continued trust in Mystic Aquarium and our mission to inspire people to care for and protect our ocean planet. Through these efforts and others, we are dedicated to protecting our community during these unprecedented times," added Coan.