Blame climate change and demographics
James Robert Farmer
,
Indiana University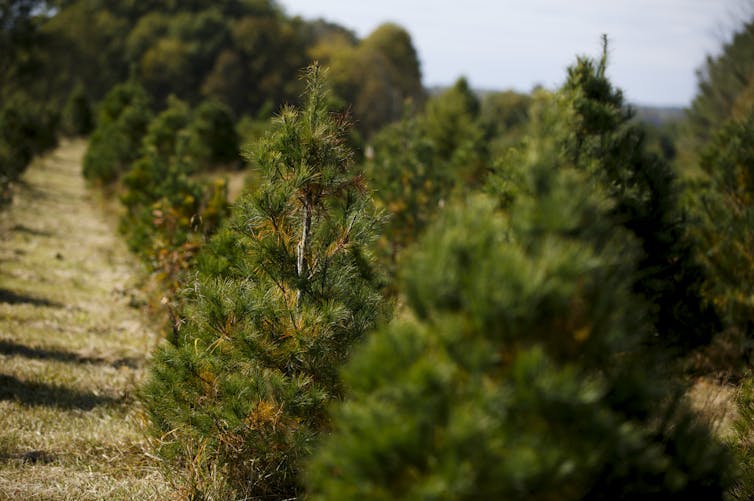 Christmas trees at Twin H Tree Farms in Bloomington,
Indiana. Indiana University/James Brosher, CC BY-ND
If you're shopping for a live Christmas tree this year, you may have to search harder than in the past.
Over the last five years Christmas tree shortages have been reported in many parts of the U.S.
One factor is that growers sold off land and planted fewer trees during and after the 2008 recession.
In the lifespan of Christmas trees, the decade from 2008 to the present is roughly a single generation of plantings. However, in my research on the human dimensions of farming and food systems, I also see other factors at play.
Christmas trees take 6 to 12 years to mature, and consumer preferences often change more quickly than farmers can adjust. Climate change is altering temperature and rainfall patterns, which severely affects growers' ability to produce high-quality trees and the varieties that customers seek. And like the overall U.S. population, Christmas tree growers and shoppers are aging.
Collectively, these trends don't bode well for Christmas tree lovers, the growers or the industry.
However, there are opportunities for younger farmers to enter this market, either full- or part-time. If new and beginning growers live in an area with appropriate environmental conditions, Christmas trees are a high-quality complementary crop that farmers can use to diversify their operations and provide off-season income.
Evolving consumer preferences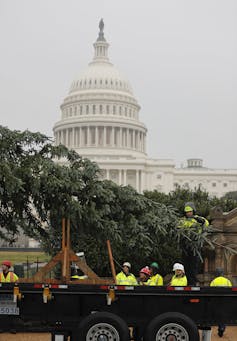 Workers deliver the 2018 U.S. Capitol Christmas
Tree to the U.S. Capitol Building, Nov. 26, 2018,
from Willamette National Forest in
Oregon. AP Photo/Pablo Martinez Monsivais
As of 2017, there were about
15,000 Christmas tree farms across the U.S.
Most are around 23 acres in size, and nearly half of them gross less than US$25,000 annually. A great number of Christmas tree ventures are part of larger farm operations, and many growers hold off-the-farm jobs.
Our team recently sent a survey to 1,500 randomly selected Indiana residents to see how consumer behavior could affect the state's tree farmers.
Christmas tree shoppers told us that they predominantly seek short-needle trees, such as firs and spruces (38%), followed by medium-needle varieties like Scotch pines (24%).
Over 42% of respondents purchased their tree from a Christmas tree farm, while nearly 32% bought them from a tree lot or other small business, and approximately 20% got their tree from large chain or retail stores such as Home Depot or Lowes.
A national consumer survey conducted by the National Christmas Tree Association found that shoppers equally purchased trees from Christmas tree farms (28%) and large chain retailers (28%), followed closely by retail lots (23%).
According to the association's data, from 2004-2017 the number of real Christmas trees sold stayed relatively steady, while the number of artificial trees sold more than doubled. Real tree growers have lost market share to increasingly popular artificial trees, and may have trouble seriously competing for the foreseeable future, due to climate change and an aging population.
Weather woes