Speaker Shekarchi Addresses Reproductive Rights and Innovative Housing Solutions
By Steve Ahlquist in Uprise RI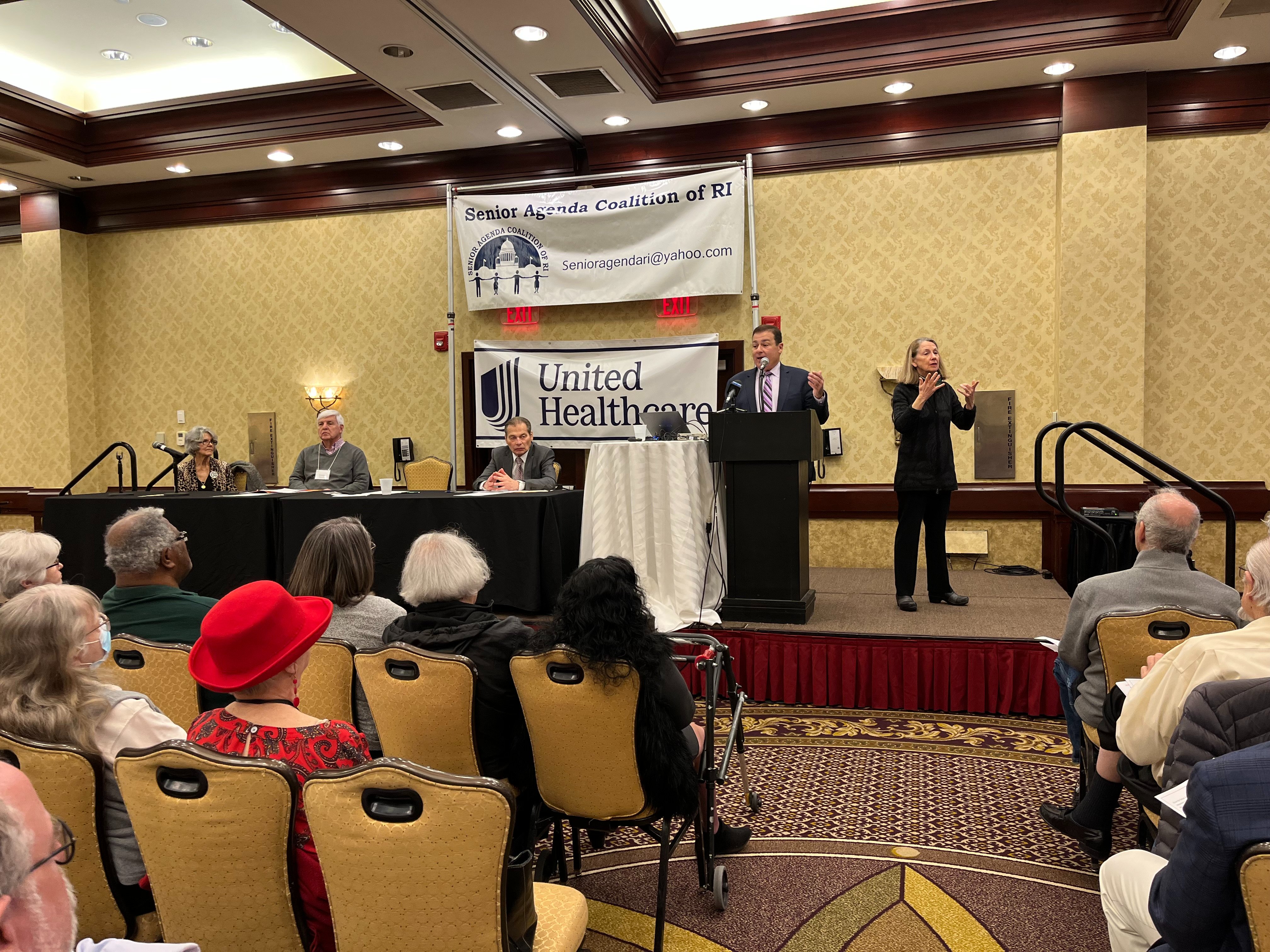 Speaking at the

Rhode Island Democratic Women's Caucus

meeting on Monday night, Rhode Island Speaker of the House Joseph Shekarchi (Democrat, District 23, Warwick) touched on some familiar talking points – highlighting the importance of the yearly budget process, for instance – but also dropped some interesting info on reproductive rights and housing.
On reproductive rights, the Speaker said that he expects a vote "relatively soon… sometime in April, I think" on the Equality in Abortion Coverage Act (EACA) currently in both chambers and included as an item in the Governor's budget. This Act would remove the current bans on health coverage for abortions for Medicaid recipients and state workers.
On housing, which the Speaker has prioritized as a major issue with a slate of bills this session to improve and streamline the private sector building of affordable housing, he also highlighted his commitment to a test program on social [or public] housing, with possible statewide expansion to follow, modeled after a successful effort in Montgomery County, Maryland.
The idea being pioneered in Montgomery County, and being explored in places across the country, is to fund the creation and maintenance of low income and affordable housing with relatively small amounts of public money – stepping in to build housing – especially when market conditions are not right for private developers. The government stepping in when markets fail is something commonly seen in Europe, but rare in market fundamentalist America.
At Monday's Democratic Women's Caucus meeting Speaker Shekarchi seemed enthusiastic about the possibilities:
"There's no other state in the country that's done this, but there's this county in Maryland, Montgomery County, which has what we call public housing. In Rhode Island we've created housing authorities that have been federally funded by HUD [United States Department of Housing and Urban Development] to build lower income housing. Unfortunately the funding stopped and now HUD just gives you money to maintain it. There's no money to expand. In a sense HUD said, "You're on your own to expand them." So what we did last year is we stepped up and put $10 million out there, but sadly no one has come forward yet, [though] they still have time. I will say that South Kingstown as expressed strong interest to build more low-income housing, so hopefully that will help.

"Beyond that, I don't want to wait on the laurels of these housing authorities. If they don't come forward I think you'll see some kind of a pilot program modeled after the Montgomery County, Maryland model. The details are being worked out. June Speakman has worked hard on the bill. I'm a cosponsor of it. The current [cost] estimate is $300 million but I don't want to make that kind allocation for a totally untested program. I think we can try it, see if it works, then we can put more money into it.
"We need to get people to understand that low income housing and affordable housing are two different things because I got strong pushback from a lot of cities and towns before [my recent slate of proposed housing bills] were released, before they were even drafted – before they were in final form.
"There were six communities in Rhode Island that came out against them because they were afraid that these bills would put low income housing in their towns and 'we don't like "those people" living in our towns.' That's very sad because "those people" are everybody's people and 'those people' are you and me.
"[Then there's] workforce housing. People don't understand workforce housing. Workforce housing is for your teachers, your nurses, firemen, the police, your city workers, your average state worker. That's workforce housing. And we need to address that issue because it's not getting better, it's getting worse. If we don't do it and we don't do it now, who's going to do it and what are they going to do? How bad is the problem going to be before we take action?
"This package I introduced is not going to solve it. It's going to move the needle. In the General Assembly, in the last few years we did 10 bills, we did 12 bills, we did 14 bills. Every one of them helped move the needle.
"We did a bill that helps make it easier to get projects to go up, like an old church to be converted into 16 units that got approved. It was the first project the State of Rhode Island approved in January on a three to two vote. Before that, on a three to two vote, you'd lose! You had to have a super majority. We got rid of the super majority, then it was three-two vote. That project is moving forward and there will be 16 units in South Providence.
"And by the way, I'm open to collaboration and I'm open to ideas. Anybody can come forward with a better idea. Does anyone know Daniel Denvir? He's the head of Reclaim Rhode Island. So Dan Denvir, who I had never met and didn't know – came forward with this model from Montgomery, Maryland. He had someone come up on a train from New York to explain it last year. And it really got my interest because it was a totally mixed development for homelessness, for affordable housing, for [addiction] treatment. It's unbelievable what it's doing. And by the way, it's beautiful. It's gorgeous. Who wouldn't want to live there? So it really interests me. We're going to explore that.
"I'm open to ideas, I'm open to ideas and I will gladly work with anybody who comes forward, including the Rhode Island Builders Association who are very supportive. They want these barriers down. They want to build housing. They want to build affordable housing. They just get so much pushback from these communities and these planners and these zoning boards and planning boards. It's really heartbreaking."
---
Can you help Uprise RI?
Funding for Uprise RI reporting relies on the generosity of readers like you. Our independence allows us to write stories that hold RI state and local government officials accountable. All of our stories are free and available to everyone. But your support is essential to keeping Steve on the beat, covering the costs of reporting our stories. If you are able to, please support us. Every contribution, big or small is so valuable. You provide the motivation and financial support to keep doing what we do. Thank you.