VW agrees to buy back or "fix" 600,000 cars in North America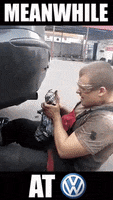 With only days to go before the

deadline

, Volkswagen AG (VW) and the U.S. government reached a partial settlement over how to deal with the automaker's

"dieselgate" emissions scandal

.
Volkswagen agreed to fix or buy back some 500,000 vehicles caught up in the crisis.
What wasn't agreed upon is how much the company should pay in fines and compensation to consumers affected by the crisis.
Under the tentative agreement, VW will give the

option

of a fix or buy-back (at the company's expense) to owners of affected 2.0-liter engine cars.
Discussions are ongoing as to how to address Audi and Porsche 3.0-liter vehicles that also contain the illicit software.
Kelley Blue Book estimated that the cost to buy back and fix affected vehicles could be around

$7 billion

, the New York Times reported.
In November, the California Air Resources Board (CARB)

announced

that VW included three emissions-control systems in its high-end Porsche and Audi models that it had not disclosed to authorities.
One of them was the emissions software that was later implicated in the "dieselgate" scandal relating to VW 2.0 engines.
Audi has been working with CARB officials in past months on how it can best address the issue.