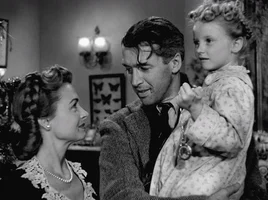 Rhode Island is taking money away from Mr. Potter and giving it to George Bailey, to put General Treasurer Seth Magaziner's latest initiative into "It's a Wonderful Life" terms.
More specifically, the state is taking money out of big, nationwide banks and investing it with local, Rhode Island lenders.
"We want to support institutions that support Rhode Islanders," said Magaziner, at a press conference announcing the new "Bank Local" program.
The idea is to move money out of "some of the bigger banks," to smaller banks and credit unions located in Rhode Island while incentivizing them to make loans to local businesses, Magaziner explained. It's a brainchild of Tom Sgouros, Magaziner's former policy adviser.
Participating institutions include People's Credit Union, Navigant Credit Union, Home Loan Investment Bank, Washington Trust, Bank RI and Customer's Bank. Citizens Bank, based in Rhode Island, is not participating and could lose business from Rhode Island as a result of the new program, Magaziner said.
The state will invest up to $30 million with the six participating banks as those lenders invest in Rhode Island.
When one of the six banks makes a loan of $250,000 or less to a local business with fewer than 100 employees, Rhode Island will match the amount of the loan with a equal-sized deposit to that bank.
So far, the six banks have already made 47 such loans and the state has subsequently deposited about $4.5 million with those banks.
One of those loans went to

Hare on Mane

, a new beauty salon in Wakefield.
"I want to thank the treasurer's office for partnering with my credit union by providing financial support through the 'Bank Local' program," said Stephanie Keenan, the owner of Hair on Mane. "Programs like this one have a positive impact on small business in our state."
Added Brian Murphy, the CEO of Home Loan, "Small business is the lifeblood of Rhode Island and capital is the lifeblood of small business. So many entrepreneurs, despite their determination, creativity, and desire to make a difference in our economy, our hindered by a lack of access to funding.
The Bank Local program, he added, "will help address that issue, and we look forward to partnering with Treasurer Magaziner to support small businesses throughout Rhode Island."
Magaziner said it's the first such program in the nation, though he said some Midwestern states have similar programs for farm loans.
He also said it's the first time Rhode Island has done banking with credit unions, a kind of investment Joe Mollicone's savings and loan scandal of the late 1980's made a third rail in Rhode Island politics for a generation.
Credit unions are banks that are structured like a co-op. In other words, credit unions are owned by the customers.
At any given time, Rhode Island has

between $500 million to $1 billion in the bank

.
Bob Plain
is the editor/publisher of Rhode Island's Future. Previously, he's worked as a reporter for several different news organizations both in Rhode Island and across the country.