Trump with shady businessman father Fred who staked Donald's start
Sidney Blumenthal, an advisor in the Clinton administration,

wrote a brilliant and well-resourced article

for the London Review of Books about the history of the Trump family and about the personal anxieties of Donald Trump, as expressed in his own words. His statements are documented.
It may be the best, most comprehensive article you will ever read on the subject of "What Makes Donald Run?"
The short summary is that Trump and his family grew up in Queens in a grand mansion, but he longed to be accepted in Manhattan society. He hitched his star to the repulsive Roy Cohn and various Mafia dons and never won what he most craved: respect. Again and again, he was driven to prove that whatever he did was the biggest and best, even when it wasn't.
"Son, some day this will be all yours to rape and pillage."
Fred Trump, Donald's father, was a king of Queens; the Donald became a joker in Manhattan. In search of fame and greater fortune in the big city, he set out from the family mansion with its 23 rooms, nine bathrooms and, at the front, four white columns adorned with a confected family crest.
A Cadillac and a Rolls-Royce were parked in the driveway, guarded by two cast-iron jockeys. Even in Queens, it was a world apart. '"Be a killer,"' Fred Trump, 'who ruled all of us with a steel will', told him. Then he said: '"You are a king."'
Trump wasn't looked down on in Manhattan because he was a parvenu, a dressed-to-kill bridge-and-tunnel bounder from an outer borough. New Yorkers hardly have a bias against aspiring newcomers.
Trump the businessman launches the US Football League and his own
franchise, the New Jersey Generals. Lasted two years before it
crashed and burned.
The musical Hamilton exalts a classic New York story of a brilliant young immigrant rising in a mercantile culture. ('I hear it's highly overrated,' President-elect Trump tweeted last November after the cast addressed Vice President-elect Mike Pence, as he was leaving the theatre, calling on the new administration 'to work on behalf of all of us'.)
Walt Whitman sang in 'Mannahatta' of a city 'liquid, sane, unruly, musical, self-sufficient'. Trump wished to be more than accepted in Manhattan: he wanted to be adored, there and only there, and came to despise it in all its diversity and cacophony when time and again he was rejected.
'I want to wake up in a city that doesn't sleep and find I'm king of the hill, top of the heap.' The lyrics of Frank Sinatra's standard ring out like a mocking chorus from the Yankee Stadium when the hometown wins.
Poor Trump, who thought the song should be his anthem, could never shake his 'little town blues'.
His humiliation at his failure 'to make it there' is at the heart of his vengeful compulsion to wreak humiliation on those he fears will belittle him. The uncontrollable anger that unleashes a regular flood of insults derives from his profound feeling that he has been, is being and will be diminished. In a constant state of alert and hurt, he victimises others because he burns with the feeling that he is the true victim.
Trump with mentor Roy Cohn, the brains behind disgraced Sen.
Joe McCarthy's witchhunt for "Reds"
Every time his outlandish behaviour turns him into the butt of a joke, especially at the hands of sources associated with New York, from Spy's jibes to Alec Baldwin's impersonation on Saturday Night Live, his rage is stoked. Portraying himself as the innocent party he lashes out, a narcissistic reflex but also a tactic he learned from Roy Cohn.
Resentment born of entitlement, of the feeling that he was being treated as an inferior though he knew he was superior, was an inadvertent and inverse link with the lower-middle-class whites who fled Queens and Brooklyn in the 1950s and 1960s for the Long Island suburbs to escape black migration.
They went one way and Trump another, but both were repelled by Manhattan's racial liberalism, which was seen as an insult to and impingement on their own status from those above and below them.
In the 1980s, Trump had a well-established reputation as a con man.
Trump was already among New York's stock cast of colourful characters, one of Spy's 'top ten jerks', joining notorious loudmouths of the era such as the New York Yankees' bullying owner George Steinbrenner (another Roy Cohn client).
The renowned Art Deco classic Bonwit Teller building
destroyed by Trump to build a tacky monument to himself
From the Bronx to the Battery, opinion on Trump set as hard as the cement on his construction sites and as fast as he had ordered underpaid Polish immigrant construction workers in 1980 to jackhammer the Art Deco friezes on the Fifth Avenue Bonwit Teller building to make way for his tribute to himself, Trump Tower, a slab of banality which resembles an elongated flat-screen TV.
He had promised to preserve the reliefs for the Metropolitan Museum, but after blasting them to smithereens to widespread condemnation the Trump Organisation issued a press release declaring that the sculptures were 'without artistic merit'.
Through a PR agent, Trump claimed the demolition was a matter of aesthetic judgment and, he added, cost him $500,000, no doubt a round number pulled out of a hat.
In the New York Times the PR spokesman identified himself as 'John Barron'. In the Associated Press story the same publicity man called himself 'Donald Baron' and was quoted as saying that 'the merit of these stones was not great enough to save them.' Both 'John' and 'Donald' were Trump.
'What do you think? Do you think blowing up the sculptures has hurt me?' he asked Vanity Fair a decade later.
Who cares? Let's say that I had given that junk to the Met. They would have just put them in their basement. I'll never have the goodwill of the Establishment, the tastemakers of New York. Do you think, if I failed, these guys in New York would be unhappy? They would be thrilled! Because they have never tried anything on the scale that I am trying things in this city. I don't care about their goodwill.
Trump built this monstrosity on the Bonwit Teller site using undocumented
workers from Poland. He also cheated them on their wages and exposed
them to dangerous working conditions.
Then Trump fired the illegal immigrant labourers, 'the Polish brigade', after they'd completed their work, meaning that they were deprived of wages and benefits. The US Labor Department filed suit against him, a federal judge found him guilty of fraud, noting that his testimony was not credible, and eventually he paid a fine in a sealed agreement.
This is an amazing read, with details you may never have known. Blumenthal read all the Trump biographies to distill the essence of this serial liar.
Donald Trump's universally disparaged image in Manhattan attained skyscraper heights at the turn of the 1990s, after his flamboyantly bungled real-estate projects, tabloid hijinks, manic club-hopping, flagrant Mob associations, cruel wife-dumping, outrageous defence of his housing discrimination, not to mention his purchase of screaming full-page newspaper ads demanding the death penalty for black youths accused of rape, the Central Park Five, who later turned out to have been innocent.
Trump with racehorse trader and gambler Robert LiButti
'The banks call me all the time,' he boasted. 'Can we loan you money, can we this, can we that.'
But Trump had wildly run up $3 billion in debt.
Now his grandiose Trump Shuttle airline crashed and burned.
He lost his crown jewel, the Plaza Hotel. ('They say the Plaza is worth $400 million? Trump says it's worth $800 million,' said Trump. 'Who the hell knows what it is worth?')
His casino empire across the Hudson River in Atlantic City, his Taj Mahal, went belly up. ('The most spectacular hotel-casino anywhere in the world'.) He declared bankruptcy four times in order to stiff his contractors and workers.
A gold hardhat? OMG! Really?
Every financial house in the city spurned his plea to extend his loans. Rather than acceding to his childish demands after meetings at which he brandished newspaper clippings about his antics instead of financial papers, the banks put the profligate Trump on an allowance like an irresponsible adolescent.
He had to sell virtually everything, including his yacht, the Trump Princess, which he had purchased from the shadowy Saudi arms trader Adnan Khashoggi. Trump threatened to sue a journalist at the Wall Street Journal for accurately reporting his collapse, one of his many attempts to intimidate the press, and another technique he learned from Roy Cohn.
Donald was no rugged individualist. He started in business with a $14 million loan from his father, who bailed him out as his casino venture began to sink.
Trump never fitted the mythology of rugged individualism he mimicked and tried to sell as intrinsic to his brand.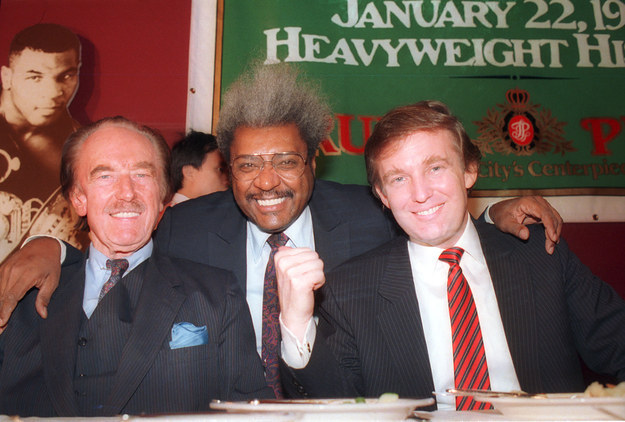 Launched as a front and junior partner for the tainted Fred Trump in Manhattan real estate, he had been on gaudy display in New York since he first crossed the Queensboro Bridge with $14 million from his father.
'My father gave me a very small loan in 1975 and I built it into a company that's worth many, many billions of dollars,' he lied during one of the presidential debates.
Born with a silver spoon in his mouth, he insists that he has pulled himself up by his bootstraps.
But, as well as staking him to launch his real-estate career, when the Taj was sinking like Donald's own private Titanic, Fred Trump rushed to the casino to

buy $3.35 million in chips

to buoy his flailing child, who used the money to avoid default by making an interest payment he wouldn't otherwise have had the liquid reserves to meet.
A straight loan would have put Fred Trump in the lengthy queue of creditors. With his loan in the form of chips he could redeem it as soon as his son had the capital.
The New Jersey Casino Control Commission ruled a year later that Fred Trump had engaged in an illegal loan and that Donald should return it, which would have forced him into instant bankruptcy.
The Trumps blithely ignored the finding and instead paid a meagre $65,000 fine, though the manoeuvre failed to save the casino.
Trump never won acceptance in Manhattan. You know the song Frank Sinatra (and Liza Minelli) sang "New York, New York," that goes "if you can make it there, you'll make it anywhere…" But Trump was loathed in the town he most wanted to conquer.
If there is one subject that has unified discordant New Yorkers over the past five decades, it has been Trump.
In 2016, he lost 87 per cent of the vote in Manhattan, and most of those who voted for him probably did so with distaste, casting their loyal Republican votes for a man who for most of his life donated money to Democratic candidates in a Democratic city. (Trump also lost in Queens, carrying only 22 per cent of the vote; in Brooklyn, he won less than 20 per cent; and in the Bronx, about 10 per cent.)
New Yorkers don't agree on much. But they agree that Trump is a bum, a phony, a liar and a fraud.
So his passionate pursuit of "respect" has landed him in the White House.