URI's Ballard to head expedition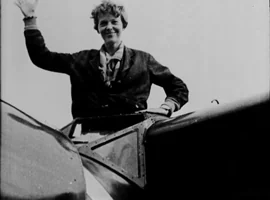 University of Rhode Island Professor of Oceanography

Robert Ballard

and his team aboard the E/V Nautilus will begin a quest in August to find Amelia Earhart's airplane, National Geographic has announced.
Earhart and her navigator, Fred Noonan, disappeared more than 80 years ago during her around-the-world flight. Earhart's plane was reported missing July 2, 1937, during the second-to-the last leg of the flight after taking off from Lae, Papua New Guinea.
Ballard, the man who found the Titanic, will depart Aug. 7 from Samoa for Nikumaroro, an uninhabited island that is part of the Micronesian nation of Kiribati, National Geographic said in its announcement. The expedition will be filmed by National Geographic for a two-hour documentary airing Oct. 20. In addition to his work at URI, Ballard is an explorer-at-large at National Geographic.


Since discovering the Titanic in 1985, Ballard's reputation has only grown as a marine and ocean explorer.


He also found the German Battleship Bismarck, the lost fleet of World War II warships off Guadalcanal, the U.S. aircraft carrier Yorktown, and John F. Kennedy's boat PT-109. He also discovered the sunken remains of ancient ships along historic trade routes in the Mediterranean Sea and the Black Sea.


But he prefers to be known for the discovery of the first hydrothermal vents and their exotic chemosynthetic animal communities in the Galapagos Rift and the discovery of high temperature "Black Smokers" on the East Pacific Rise.
The URI researcher is also the lead principal investigator of a new $94 million National Oceanic and Atmospheric Administration

Ocean Exploration Cooperative Institute

, which was announced in May.
It will support ocean exploration to advance the collection of high-quality data, information, and technology needed to maintain a healthy ocean, to aid responsible resource management, and support the nation's blue economy. Over the next five years, the institute will work closely with NOAA's Office of Ocean Exploration and Research to survey an estimated 3 billion acres of U.S. ocean territory.
Ballard helped build a collaboration between URI's Center for Ocean Exploration, which he directs, and the

Ocean Exploration Trust

, which he founded in 2009. The trust owns and operates Nautilus, a 211-foot exploration vessel equipped with high-resolution mapping systems, remotely operated vehicles, and telepresence capabilities.
A native of Kansas, Ballard earned his undergraduate degree in geology and chemistry from the University of California, Santa Barbara and his doctorate from URI's Graduate School of Oceanography in 1975.
In broad terms, Ballard's research focuses on ocean exploration. His work includes searching for ancient or modern shipwrecks; using remotely operated vehicles to describe submarine hazards such as undersea volcanoes or possible earthquake centers; discovering new areas of biological activity; or characterizing large swaths of the seafloor using research vessels equipped with side-scan sonar and multibeam echo-sounders.
Ballard has a team of support experts in several disciplines at GSO that assist him in the worldwide explorations. He has published 18 books, many scientific papers and articles for National Geographic magazine. He was the recipient of the 2003 National Humanities Medal by President George W. Bush and received the National Geographic Society's coveted Hubbard Medal in 1996 for his oceanographic accomplishments.