2020 Lifeguard Certification Testing Starts Next Month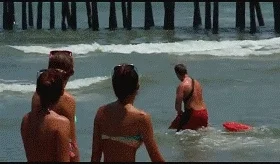 The Rhode Island Department of Environmental Management (DEM) announced today that beginning next month, it will administer surf and non-surf lifeguard certification testing for the 2020 season. Certification is required for lifeguard positions at all Rhode Island beaches.
The schedule of testing is as follows:
Monday, August 5 – Friday, August 9 | 9 AM – 2 PM Scarborough State Beach, Narragansett Surf tests for lifeguards working at all types of swimming facilities
Tuesday, August 13, through Friday, August 16 | 9 AM – 2 PM Prosser Grove Picnic Area, Burlingame State Park, Charlestown Non-surf tests for lifeguards working at freshwater/bayside beaches
To qualify for testing, all candidates must have successfully completed courses and hold valid cards in lifeguard training, first aid, and CPR that includes infant, child, and adult.
Candidates must be at least 15 years of age and present a photo ID with verification of date of birth.
Any candidate under the age of 18 must be accompanied by a parent or guardian to sign the waiver/application form or obtain one from RI State Parks Headquarters prior to the testing date.
Waivers can be requested by contacting Tom Rosa at 401-667-6206 or tom.rosa@dem.ri.gov.
There is a $10 fee (cash or check only) for the state certification card, which must be paid prior to the card being issued.
Candidates who pass the test will be certified through September 30, 2020. Lifeguards who received a conditional 2019 surf or non-surf certification and plan on lifeguarding in 2020 must take and pass a 2020 test. In case of inclement weather, call RI State Parks headquarters at 401-667-6200 for cancellation information.
Individuals who plan to take the lifeguard certification tests can register in advance and select a test time; although not required, registration is encouraged and will cut down on wait times on testing days.
Candidates must enter all required information and upload a copy of their training certificates (lifeguard training, CPR, first aid) when registering.
After submitting their information, they will receive an email with a link to schedule the time they would like to take their test; reserved times are on a first-come, first-served basis.
Candidates who choose not to register will be placed into the first available testing slot. For questions, contact Tom Rosa at tom.rosa@dem.ri.gov or at 401-667-6206.
New this year, the RI Department of Administration approved a pay raise through which DEM is paying lifeguards a range from $13.25 to $16.25 an hour – up from an hourly range of $10.75 to $13.75 last year.