DEM and RIDOH announce first findings of EEE collected in RI this year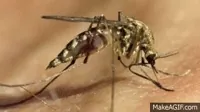 The Department of Environmental Management (DEM) and Rhode Island Department of Health (RIDOH) today announced that mosquito samples collected in Central Falls August 6 produced the state's first positive findings of Eastern Equine Encephalitis (EEE).
A positive finding for a mosquito-borne disease does not mean anyone has contracted the disease, but it does highlight the need to take precautions.
People have the most important role to play in protecting themselves and their loved ones from being bitten by mosquitoes.
Using repellent, wearing long sleeves and pants, and minimizing outdoor time from dusk to dawn – peak biting times for many mosquitoes – all are excellent precautions.
A total of 28 traps were set across Rhode Island on August 5. The traps yielded 147 pools, or samples, of mosquitoes collected statewide.
Pools collected in Central Falls contained two separate mosquito species that are known to bite mammals and tested positive for EEE. None of the 147 pools came back positive for West Nile Virus (WNV).
Test results are pending for traps set yesterday, August 14, and will be included in future announcements. Typically, positive test results trigger additional trapping to assess risk.
To date, there have been no findings of WNV in Rhode Island. The 265 positive EEE mosquito pools in Massachusetts from Bristol and Plymouth counties, coupled with multiple findings of both EEE and WNV in mosquitoes from eastern Connecticut, indicate this clearly is a higher-than-average risk summer for mosquito-borne diseases.
The Commonwealth of Massachusetts announced August 10 its first human case of EEE. Aerial spraying began in the commonwealth last week.
Mosquito-borne virus isolations are more prevalent during late summer and early fall. DEM traps mosquitoes and the RIDOH State Health Laboratories test them weekly. DEM issues advisories on test results from late June through September, with additional reports as needed.
See below for measures that all Rhode Islanders should take to protect themselves from mosquito bites, and to help minimize mosquito breeding.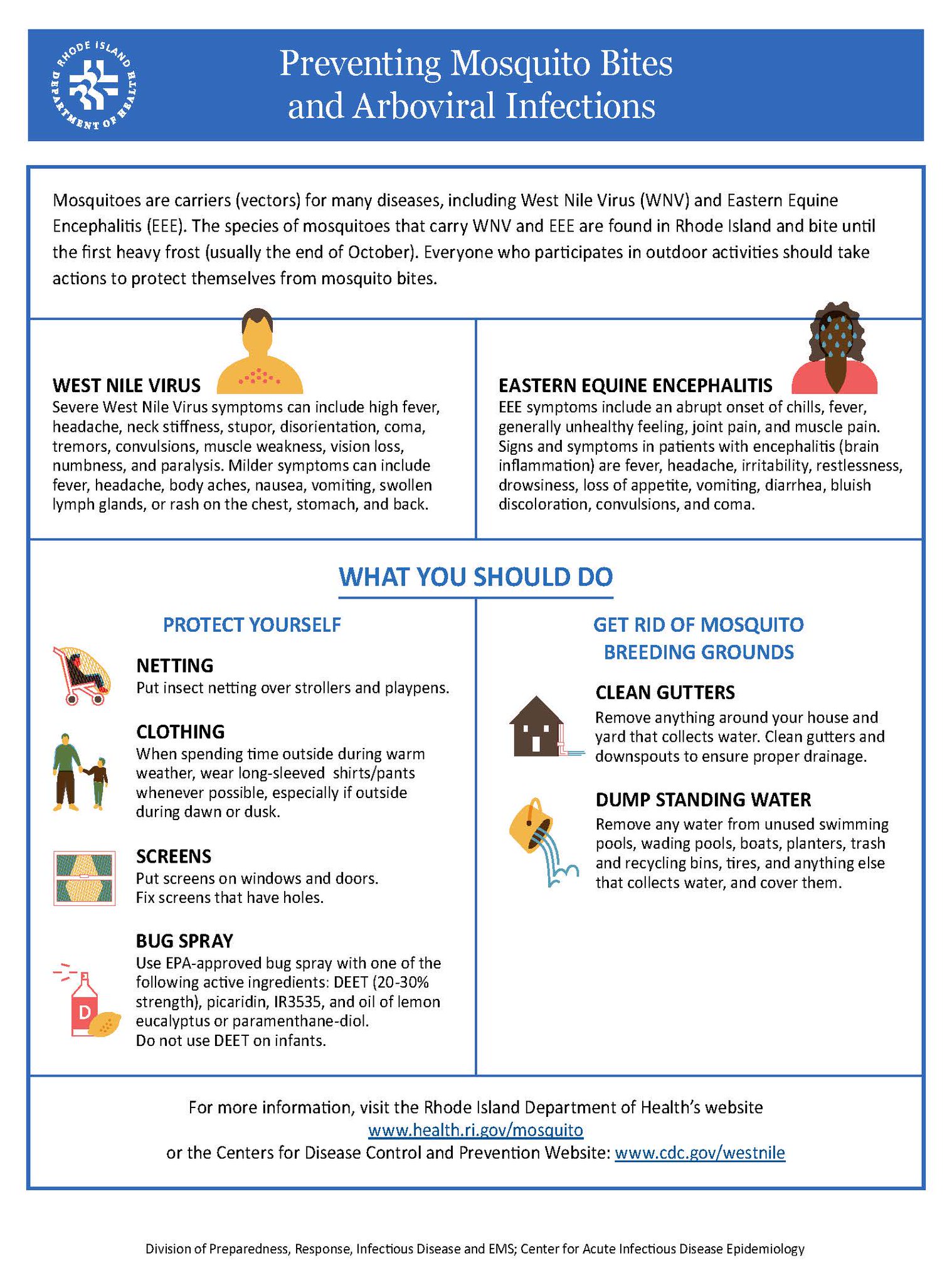 Visit http://www.health.ri.gov/mosquito for additional mosquito prevention tips, videos, and local data.
DEM and RIDOH also remind Rhode Islanders to take precautions to avoid mosquito bites when traveling to Zika-affected countries. Pregnant women and women who are considering becoming pregnant should not travel to countries with active transmission of Zika.
For more information about DEM divisions and programs, visit www.dem.ri.gov. Follow us on Facebook at www.facebook.com/RhodeIslandDEM or on Twitter (@RhodeIslandDEM) for timely updates.
RIDEM: About Mosquitos