ARRI honors legislators for their work to protect animals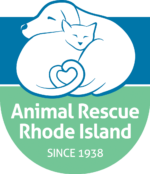 Animal Rescue Rhode Island, a private, no-kill animal shelter in South Kingstown, has honored Rep. Joseph J. Solomon Jr. (D-Dist. 22, Warwick) and Sen. Bridget Valverde (D-Dist. 35, North Kingstown, East Greenwich, Narragansett, South Kingstown) with its annual Golden Paw awards.
Each year, ARRI honors an individual or organization for their contributions benefiting the animals of Rhode Island. This year, Solomon and Valverde were honored for their tireless advocacy for animals in the state legislature.
The two lawmakers sponsored legislation earlier this year to limit the use of live animals for medical training in Rhode Island.
"It is a tremendous honor to be recognized for my efforts by such a prestigious organization," said Representative Solomon, a longtime animal advocate who also sponsored a law protecting dogs from severe temperatures.
"Using animals for medical training is outdated, unnecessary and is no longer considered the most effective way to train physicians. I look forward to continuing to act as an advocate for our furry friends in the General Assembly."
"Animal Rescue Rhode Island is well known for its work protecting animals," said Senator Valverde. "I am truly honored to receive this award and look forward to building upon Rhode Island's laws to see that all animals are protected."
Animal Rescue Rhode Island is a no-kill organization committed to the humane welfare and well-being of animals in need. The organization rescues abandoned, abused and surrendered animals, nurturing them to be adopted as pets in loving homes.