How bad politics infects the fight against COVID
By Will Collette
We are at the point in the fight against COVID where we should ask ourselves whether we really want to END the pandemic, just slow it down or just pretend it's over and declare "Mission Accomplished."
It's great that lots of people are getting vaccinated. It's not good that the pace of vaccination is slowing down.
It's scary terrible that COVID is totally out of control in India where every passing day increases the chance of the emergence of a vaccine-resistant variant that WILL make its way to America.
So what do Gov. Dan McKee and our peripatetic state rep. Blake "Flip" Filippi have in common?
In my opinion, neither of them understand how infectious diseases work and neither of them are doing their duty in protecting Rhode Islanders from COVID.
Dan McKee is doing what I predicted he'd do before he was made Governor: for the sake of his sacred small businesses, he is ending COVID restrictions too early, against medical advice. Here's his new schedule of openings: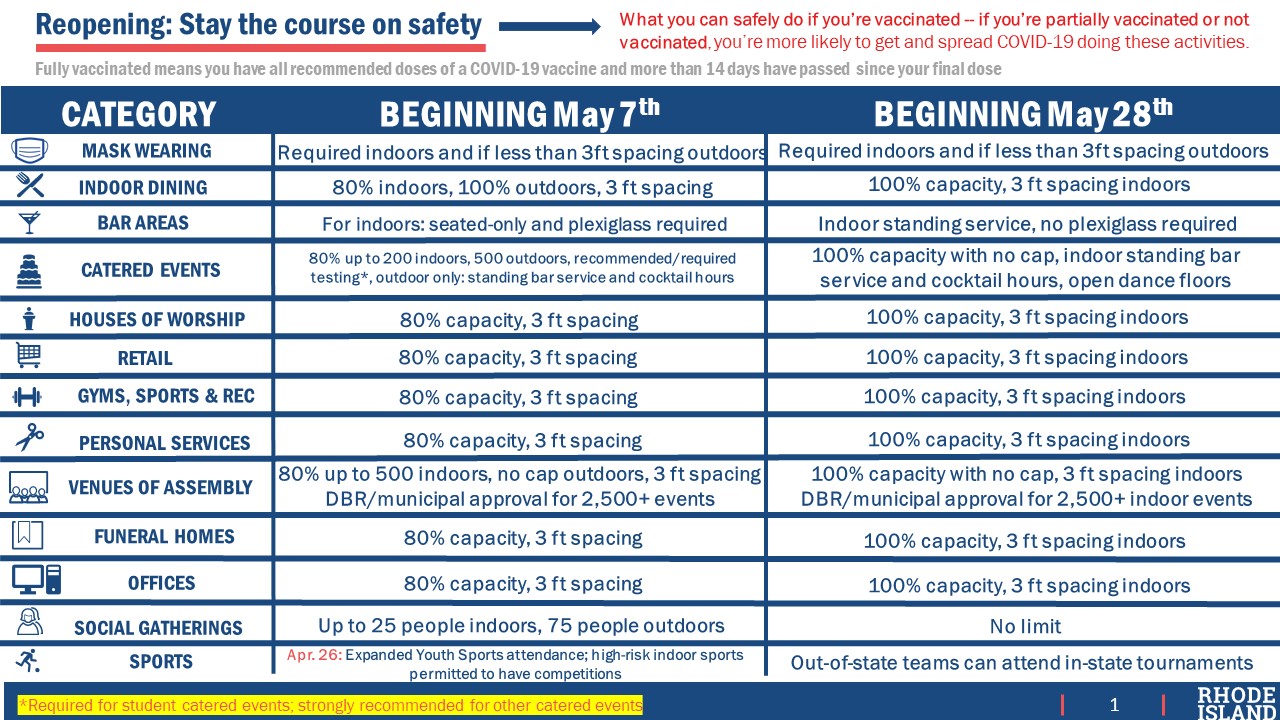 During his weekly COVID briefing, McKee made this incredibly stupid remark: "I'd say it's a little early to put a 'mission accomplished' sign up but we're getting ready to order that sign.''
Well, that sure worked great for George W. Bush and Iraq, didn't it?
Despite gradually lowering the death rate (due mostly to vaccinating nursing home residents), case count and hospitalizations, we are nowhere near the point where Dan can fly his victory banner.
Indeed, his reopenings pretty much guarantee another surge, maybe like we saw in December and January due to people ignoring advice from pandemic experts during the holidays.
Dr. Ashish Jha, dean of the Brown University School of Public Health, is one of many medical experts pleading for patience: "Holding tight until more folks vaccinated key to winning this race."
There's a new MIT study on indoor exposure, especially at places like restaurants, bars, arenas, etc. where you have the combination of lots of people there for an extended amount of time. The study concludes the "Six-Foot Rule" doesn't matter when you are in a closed space for an hour or more.
The study says that what greatly reduces the risk of infection are good ventilation and mask wearing.
We simply must get "community spread" down as close to zero as we possibly can while vaccinating the highest percentage of people we can. Regardless of age. Worldwide. That's how we stop COVID.
Which bring me to House Minority Leader Flip Filippi. Charlestown's state rep is de facto head of the Rhode Island Trumplican Party. He is relentless at getting himself into the media constantly on a variety of issues, where he usually takes a hard-core Trumplican line (e.g. he thinks guns are great and any attempt to stop climate change is bad).
But he recently got himself a spate of bad press (though I'm sure he feels any press is good press) for refusing to say whether he is or will be vaccinated, or even if he thinks vaccination is good.
His insurrectionist colleague Rep. Justin Price is pretty clear in his opposition to vaccination.
Despite Flip's claim of a right to privacy, I believe he has a duty to speak. The largest single bloc of people refusing to get vaccinated are Republican men, of which Flip is one.
As the state's top Trumplican, he needs to speak out to convince reluctant fellow travelers that they need to get the shot.
Trumplicans only listen to other Trumplicans.
Flip's failure to exhort fellow Republicans to get vaccinated is cowardice and dereliction of duty. Unless he doesn't believe in vaccination, in which case he should say so.
Flip once claimed to be a libertarian and to believe that individual free choice on anything and everything is sacred. Except it's not.
The rule of law says you can't start fires, set off explosions, fire guns, dump toxic waste or wield a chainsaw anywhere you want.
And if you are to be a good citizen instead of just a selfish asshole, you need to get with the program and help us end the COVID pandemic. Are you listening, Flip?