Get your shots locally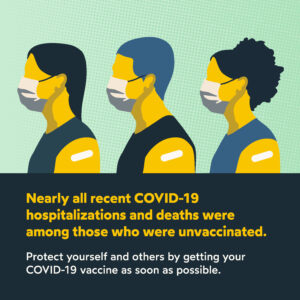 Wood River Health Services (WRHS) has partnered with The RI Department of Health, Westerly Hospital and the Town of Westerly to host two walk-in vaccine clinics this month.
The clinics will be held at Bradford Elementary School at 15 Church Street in Bradford on September 8 from 3PM to 6PM and September 11 from 9AM to 12PM. Vaccines are free and any individual aged 12 and over can receive one.
"As a doctor, I am asked every day by patients about the safety of COVID-19 vaccines," stated Dr. Lisa Menard-Manlove, a Board-Certified Family Medicine Physician who has worked for WRHS since 2003.
"I tell them: the vaccines are safe and effective. In my medical opinion, anyone 12 or older should get one. It is only with vaccinations that we will be able to achieve herd immunity and bring an end to this pandemic."
No appointment is necessary to secure a vaccine at the clinic. Individuals should arrive during the appointed times on September 8 or 11. They will be given information about what to expect after receiving the vaccine and monitored for 15-30 minutes after their dose. Recipients will be provided with a vaccination card and scheduled for their second dose in 3-4 weeks.
"As a Federally Qualified Health Center, it is the mission of Wood River Health Services to advocate for the equitable distribution and administration of all healthcare services, including vaccines," shared President & CEO Alison Croke. "By partnering with the Westerly community to provide this resource, we are working together to decrease the inequities of health within a very underserved area in our community."
The Pfizer vaccine will be distributed at the walk-in clinics. No one should attend the clinic if they have a cough, fever or other COVID-19 symptoms. If experiencing these symptoms, please contact your primary care doctor. You may also visit the RI Department of Health's website at https://covid.ri.gov/testing to learn where the closest COVID test site is to your location.
WRHS is seeking volunteers to assist with the vaccine clinics. Individuals who would like to volunteer should email their availability to CovidVolunteer@wrhsri.org.
About Wood River Health Services
Since 1976, Wood River Health Services (WRHS) has provided high-quality affordable medical, dental and social services to the communities of southwestern Rhode Island and southeastern Connecticut. A private, non-profit Community Health Center, WRHS is devoted to providing quality patient care to more than 8,000 patients. It is recognized by the National Committee for Quality Assurance (NCQA) as a Patient-Centered Medical Home.
WRHS is a Federally Qualified Health Center (FQHC), a community-based health care provider that receives funds from the HRSA Health Center Program to provide primary care services in underserved areas. FQHCs must adhere to a stringent set of requirements including providing care on a sliding fee scale based on the ability to pay and operating under a governing board that includes patients. For information about its programs and services, visit WRHSRI.org.