Fogarty legislation would increase penalties for terrorist attacks on electric grid, cell phone towers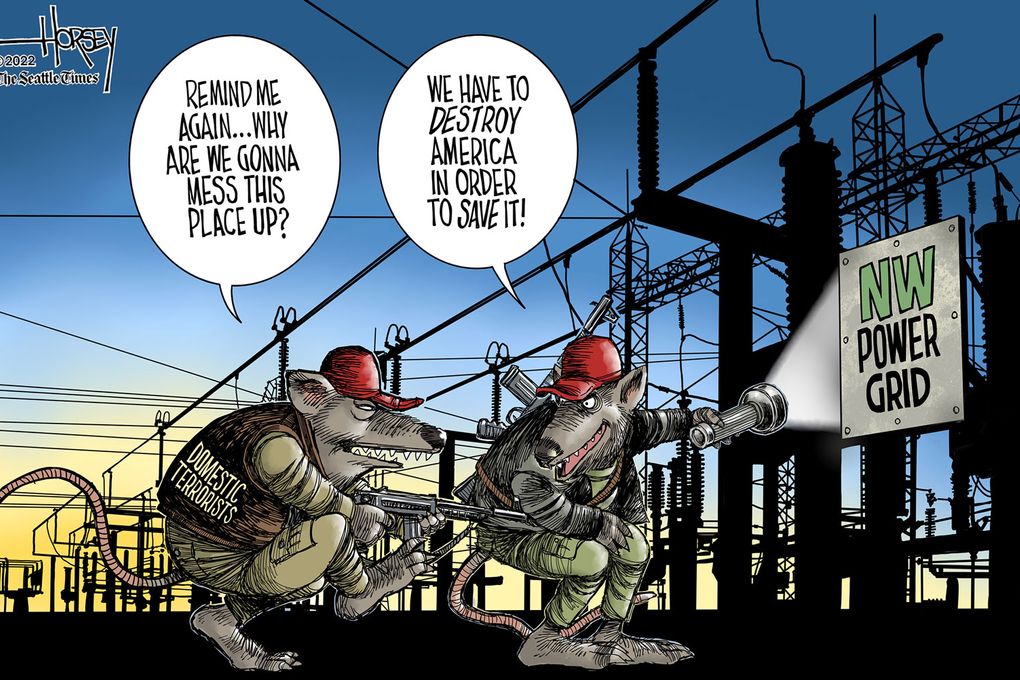 David Horsey, Seattle Times

In the wake of several attacks on transformer stations and cell phone towers around the nation, Rep. Kathleen A. Fogarty (D-Dist. 35, South Kingstown) has introduced legislation that would increase the criminal penalties on such attacks.

The House Judiciary Committee is scheduled Tuesday to hear testimony on the bill (2023-H 5364), which would increase penalties for damages to electric and cellular communication lines from $3,000 to $50,000; imprisonment from two years to 10 years, or both and would require restitution for economic harm. The meeting will take place Tuesday, Feb. 14, at the rise of the House (about 4:30 p.m.) in Room 101 on the first floor of the State House.

"Attacks against the electrical grid are at an all-time high nationwide," said Representative Fogarty. "Neo-Nazis, white supremacists and other right-wing groups are planning and executing these attacks, as well as encouraging others to do the same in an effort to destroy the communications infrastructure and hasten the demise of the federal government."

Last December, a hailstorm of bullets struck a power station in North Carolina, leaving tens of thousands without power. Four substations in the Pacific Northwest were attacked in the past three months. In Kern County, in southern California, someone fired a gun into a PG&E substation last July, leaving 1,100 customers without power and causing $3 million to $5 million in damage.

According to Department of Energy statistics, human attacks were responsible for 171 "electric disturbance incidents" around the country in 2022, compared with 99 in 2021.

"Domestic terrorism is evolving, and we need to take action to make an attack on our infrastructure an unpopular crime," said Representative Fogarty. "These so called 'accelerationist' groups theorize that chaos and destabilizing violence will bring about societal collapse and cause a race war; and they consider these substations to be easy targets, since many of them are remote and unguarded."

Electrical substations transform high-voltage electricity to the lower voltages that power our homes. Damaging even a single substation can shut off critical services to thousands of people.

The legislation would also increase imprisonment for damage resulting from contamination of public water supply systems from five to 10 years and require restitution for economic harm.

The bill is cosponsored by Representatives Katherine S. Kazarian (D-Dist. 63, East Providence, Pawtucket), Lauren H. Carson (D-Dist. 75, Newport), Teresa Tanzi (D-Dist. 34 South Kingstown, Narragansett), Raymond A. Hull (D-Dist. 6 Providence, North Providence), Justine A. Caldwell (D-Dist. 30, East Greenwich, West Greenwich) and Arthur Handy (D-Dist. 18, Cranston).