IEA Says Surging Renewables to Be World's Top Electricity Source by 2025
BRETT WILKINS for Common Dreams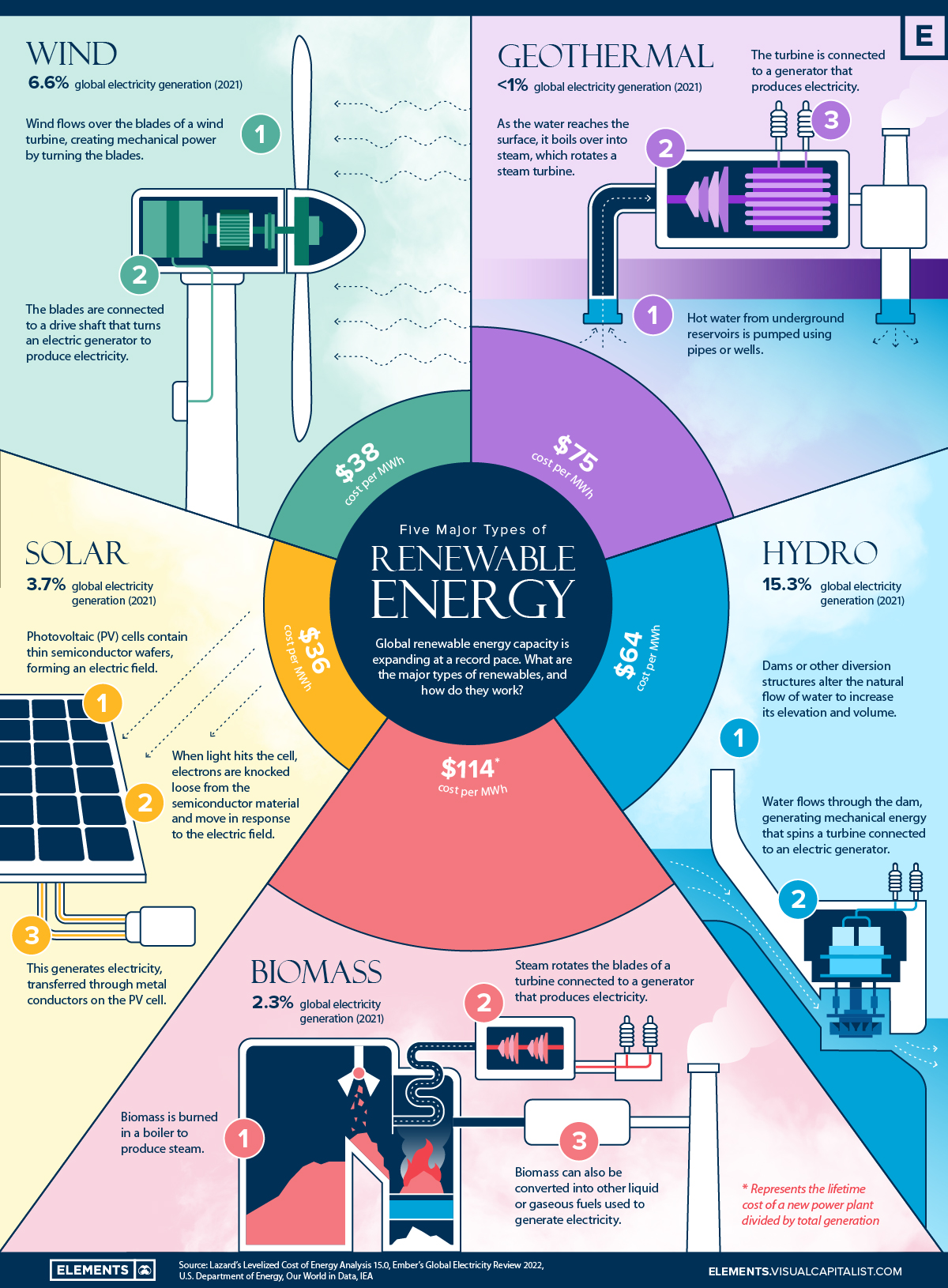 Renewable energy will become the world's number one electricity source by 2025 thanks largely to a surge in wind and solar, the International Energy Agency said Wednesday, a development welcomed by climate advocates.
The IEA's Electricity Markets Report 2023states that "renewables are set to dominate the growth of the world's electricity supply over the next three years as together with nuclear power they meet the vast majority of the increase in global demand through to 2025, making significant rises in the power sector's carbon emissions unlikely."
The share of the world's electricity generated via renewables will increase from 29% in 2022 to 35% in 2025, with coal and gas-fired power generation declining and renewables passing coal by mid-decade, the report forecasts.
More than 70% of the increase in worldwide electricity demand over the next three years is expected to come from China, India, and Southeast Asia. By 2025, China is expected to consume one-third of the world's electricity.
In the United States, the IEA expects solar power generation to soar 56% by 2025, with wind increasing by 19%. These increases are due in significant part to the historic climate and energy investments in the Inflation Reduction Act passed by Democrats last year.
EDITOR'S NOTE: It's time for Charlestown to lift its ban on residential and small commercial wind turbines, especially the almost silent and bird friendly vertical axis turbines. - Will Collette
"The world's growing demand for electricity is set to accelerate, adding more than double Japan's current electricity consumption over the next three years," IEA executive director Fatih Birol said in a

statement

.
"The good news is that renewables and nuclear power are growing quickly enough to meet almost all this additional appetite, suggesting we are close to a tipping point for power sector emissions. Governments now need to enable low-emissions sources to grow even faster and drive down emissions so that the world can ensure secure electricity supplies while reaching climate goals."
The report asserts that "in a decarbonized electricity sector, dispatchable renewables, such as hydro reservoir, geothermal, and biomass plants, will be essential for complementing" wind and solar.
However, Mark Z. Jacobson—a professor of civil and environmental engineering at Stanford University in California and author of No Miracles Needed: How Today's Technology Can Save Our Climate and Clean Our Air—argues that "we have 95% of the technologies we need" to transition to fossil-free electricity.
"So, if we have almost all that we need, why do we need 'miracle technologies' being proposed ad nauseam to solve these problems?" Jacobson asked in a Guardian opinion article published Tuesday. "We don't."
Jacobson continued:
We do not need carbon capture and storage or use, direct air capture storage or use, blue hydrogen, new nuclear power, or bioenergy. Carbon capture equipment extracts carbon dioxide from power plants or other industrial sources. Direct air capture equipment extracts carbon dioxide directly from the air.
Blue hydrogen is hydrogen produced from natural gas with carbon capture equipment added to remove the resulting carbon dioxide. These three technologies, which all require equipment and energy, merely increase air pollution, fuel mining and fossil-fuel infrastructure, thus energy insecurity, while hardly reducing carbon dioxide.
"In addition," he added, "new nuclear suffers from a 10- to 21-year time lag between planning and operation (too long to be useful for immediately addressing the climate crisis), costs that are five to eight times those of new wind and solar per unit energy, weapons proliferation risk, meltdown risk, waste risk, underground uranium mining health risk, and carbon dioxide emissions that are nine to 37 times those of onshore wind."
University College London professor of energy and environmental systems and modeling Mark Barrett earlier this week told Beyond Nuclear International that "our careful modeling utilizing 35 years of weather data shows that nuclear power is more expensive and slow to build than renewables."
"Renewables do not pose waste and security problems as do nuclear," he added.